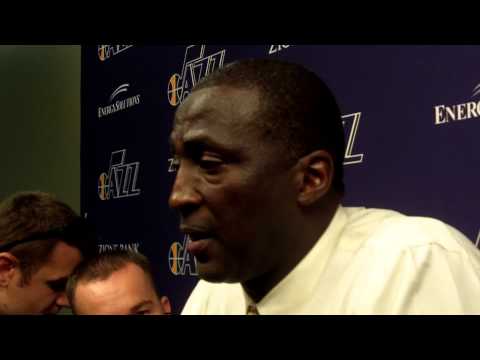 View 52 Items
Blaze Bullock - Deseret News

SALT LAKE CITY — The Utah Jazz defeated the Portland Trail Blazers 97-91 Thursday night.
Derrick Favors and Enes Kanter led the way for the Jazz, as each player finished with 21 points. The Jazz had five players finish with double-figures in scoring.
Kanter also led the Jazz on the boards, as he pulled down 12 in the game. The Blazers outrebounded the Jazz 43-40, as LaMarcus Aldridge had 11 and Nicolas Batum had 10 for the Blazers.
2
comments on this story
Former Jazz man Wesley Matthews led the Blazers in scoring with 24 points on 8-14 shooting and 4-6 from 3-point land. All five Blazers starters scored in double figures.
Blazers rookie point guard and Weber State alum, Damian Lillard, scored 12 points. Lillard struggled shooting throughout the game, going 4-14 from the field and 1-6 from beyond the 3-point line. He also had five assists.
The Jazz had an easier time passing the ball than the Blazers, getting 23 assists to Portland's 14. Portland also turned the ball over 25 times, compared to 17 for the Jazz.
EMAIL: bbullock@desnews.com
TWITTER: @BullockBlaze