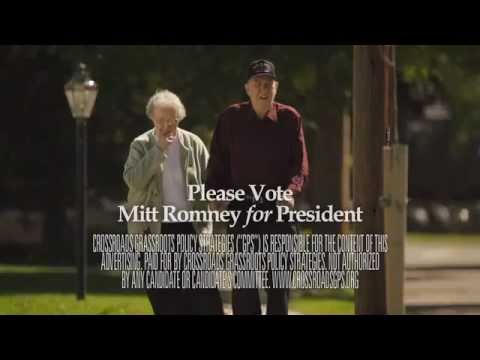 View 2 Items
YouTube

Mitt Romney's "softer side" takes center stage in a new television advertisement highlighting the presidential candidate's interactions with a dying boy in 1979.
The commercial, produced by the conservative political action committee Crossroads GPS, consists entirely of comments from Ted and Pat Oparowski — whose son David died more than three decades ago when he was only 14 years old.
"Mr. Romney helped the young man, David, prepare to die as his non-Hodgkins lymphoma worsened," Jeremy W. Peters reported Tuesday for the New York Times' The Caucus blog. "Mr. Romney visited David in the hospital and helped him draft a will so he could give his possessions, like a skateboard and model rockets, away to his friends. … Offering the kind of humanizing praise of Mr. Romney that his campaign has often been short on, Ms. Oparowski adds, 'He cares about people and about their needs. I think he's going to be able to get us back on track, I really do.' "
The Oparowskis' story first garnered media coverage with a couple of paragraphs in the October 2011 New York Times article about Romney's service in the LDS Church. More recently, the elderly couple achieved an elevated level of notoriety following their appearance at the Republican National Convention on Aug. 30.
After the GOP convention ended, Washington Post media blogger Erik Wemple posited an interesting observation about the media's coverage of the Oparowski family: "Though this priceless story of kindness came wrapped in a front-page story in the Sunday edition of the New York Times, the world of follow-up media appears to have missed it. A Nexis search for 'Romney' and 'Oparowski' for dates preceding the convention delivers nothing but Stolberg's story. And the Oparowskis themselves, reached by phone on Labor Day, say that prior to the convention appearance, the only media interview they ever did was with Stolberg. 'No, not at all,' says Ted Oparowski when asked if other media outlets came calling after the New York Times."
David Oparowski's story
In 1979, a 32-year-old Mitt Romney ministered to a dying boy named David Oparowski while Romney served in his LDS congregation as a counselor in the stake presidency.
Jamshid Ghazi Askar is a graduate of BYU's J. Reuben Clark Law School and member of the Utah State Bar. Contact him at [email protected] or 801-236-6051.