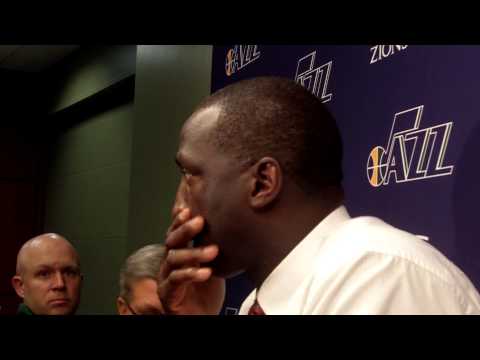 View 8 Items
Blaze Bullock

We're coming together as a team, we're sticking up for each other and we are learning how to count on each other.

—Jazz coach Tyrone Corbin
SALT LAKE CITY — Fans might've walked away from Saturday's game between the Utah Jazz and Los Angeles Clippers talking about spectacular alley-oop plays and another intense duel between these two scrappy squads.
From rim-rocking dunks by Alec Burks and Gordon Hayward to a late brouhaha between roster hopeful Darnell Jackson and Clipper reserve Marqus Blakely, the Jazz's 99-91 win over this Los Angeles team offered some exciting moments.
But the most important thing that happened during Utah's fourth preseason win in five games could've been the extended sneak peek of the Jazz's first unit.
The starters spent more time on the court together in this one than in any previous exhibition contest, and the general consensus was that they're continuing to mesh into a solid group.
Sure, there's plenty of room for improvement — especially, Jazz coach Tyrone Corbin noted, on the defensive end in pick-and-roll situations.
But the additions of the unrelated Williamses look to be smart moves by Jazz management, and returning starters Al Jefferson, Paul Millsap and Hayward continue to contribute in multiple ways.
"We're coming together as a team," Corbin said. "We're sticking up for each other and we are learning how to count on each other."
Combined, the starters, who each played at least 25 minutes, showed glimpses of what could be a dangerous combination.
"There's definitely times out there where we're hitting on all cylinders where we look pretty good," Hayward said. "And then there's other times where it's like, holy cow, we've got a lot to work on."
For one critique, the Jazz struggled to defend the Clippers, who shot 51.5 percent thanks in large part to Chris Paul's efficiency and execution. The L.A. point guard scored 17 points, spread out eight assists, had four steals and made a block to boot.
"It's preseason," Hayward said. "Now is the time where we can work on things and try to get better."
On the other end of the court, the Jazz were somewhere between terrific at times and off-balanced at others. Utah shot 42.4 percent but scored 17 second-chance points thanks to 18 offensive rebounds.
Marvin Williams stretched the Clippers' defense by hitting 3 of 4 from deep en route to a team-high 18 points with eight rebounds and four steals.
Mo Williams, meanwhile, dished out eight assists and scored 10 points.
Hayward was relentless in attacking the basket, scoring 13 points with four assists. Millsap, whose job was made easier Saturday thanks to Blake Griffin's absence, added 10 points and nine rebounds. Big Al struggled from the field, only shooting 5-for-12, but he rounded off the double-digit nights for the starting five with 10 points and five boards.
When playing together, the starters outscored the Clippers 52-42 in the first and third quarters. While keeping Griffin's absence in mind, that was a far better showing for the Jazz crew than when they were outscored 34-16 in the third quarter of Wednesday's 96-94 setback at Staples Center.
"I feel good," Jefferson said when asked about the starting unit that is beginning to come into shape now that Mo Williams has returned from his strained abductor injury.
The Jazz especially like the versatility and firepower of the starters.
"Mo pointed out on the bench that we got that type of starting five that any given night anybody can beat you," Jefferson said. "Marvin killed tonight. The next night it'll be Gordon. The next night it'll be Paul. One night, it'll be me. One night, it'll be Mo."
Burks, who had nice offensive moments outside and above the rim, put up perhaps his best showing of the exhibition season with 10 points and eight rebounds. He was on the court with the reserves to finish off the win.
"We just coming out there hungry," Burks said. "The starters set the tempo and we try to stay with that tempo, play hard, play smart and help them win."
Burks took a lofted-up lob pass from DeMarre Carroll and smashed the ball through the hoop and then whirled around a bit before landing for the night's biggest dunk. Hayward also had a sweet alley-oop slam off of a pass from Mo Williams.
"It's just helping my campaign for the dunk contest that's all it is," Burks said, smiling. "Randy (Foye) threw ahead to D.C. I didn't know if D.C. was going to throw it or not. I saw his eyes (and) I said it could get ugly if he throw it and the threw it and I made a play."
Speaking of ugly, that describes the ending of the game. With just a few seconds left, Jackson, an NBA veteran, was ejected for "hostile acts" after he hit Blakely with an elbow after the Clipper player tried to swipe the ball from him.
"He just kept reaching for the ball and he was scratching at me. I'm telling him, like, 'Yo, the game's over.' (Ronny) Turiaf was telling him the game's over," Jackson said. "He just kept hitting at it and when he finally hit and tried to go get it he ran into my arm. It wasn't intentional. I didn't try to grab him, choke him or nothing like that. He was just trying to run under my arm and he got caught."
EMAIL: jody@desnews.com
TWITTER: DJJazzyJody