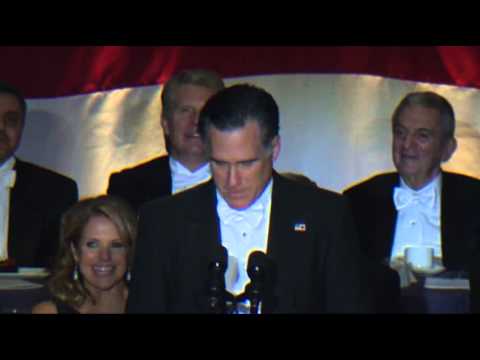 View 5 Items
Associated Press

Mitt and Ann Romney had the opportunity to address different aspects of their faith on Thursday. Mitt cracked jokes at the Alfred E. Smith Memorial Foundation Dinner, while Ann made corrections to the hosts of ABC's "The View" regarding military service for members of The Church of Jesus Christ of Latter-day Saints.
Just moments after Ann joined the five hosts of "The View" — Barbara Walters, Whoppi Goldberg, Joy Behar, Elisabeth Hasselbeck and Sherri Shepherd — she was questioned about restrictions Goldberg assumed the LDS Church had regarding military service.
"Now, I believe that your religion doesn't allow you to go fight," Goldberg said to Ann.
Ann Romney responded that Goldberg's statement was incorrect and that many members of her faith are serving in the armed services.
The question continued as Goldberg pressed her point, stating she had read something that alluded to Mitt Romneys' Mormon faith being the reason he did not serve in Vietnam. Ann Romney quickly clarified once again that her husband was serving on his church mission during that time.
Within the current First Presidency and Quorum of the Twelve in the LDS Church, 10 out of the 15 have served in reserve and active duty along with members of the Seventy and many other members of the church. A recent article in the Deseret News highlighted Mormons who are Medal of Honor recipients. In fact, a webpage on LDS.org is dedicated to those who are serving in the military or have a family member serving.
During this past general conference, President Thomas S. Monson announced that the age that men and women can begin serving missions will now be lowered to 18 and 19 years old, respectively. President Monson specifically mentioned the benefit this change will have for those who are required by their country to serve in the military and also desire to serve missions.
When describing connections between an LDS mission and military service, Romney said of her sons, who served misions, "I sent them away boys, and they came back men. And what the difference was, and I think this is where military service is so extraordinary, too, where you literally do something where you're helping someone else, you're going outside of yourself, and you're working and helping others."
Mitt Romney brought the discussion of their Mormon faith upon himself Thursday night at the charity dinner organized by the Archdiocese of New York. Because it is an election year, both the President and Romney were invited and given the opportunity to give a speech full of political humor.
Romney appeared to be a practiced comedian as he flew through several jokes without cracking a smile, including several one-liners about his Mormon faith.
"Of course this isn't a night for serious politics, and it was especially nice to see President Obama and Cardinal (Thomas M.) Dolan sharing the dais despite their differences," he said. "I'm sure the cardinal has no hard feelings, and we might get an indication of that during dinner to see if the president's wine turns into water."
But then Romney turned the matter toward his own religious beliefs in the Word of Wisdom by stating, "Or for that matter, whether my water turns into wine."
Romney continued on, but returned to his unique health choices.
"You know, with or without all the dignitaries that are here, the Al Smith dinner surely lives up to its billing," he said. "Usually when I get invited to gatherings like this, it's just to be the designated driver."
Romney once more referred to the LDS health code and his choice to refrain from alcohol.
"The debates are very exciting," he said. "Just the other night we had a very fun debate. Candy Crowley was there, and was happy to welcome us, but people seem to be very curious just as to how we prepare for the debates. Let me tell you what I do. First, refrain from alcohol for 65 years before the debate."
Romney finished up the night by pledging his devotion to this country and his respect for the president.
"Our president has had some very fine and gracious moments," he said. "Don't tell anyone I said so, but our 44th president has many gifts and a beautiful family that would make any man proud."
Sarah Sanders Petersen is an intern for Deseret News where she writes for Mormon Times and other feature articles. She is a Communications major and editing minor.