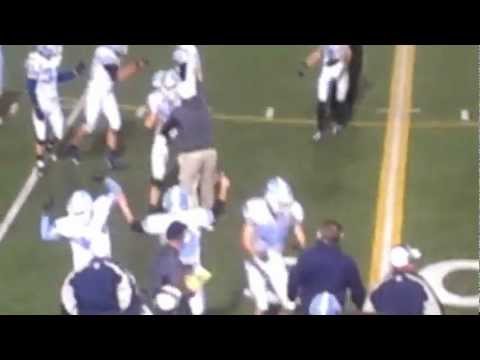 View 2 Items
YouTube

It isn't every day a kicker makes a 60-plus-yard field goal.
But with the game on the line, Austin Rehkow of Central Valley (Wash.) High made one from 67 yards with no time remaining to send the game into overtime. The 67-yard field goal is a new state record in Washington and the second longest in the history of high school football, according to the Seattle Times. The previous state record was a kick of 62 yards back in 1929 by Kelly Imhoff.
The longest field goal in the history of high school football was a 68-yard kick in 1985 by Dirk Borgognone of Reno, Nev., according to the Seattle Times. Rehkow's kick tied the second longest kick in all of high school football. The two other 67-yard field goals were in 1999 and 1987. Rehkow has made three field goals of more than 50 yards this season.
Rehkow only has a partial scholarship offer to Eastern Washington University, according to ESPN. In fact, he doesn't have a single offer from a division 1 university. That might change now that he's drilled a 67-yard field goal.
To put Rehkow's kick in perspective, no kicker in the NFL has ever made a field goal longer than 63 yards, according to the Washington Post. Jason Elam, Sebastian Janikowski, Tom Dempsey and most recently David Akers all hold the record at 63 yards. Akers' kick came in Week 1 of the 2012 NFL season against the Green Bay Packers, as it hit the crossbar and bounced over.
Over the course of his career, Akers has made 81.8 percent of his field goals. But he's only 52.3 percent on field goal attempts of 50 yards or more, according to nfl.com. Janikowski has made 80.2 percent of the field goals he's kicked in the NFL, but he's just 55.9 percent on kicks of 50 yards or more. No stats were available on career percentages on field goals of 60 yards or more.
Here is the postgame report by local TV station, KXLY.
EMAIL: bbullock@desnews.com
TWITTER: @BullockBlaze