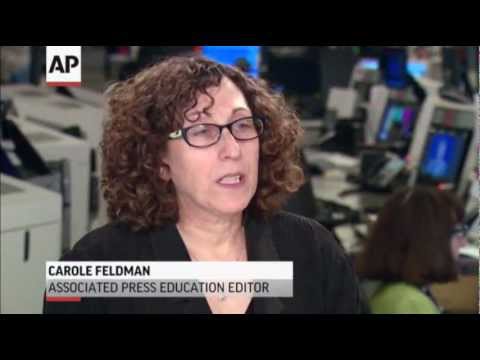 View 2 Items
Associated Press

You've probably heard President Barack Obama and Governor Mitt Romney gloss over their education platforms during presidential debates, but the education advisers to the two candidates illuminated the details at their own debate Oct. 15 at Columbia University's Teachers College.
There were few histrionics during the staid and gracious event moderated by Teachers College president Susan H. Fuhrman. Romney was represented by Phil Handy, co-chair of the candidate's advisory panel on higher education. Obama's representative was Jon Schnur, a presidential adviser since 2008.
Perhaps the most surprising revelation was that Romney would likely rescind waivers to portions of the No Child Left Behind Act granted to 33 states by the Obama administration.
Hechinger Report blogger Sarah Butrymowicz wrote that Handy "described the waivers as too prescriptive and said allowing states to set different standards for different ethnicities was 'soft bigotry' — echoing a favorite phrase of George W. Bush's, who often spoke of the 'soft bigotry of low expectations' in U.S. public education."
During the videocast of the debate, Schnur could be heard defending the waivers, saying they are a response to the "worst parts" of the No Child Left Behind Act, which is widely disliked for its one-size-fits-all requirements.
Schnur explained that the waivers were instituted by Obama in response to continued stalling by Congress about rewriting the No Child Left Behind law, wrote blogger Michele McNeil on an Education Week blog.
Handy also said Romney plans to create vouchers for special education and Title I funding, shunting it directly to parents so they can choose which schools their children attend.
"Handy acknowledged that, since the federal government only pays an average of about 10 percent of a child's K-12 education, Romney's voucher plan would have to start small," McNeil wrote. "States would be encouraged to match those dollars, and seven to eight would probably do so right away."
Schnur countered that the idea was "unworkable."
Huffington Post blogger Joy Resmovits saw the debate between the two education advisors as a study in contrasts between two opposing views on the federal government's role in education.
"Handy said a Romney administration would use the federal government for two purposes in education: transparency on school performance and promoting school choice," she wrote, noting that Romney has previously said he would use the U.S. Education Department to fight unions.
Handy's further comments highlighted Romney's belief that education should be the province of the states, but Schnur argued that "shifting these issues to the states was tantamount to the federal government giving up on its responsibility to serve poor and minority students," Resmovits wrote.
1
comment on this story
The Association of Educational Publishers summed up the two camps' view of Common Core State Standards adopted by 45 states. Both candidates support the more rigorous and consistent curriculum standards, which were drafted and adopted at the state level.
Handy said Romney sees the standards as an opt-in program for states that shouldn't receive federal funding, however. Schnur said the Obama administration believes in funding efforts to improve the standards, a reference to Obama's Race to the Top program to award states for education reforms.
EMAIL: cbaker@deseretnews.com