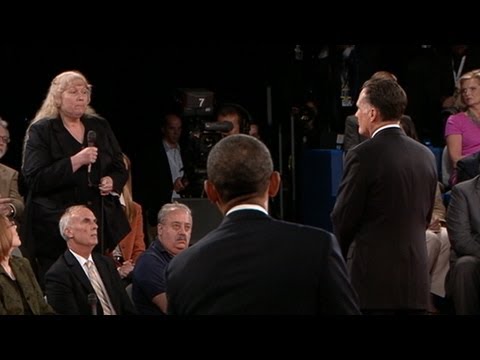 View 11 Items
ABC News

SALT LAKE CITY — The second presidential debate Tuesday focused too much on style for many of the students watching at the University of Utah's Hinckley Institute of Politics.
"I wanted to see clearer plans, less dancing around the questions," first-time voter Joe Glancy said, describing himself as an undecided voter leaning toward President Barack Obama.
Brian Fortie, a junior who backs the president's GOP challenger, Mitt Romney, said he was frustrated the candidates traded barbs rather than sharing their political ideologies during the 1½-hour debate at Hofstra University in New York.
"They tried to win people. I guess I was disappointed," he said.
Undecided voter Skyler Smith, who also watched the first debate at the institute and liked what he heard then from Romney, said he still hasn't heard enough specifics to get behind a candidate.
"That's why I don't put a lot of stock in these debates, just because they're going to try to please as many people as they can rather than show what their actual ideology is," Smith said. "For me, I'd like to see more of that, to see more of them showing what they actually believe."
Only a couple of the students in the overflow crowd said they were undecided voters. The rest were fairly evenly split between Obama and Romney, and the debate appeared not to change any minds.
Seven undecided voters invited though social media to watch the debate at KSL agreed that President Obama fared better Tuesday than he did Oct. 3 in Denver.
The candidates' efforts to win over women voters, however, fell flat with the women on the panel.
"It looked like a performance," said Brittany Nielson, a student from Orem. "Meanwhile, I have professors telling me there are no jobs waiting for me."
Following what they called another strong showing by Romney, Paul Wilson and Anna Stoddard said they're leaning toward voting for the Republican candidate.
"I really felt that (Romney) connected with the people," said Wilson, an Orem business owner, "and I felt Obama did not answer the questions."
"I think President Obama relied a lot on, 'let me tell you a story about that,' instead of, 'here's an action plan, here's the situation, here's how we put that into a solution,'" said Stoddard, of Layton.
The university students were split on whether they liked hearing Romney mention his faith.
Fortie said he appreciated Romney talking about having served as a missionary and as a pastor for The Church of Jesus Christ of Latter-day Saints in answering a question about the biggest misperception voters have about him.
"I believe in God. I believe we're all children of the same God," Romney said in the closing moments of the debate, describing how, as a pastor for his church, he "sat across the table with people who were out of work."
"I like him saying, 'This is me.' And showing America that he is an American and he has a personal life," Fortie said. "I hadn't seen a Romney personal life yet, and I liked that."
Another first-time voter, Sabrina Dawson, an Obama supporter, said she was frustrated by the lack of substance in the debate and subjects like Romney's faith didn't matter.
"If that makes you a better person, that's fantastic. But that doesn't make you a better president necessarily. It doesn't make you a better candidate," Dawson said.
Anthony Paluso, a senior who supports Obama, said that's not what he wanted to hear from the debate.
"I'm LDS. I served a mission. And I honestly was, I don't really care. I want to know what his policies are, and that's all I really want to know," Paluso said.
Another Mormon student, Brad Call, also a senior, said while Romney's religious activities are not a critical factor in the campaign, they are important.
"It's more of him showing a human side. He talked about more of the personal stuff," Call said. "He's been all business this election, I feel. Having him delve at least a little bit was a breath of fresh air."
Contributing: John Daley
EDITOR'S NOTE: Lisa Riley Roche helped facilitate a student discussion of Tuesday night's presidential debate at the University of Utah's Hinckley Institute of Politics.
E-mail: lisa@desnews.com Twitter: dnewspolitics