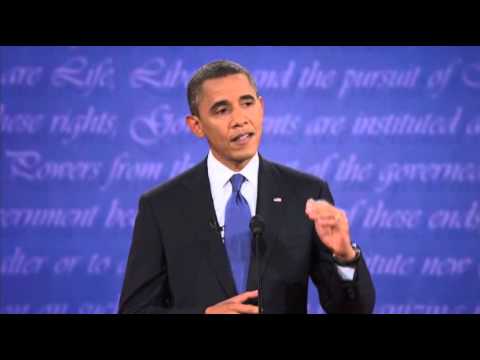 View 2 Items

When it comes to debating, Barack Obama might be the new Messiah to his followers — but he's no Bill Clinton.

—Tim Stanley, The Telegraph
Two weeks ago, the first presidential debate helped Mitt Romney improve the empathy gap and tighten the race among women voters — now the second debate, set in a town hall format tonight, could continue or end that streak.
The town hall setting, where undecided voters ask President Barack Obama and GOP challenger Romney questions, will make it harder for the debate to go negative, The Washington Post predicted. However, it also means both men will likely receive questions from people who will very possibly tell stories of struggles they've faced over the years.
"That reality puts a premium on empathy, which, to be frank, is not a real strong suit for either men," Chris Cillizza and Aaron Blake wrote. "While neither Obama nor Romney is naturally empathetic as a politician, they are bad at empathy for different reasons. Romney is too conscious of stepping off script in a way that might jeopardize his overall performance. Obama is simply opposed to what he views as the false theatrics of politics."
The format of the debate means the goal of the evening is "empathy, empathy, empathy," Tim Stanley wrote at The Telegraph.
"The easy bet is on a draw or a Romney win," Stanley predicted. "When it comes to debating, Barack Obama might be the new Messiah to his followers — but he's no Bill Clinton."
Romney's performance at the first debate helped him gain ground among women voters while also closing his empathy gap, a CBS News post-debate poll of undecided voters suggested.
"Poll shows 56% of uncommitted voters say their opinion of Romney has changed for the better. 13% say that about the president," CBS News correspondent Mark Knoller tweeted after the Oct. 3 debate. "Poll shows Romney narrowed gap on empathy. 63% now say Romney cares about their needs and problems (up from 30% before debate.)
In the wake of his successful debate performance, Romney's personal image also improved, and his favorable ratings hit 50 percent among registered voters for the first time in Pew Research Center surveys. Romney also made sizeable gains among women voters, Pew reported on Oct. 8, with women evenly divided at 47 percent between the two candidates. The tie was a swing in support, after Obama led Romney by 18 points among women likely voters in September.
The Real Clear Politics average of national polling shows Romney is viewed, based on net average, more favorably than the president, with a positive 5.4 to 5 percent.
A USA/Today Gallup Poll of 12 swing states shows Romney leading Obama by four percentage points, largely due to growing enthusiasm among women.
"In every poll, we've seen a major surge among women in favorability for Romney" since the first debate, Democratic pollster Celinda Lake told USA Today. "Women went into the (first) debate actively disliking Romney, and they came out thinking he might understand their lives and might be able to get something done for them."
The Obama administration challenged the poll, saying the result "is an extreme outlier, defying the trends seen in every other battleground and national poll."
The result came when Gallup took its current survey, which shows Obama leading among women 53-44, and applied a likely voter screen, changing the results from registered voters to likely voters.
Other polls show room for Obama among women, with a CNN poll of likely voters in Ohio showing Obama ahead 60 to 38, and a New York Times poll with Obama leading with women in Colorado, Virginia and Wisconsin.
More women are turning to Romney because of what they saw at the debate, Melinda Henneberger wrote at The Washington Post. Obama will need to reach out to women to change that trajectory, but talking about abortion and choice is not enough, Henneberger warned.
Surveys in Virgnia have found that "men and women held nearly opposite views of which candidate was better on the economy: Women said Obama was superior on that front, 52 to 39, while men said it was Romney, 51 to 40," Henneberger wrote. "It's on that issue that Obama has to make his case with both men and women if he really intends to win this thing."
Aides said Romney will not specifically try to woo women during the Tuesday debate, but that he would continue to present himself as the best alternative for all constituencies, The New York Times reported.
"Our internal polling shows strong movement toward Governor Romney over the past two weeks," Rich Beeson, the campaign's political director, said in a memo. "It also shows serious movement by independent voters, women, and those who were soft supporters of President Obama toward the Romney-Ryan ticket."
1
comment on this story
Voters may have considered the Oct. 11 vice presidential debate a draw, a CNN poll suggested, but The Atlantic reports that Ryan's performance might have helped improve the ticket's standing with women voters by charming "grannies."
"I thought Paul Ryan came out looking very responsible and intelligent, and personally I did not think the vice president did," Susan Seifert, a 65-year-old retired housewife said.
"I thought Paul Ryan was respectful and knowledgeable. He was head and shoulders above the other man," said Nancy Runion, a 58-year-old office manager. "Biden was very disrespectful. But Paul Ryan showed a lot of character."