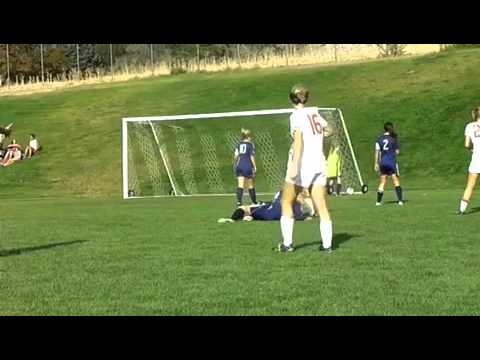 View 2 Items
YouTube

I'm so sorry. It was a physical game and I let my emotions get the best of me … It was nothing personal. I was just really frustrated with the game. I wasn't thinking. I was just running on adrenaline, and the game was tied at the time.

—East senior Petiola Manu
WOODS CROSS — Susie Clark watched in horror as her daughter fell to the ground during a high school soccer game two weeks ago, and then was kneed in the face by an opposing player.
"We were so frustrated with the whole situation," said Clark, whose daughter is a senior center back for the Woods Cross soccer team. "We didn't even know there was video of it."
The video, which is circulating on YouTube, shows 17-year-old Makenzie Clark falling to the ground as East senior Petiola Manu backs away. Then Manu comes back toward Clark and hits Clark in the face with her knee as she passes.
Makenzie Clark was not seriously hurt, her mother said, but she felt frustrated that the move went unpunished in the game. The video was sent to the Woods Cross principal and the Utah High School Activities Association late last week.
East High principal Paul Sagers received the video on Sunday. He was immediately taken aback and said the hit was as "blatant" a foul as any he'd seen in a sporting event.
Sagers decided Monday morning to meet with Manu and East soccer coach Rudy Schenk to watch the video and discuss her actions — and what might do to make amends for her actions.
Manu was emotional as she watched the video, and then expressed her sorrow and regret for losing control in what was an intense, physical game that East won 2-1 in overtime.
"I'm so sorry," said Manu, a soft-spoken senior who plans to graduate in December. "It was a physical game and I let my emotions get the best of me … It was nothing personal. I was just really frustrated with the game. I wasn't thinking. I was just running on adrenaline, and the game was tied at the time."
Sagers hopes they will be able to work with Woods Cross to turn an ugly incident into a positive experience.
"I talked to the coach (Schenk), and he was unaware that this had happened," Sagers said. "Ironically, right after that play, the coach saw that she was escalating emotionally and took her out of the game."
Manu admitted the fact that officials letting players get away with "a lot" of contact was frustrating.
"I've never had a player mark me that hard," she said of being guarded by Clark.
But Manu, her coach and her principal acknowledge that's no excuse for what happened.
"My moral compass says it doesn't matter what happened before that," Sagers said. "She could have really seriously injured her."
Clark said her daughter is reluctant to be in the spotlight over the incident, but she hopes the video might help players and coaches at all high schools be more aware of sportsmanship issues.
"I'm not naïve," Clark said. "I know soccer is a rough sport. When it goes to that level, it's appalling. If it can be used as a learning tool, to train players and other coaches, that they will not accept this kind of behavior, that's what I'd like to see come of it. I harbor no ill feelings toward this girl."
Those who know Manu want those who may see the video to understand it doesn't offer a complete picture of who she is.
"She's more than this five-second clip," said teacher Leigh VandenAkker. "What I love about sports in high school is that it teaches us about life. We have to learn how to keep our emotions in check. It's difficult. I think, unfortunately, many times, they're on stage, and we have to help them and use it as a teaching moment."
The incident occurred during a region game, so any disciplinary action would come from the Region 6 Board of Managers, although the UHSAA plans to investigate and work with the schools to ensure it's handled appropriately.
Twitter: adonsports
Email: [email protected]