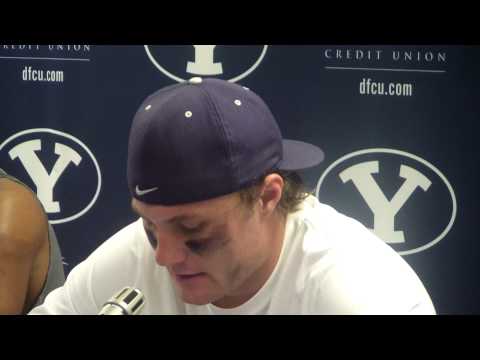 View 40 Items
Brandon Gurney, Deseret News



PROVO — After keeping pace with Oregon State's high-octane offense through three quarters, BYU finally ran out of steam in the final stanza and lost to the 10th-ranked Beavers, 42-24, Saturday at LaVell Edwards Stadium.
Cougar quarterback Riley Nelson completed 28-of-51 passes for 305 yards with one touchdown and three interceptions. BYU freshman running back Jamaal Williams gained 112 yards from scrimmage (76 receiving, 36 rushing) and scored on two short runs.
The Beavers and Cougars entered the fourth quarter tied at 21-21. But on one of the final plays of the third period, Oregon State quarterback Cody Vaz hit Brandin Cooks with a 59-yard bomb — and on the second snap of the fourth quarter that drive culminated with the Beavers scoring a 5-yard touchdown to go ahead for good, 28-21.
A 35-yard field goal by BYU kicker Justin Sorensen made it 28-24 with nine minutes left in the game. But on the ensuing drive, the Beavers found the end zone again to effectively put the game out of reach. Following two pass interference penalties against the Cougars, Oregon State wide receiver Markus Wheaton scored on a 12-yard reverse to make it 35-24 in favor the Beavers.
When BYU got the ball back, Nelson threw a pass that Jordan Poyer intercepted and returned 49 yards for a touchdown and the final score of 42-24.
Vaz finished 20-for-32 with 332 yards and three touchdowns. Cooks totaled eight catches for 173 yards.
Earlier in the game, Oregon State pulled ahead on three occasions — but BYU answered back each time.
Oregon State received the opening kickoff and quickly marched down the field. Vaz was 5-for-5 for 75 passing yards on that first drive, which culminated with an 11-yard scoring strike to Wheaton for a 7-0 lead.
The Cougars, however, answered right back with their own scoring drive. Nelson completed 5-of-6 passes for 48 yards, and BYU tied the score at 7-7 when Williams ran in from 1 yard out.
After both teams traded punts, the Beavers needed only two long Vaz passes to cover 67 yards. Wheaton's 24-yard touchdown catch with three minutes remaining in the first quarter put the Beavers back ahead, 14-7.
Midway through the second quarter, BYU took possession at the Oregon State 30-yard line. The Cougars required 12 plays and three fourth-down conversions to cover that distance, but Nelson's 2-yard toss to Devin Mahina evened the game at 14-14.
The teams entered halftime tied at 14 points apiece.
With 10 minutes left in the third quarter the Beavers took possession on their own 19-yard line. They used eight plays to advance the ball a modest 36 yards, but at that point the Oregon State attack suddenly exploded on back-to-back plays — Laz launched a 29-yard pass to Connor Hamlett, then Storm Woods scampered past the goal line from 16 yards out. Oregon State led again, this time 21-14.
Longer passes from Nelson to Mahina (22 yards) and Richard Wilson (19 yards) fueled a 75-yard BYU drive that ended with a Williams 2-yard touchdown run. Three minutes before the end of the third quarter, the Cougars tied the score at 21 points apiece.
Jamshid Ghazi Askar is a graduate of BYU's J. Reuben Clark Law School and member of the Utah State Bar. Contact him at jaskar@desnews.com or 801-236-6051.