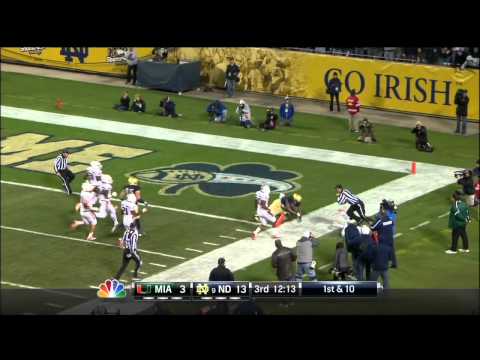 View 2 Items
YouTube

This month's cover of Sports Illustrated features Manti Te'o, a Hawai'i-born member of the Church of Jesus Christ of Latter-day Saints and starting Notre Dame Linebacker.
Te'o is currently dealing with the loss of his maternal grandmother in Hawaii and the death of his girlfriend after a battle with leukemia.
"It was probably the hardest thing I've had to do so far," senior linebacker at Notre Dame Manti Te'o told Fox Sports. "To be able to operate, to be able to try and continue with my daily routine but knowing that I had just lost two women whom I truly love."
In a testament to his resolve and character, Te'o has been nothing short of inspiring on the football field. He's at the heart of Notre Dame's football revival. Notre Dame is 5-0 after crushing Miami 41-3 on Saturday at Soldier Field. The win propelled the Fighting Irish to No. 7 in the country in the Associated Press' ranking. Te'o is exactly what Notre Dame has been looking for over the years even though he isn't like most athletes at his school.
5
comments on this story
Te'o is a devout member of the LDS church at a school where 84 percent of the student body is Catholic and less than 1 percent is Mormon, according to ESPN. When the Fighting Irish recruited him, he couldn't even find South Bend, Ind., on a map. "I probably would have circled the whole U.S. and said 'Somewhere in there,' " Te'o told ESPN.
But with all of the offseason problems the Fighting Irish had at quarterback, the team is starting to look like one of the best in the country, according to Bleacher Report. Notre Dame has had one of the toughest schedules in the nation in its first four games as it beat Navy, Purdue, then-No. 10 Michigan State and then-No. 18 Michigan.
It's the first time in six years Notre Dame has featured an athlete on the magazine's cover, according to the Chicago Tribune.
EMAIL: bbullock@desnews.com
TWITTER: @BullockBlaze