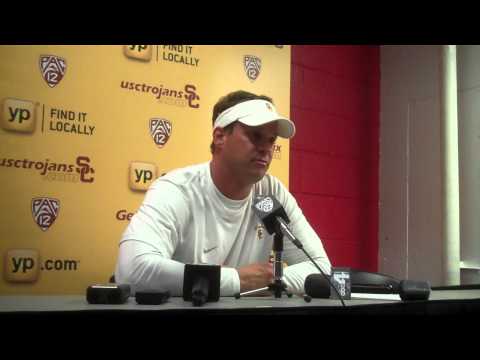 View 76 Items
Amy Donaldson, Deseret News




SALT LAKE CITY — It took 95 years for USC to play another game up on the hill and only a few minutes to ensure a successful return.
The 13th-ranked Trojans topped the Utes 38-28 Thursday night at Rice-Eccles Stadium, breaking open a close game with two touchdowns in a span of 2:40 in the fourth quarter to seal the outcome.
An 83-yard scoring strike from Matt Barkley to Marqise Lee and a 38-yard interception return by Nickell Robey allowed USC to pull away for the Pac-12 victory.
"We were two plays from winning that game — the (intercepted) screen pass and the 83-yard touchdown," said Utah running back John White. "We thought we had the formula. We fought to the end, and I guess it just wasn't enough."
The Utes dropped to 2-3 overall and 0-2 in Pac-12 play with the setback.
"It was a tough game. We were ready to play," said Utah coach Kyle Whittingham. "Our guys came out with a lot of emotion and energy in the first series and battled hard the entire way."
In the end, though, he acknowledged that USC "made the plays and we didn't."
Barkley led the charge for the Trojans (4-1, 2-1) by completing 23-of-30 passes for 303 yards and three touchdowns. Lee finished with 12 catches for 192 yards.
The Utes, however, jumped out to an extremely quick start — taking a 14-0 lead less than three minutes into the game. They took the early advantage by capitalizing on a pair of USC fumbles.
The first one came on the second play from scrimmage when Barkley scooped up a bad snap and then had the ball wrestled away from him by Utah defensive end Nate Fakahafua. The sophomore returned it 8 yards for a touchdown.
"What a great way to start the game. It got the crowd into it," Fakahafua said. "I just grabbed (Barkley) and did what I used to do in high school — just ripped the ball away."
Utah doubled its lead a short time later after another fumbled snap by the Trojans. Defensive tackle Star Lotulelei recovered the ball for the Utes on the USC 13. Two plays later, quarterback Jon Hays teamed with Kenneth Scott on an 11-yard scoring strike.
This time, however, the Trojans responded. They cut the deficit in half on their next possession — moving 75 yards on eight plays to make it 14-7. Silas Redd scored the touchdown on a 3-yard run.
USC reduced the margin again early in the second quarter when Andre Heidari added a 32-yard field goal.
Utah fired back with a sustained scoring drive that concluded with an 18-yard touchdown pass from Hays to DeVonte Christopher.
Although it increased Utah's lead to 21-10, the eight-play, 81-yard march failed to ignite any additional shift in momentum.
Before the half was complete, USC scored two touchdowns to take a three-point lead. A 23-yard touchdown pass from Barkley to Randall Telfer got things started.
Then came Utah's first turnover — a fumble by Dallin Rogers that was recovered by USC's Morgan Breslin in Ute territory. The Trojans cashed in a few minutes later when Barkley teamed with Robert Woods on a 6-yard touchdown throw.
USC's 24-21 edge remained intact until the fourth quarter. That's when the Trojans used big plays on offense and defense to pull away.
With 12:10 left to play, Barkley and Lee connected on their lengthy touchdown pass. At the 9:30 mark, Robey reached the end zone on a pick-6.
The scores gave the Trojans more than enough of a cushion to prevail.
"First of all, credit Utah. They came out and the crowd was electric as we thought it would be. The players came out and played really physical right off the bat and made some big plays," said USC coach Lane Kiffin, who acknowledged that the Trojans helped the Utes by giving up the 14 early points.
In the end, though, Kiffin thinks the comeback will be beneficial as the season progresses. He praised his team for not going in the tank or pointing fingers.
"I felt really calm and I felt like our team was and our coaches were," Kiffin added.
Trailing 38-21, Utah wound up capping all scoring in the game with a 5-yard touchdown run by Kelvin York with 38 seconds remaining.
The Utes return to action on Saturday, Oct. 13 at UCLA.
"Our guys have to continue to fight and that's what we'll do," Whittingham said. "They'll hang together."
Email: dirk@desnews.com Twitter: @DirkFacer