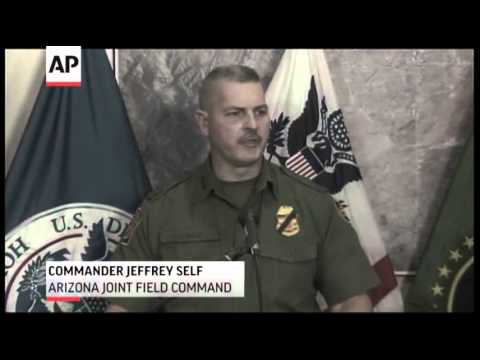 View 20 Items
AP via YouTube

We know where Nick is right now. … We know we'll be able to see him again.

—Chris Ivie
SIERRA VISTA, Ariz. — Nick Ivie lived a life of service that extended to his work with the Border Patrol.
Once while on patrol in the southeastern Arizona desert, he came across a pregnant Mexican woman traveling with a small group of people. Her feet were cut, and she wore rags for shoes.
"He carried that woman a mile and a half so she could get the help that she needed," Nick's brother Chris Ivie said. "He really did love the people that he worked with. He was a hero."
That story was one of several Chris Ivie and another brother, Rick Ivie, shared during a news conference Thursday at Cochise College, even as the investigation into the shooting that killed the former Provo resident and wounded another agent early Tuesday morning continued. A third agent on the scene was not injured.
Federal investigators told NBC News on Thursday they are examining whether the shootings were the result of friendly fire — officers accidentally shooting each other.
Initial reports from U.S. and local officials blamed the shootings on armed criminals.  Mexican police said Thursday that they arrested two suspects in a Mexican military operation in the city of Agua Prieta, in Mexico's northern Sonora state, a few miles from where Ivie was shot, Reuters reported.  
Ivie was responding to desert sensors that track movements in a remote area five miles north of the U.S.-Mexico border, near Naco, Ariz., authorities have said.
The Ivies declined to discuss the investigation or public policy issues at the news conference. About 16 Ivie family members joined the two brothers on a stage as they took questions from the media for about 30 minutes. No one else spoke.
Christy Ivie, the agent's wife, stood next to her mother, DeAnn Morris, and her sister Jen Cloward. She dabbed at her eyes when questions were asked about her young daughters being without their father.
Family spokesman Kevin Goates said the Ivies requested that others join them in praying for the well-being of the two other agents.
"May they and their families experience healing, comfort and peace during this difficult time," said Goates, president of the Sierra Vista Stake of The Church of Jesus Christ of Latter-day Saints.
In all, 30 Ivie family members traveled from Utah to be with the fallen agent's wife and daughters, including his nieces and nephews seated on chairs to the side of the stage at the news conference.
"He was a favorite uncle," Chris Ivie said. "He was just that kind of guy."
Although Ivie was the youngest of three brothers and one sister, his siblings looked up to him, Rick Ivie said.
"He lived his life as a life of service," he said, noting his brother's work as a volunteer EMT in Spanish Fork, attending the fire academy and becoming a Border Patrol agent.
Joel Ivie, a Border Patrol agent since 2003, steered his brother toward the agency.
"It just seemed like a good fit," Chis Ivie said, adding that Nick, 30, "grew up on horses."
The two brothers had worked together on the horse patrol for several months, but they were not stationed together at the time of the fatal shooting Tuesday.
"We never thought it would happen to us, but it did," Chris Ivie said, adding that shootings along the border "seemed so rare."
"We would tell them to be careful," he said.
Chris Ivie said he once asked Nick if riding horses had become a chore because he rode as part of his job.
"Riding never gets old," he said Nick replied. "He loved what he did."
Ivie, at 19, served a two-year mission for The Church of Jesus Christ of Latter-day Saints in Mexico City, where he learned Spanish and "developed a great love for the Mexican people," Goates said.
Chris and Rick Ivie said the family hasn't been told exactly what happened early Tuesday morning when their brother was killed. Information about possible friendly fire had not been released at the time of the press conference.
"We probably know less than you do, to be honest with you. We get most of our information from the news," Chris Ivie said.
The family, he said, has received comfort from the thoughts and prayers of friends and strangers and have not yet considered feeling anything for the individuals who took Nick's life.
"It is what it is. It won't bring Nick back," Chris Ivie said. "We know where Nick is right now. … We know we'll be able to see him again."
Contributing: Wendy Leonard
E-mail: romboy@desnews.com
Twitter: dennisromboy