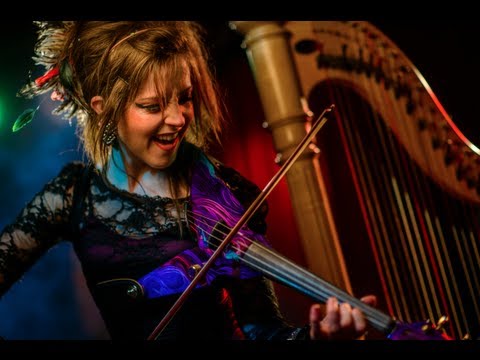 View 7 Items
YouTube

SALT LAKE CITY — What do you get when you combine a violin, contemporary dance and a spunky hairdo? A performer with more than 141 million views on YouTube by the name of Lindsey Stirling.
Stirling will be performing her dub-step musical style on the violin combined with animated contemporary dance at In The Venue, 219 S. 600 West, Oct. 11 at 7 p.m. as part of her United States tour.
Performing music ranging from the "Legend of Zelda" to "Lord of the Rings," Sterling's energetic performances provide a unique twist to violin performance as she dances her way across the stage while she's playing.
Having attended BYU, Stirling is no stranger to Utah. "I've been so supported by the Utah community. I've really appreciated that," said Stirling, who got her start combining dance and violin her sophomore year of college.
Composing, choreographing and directing all her original music and videos, Stirling has worked with Utah filmmaker Devin Graham to produce videos ranging from music inspired by video games such as "Skyrim" to TV shows like "Game of Thrones." Her videos can be found on her YouTube channel, Lindseystomp.
Stirling's success on the Internet has followed her to the stage. "I can go anywhere in the world and can draw a pretty good-sized crowd," said Stirling, who has performed in London, Italy and even at an E3 video game convention. In addition to her high-profile YouTube videos, Stirling's first CD debuted at No. 1 on iTunes in September.
"I just want to thank my fans for being so supportive for what I do. It's been really exciting to see we live in a world where independent artists can make it. ... I want to thank them because it's thanks to my fans that I get to continue to do what I love."
Tickets to the show are $15 in advance or $18 the day of the show and can be purchased at www.smithstix.com.
To read more about Stirling, visit her website at www.lindseystirlingviolin.com
Email: ajones@desnews.com