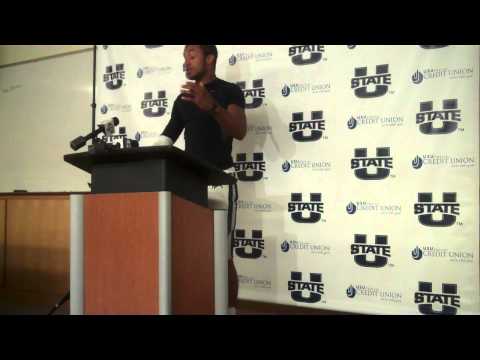 View 45 Items
Amy Donaldson, Deseret News



I feel like if it were any other team, I came out with the same intensity and played as hard as I do, any other game.

—USU running back Kerwynn Williams
LOGAN — Utah State running back Kerwynn Williams said it didn't matter to him that the opponent the Aggies beat up on Saturday night was from his hometown.
The only thing that did matter, said the senior running back, was that UNLV stood in the way of Utah State's first 4-1 start since 1978.
"I don't think that put any more spice on it," said the Las Vegas native, who had a career-best performance in Utah State's 35-13 win over UNLV. "I feel like if it were any other team, I came out with the same intensity and played as hard as I do, any other game. It doesn't add anything to it. But I was excited for the way it turned out tonight."
And his teammates, coaches and the 24,226 fans were excited about his performance against the Rebels. Williams earned 113 yards rushing, 147 yards receiving and a touchdown in the win. His receiving yards were the most by a non-receiver since 1959. He's also the first running back since Robert Turbin did it in 2009 to earn 100 yards receiving and 100 yards rushing.
He was humble about his accomplishments Saturday night, which earned him the game ball.
"I'm definitely excited about that," he said. "But once again, I can't take full credit for it."
He praised sophomore quarterback Chuckie Keeton for making "some great reads tonight, which allowed me to get the ball like I did."
He also praised his offensive line and the team's offensive coordinator for doing a "great job of mixing it up."
Williams was coming off a career performance and WAC Offensive Player of the Week honors in USU's victory over Colorado State last weekend. His 200-yard performance in that game earned him the game ball, which he didn't keep.
"He turned, sat right here and gave it to the offensive line," said USU head coach Gary Andersen. "Hopefully he'll see fit to keep this one."
Keeton said he wasn't surprised with Williams' performance.
1
comment on this story
"He was a wideout two years ago," said Keeton. "He always talks about having the stickies (meaning he can catch). … He definitely showed how well he can catch the ball, and his ability to get open and make yards after the catch."
For Williams, what made Saturday's win special wasn't that it came against a program that didn't even offer the highly regarded honor student a scholarship, but that it came the week before the team meets BYU. He, his coaches and teammates, hope they can utilize the momentum that's been building in Logan to find success in Provo next Friday.
Twitter: adonsports
email: adonaldson@desnews.com