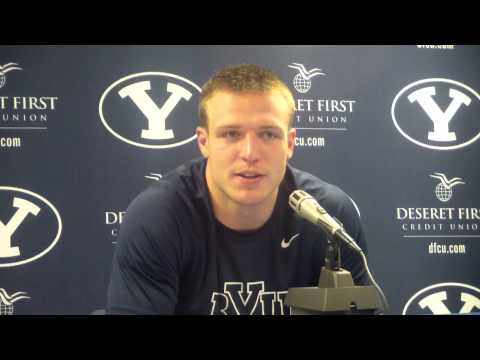 View 47 Items
Brandon Gurney, Deseret News



PROVO — Taysom Hill became the first true freshman quarterback in BYU history to win his debut as a starter, and true freshman running back Jamaal Williams rushed for 155 yards and two touchdowns in a 47-0 thrashing of Hawaii Friday night at LaVell Edwards Stadium.
While both are playing their first seasons of college football, Hill is a 22-year-old returned missionary and Williams is a 17-year-old just out of high school. Together, they powered an offense that rolled up 540 yards of total offense, including 396 on the ground.
Hill, who took most of the reps in practice this week, replaced senior Riley Nelson, who is nursing an injured back, and Williams took over for Michael Alisa, who fractured his arm in the first quarter.
Against the Warriors, Hill completed 12-of-21 passes for 112 yards with two touchdowns and one interception. He rushed 15 times for 141 yards, including an electrifying 68-yard touchdown in the second quarter.
"Taysom is progressing in terms of vision and poise," coach Bronco Mendenhall said. "He is a great runner as you saw, and the drop-back game will catch up."
"We saw a little bit of tape (of Hill)," said Hawaii coach Norm Chow. "We knew he was a good runner. We weren't sure who was going to be the quarterback."
Meanwhile, the Cougar defense pitched a shutout and limited the Warriors to just 149 yards of total offense.
After scoring just six points last week — while surrendering only seven — in a loss at Boise State, the Hawaii defense was just what the BYU offense needed.
"I felt the difference from last week to this week was the toughness the offensive line had," Hill said. "They were getting to the linebackers and sealing those guys. It allowed us to make some big runs. Anytime we can put up numbers like that, it's great."
And it was a much-needed win for a BYU (3-2) team that dropped a pair of heartbreaking road losses the last two weeks.
Hill and Williams gave BYU its first duo of 100-yard rushers since 2006 when Curtis Brown and Mike Hague accomplished the feat against UNLV.
Despite Hill's impressive performance, Mendenhall said Hill will likely return to his backup role Friday against Utah State.
"If Riley is capable and ready to play, then he will be our starter," the coach said. "The biggest decision is going to be how Riley is feeling."
Nelson dressed for the game Friday and stood on the sidelines.
The Cougars scored on their first drive against Hawaii as Hill led a nine-play, 77-yard drive that was capped by Williams' two-yard run.
"We started fast," Hill said. "It's the first time we've scored on the first drive, which was phenomenal."
On BYU's second drive, Hill threw a pick, but he and the offense bounced back by scoring two touchdowns in the second quarter — a two-yard pass to Ross Apo, which was his first TD of the season, and Hill's 68-yard sprint as the Cougars took a 20-0 lead into the locker room at halftime.
Early in the third quarter, linebacker Kyle Van Noy and defensive lineman Ezekiel Ansah forced a fumble on a quarterback sack inside the Hawaii 5-yard line. Linebacker Spencer Hadley recovered the ball, but fumbled and Ansah picked up the ball and appeared to have scored a touchdown. But the officials negated the TD, ruling that Hadley's knee had touched the ground at the 2.
Two plays later, Williams scored again.
"It feels good to come in at 17 and to have everyone believe in me like they do," Williams said.
The Cougars made it 34-0 with 4:18 left in the third quarter on a 12-yard touchdown pass from Hill to tight end Devin Mahina.
As time expired in the third quarter, BYU punched in another TD on a 4-yard run by backup running back Paul Lasike, who added a 2-yard touchdown run with 6:58 left in the game.
"We couldn't get it going defensively," said Chow. "We couldn't move the ball on offense. Very disappointing."
The Warriors dropped to 1-3 on the season.
The Cougar defense was happy about the shutout, but the Cougars are not satisfied.
"I don't think we should walk off just patting ourselves on the back," said cornerback Preston Hadley. "This isn't the best game we have played. We still have a lot of work to do so we can get ready for Utah State this week."