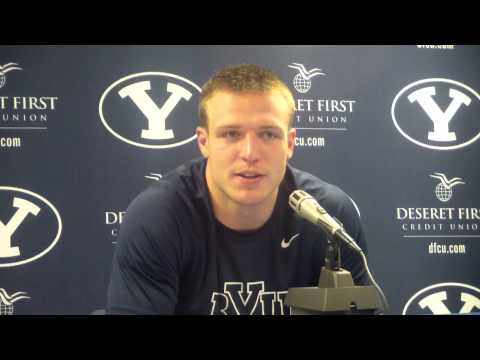 View 45 Items
Brandon Gurney, Deseret News

PROVO — Following two weeks of heartache, BYU took care of business against Hawaii.
The Cougars assumed control early before cruising to a 47-0 victory over the Warriors Friday night at LaVell Edwards Stadium.
It was a game that prominently featured BYU true freshmen Taysom Hill and Jamaal Williams. Together, they accounted for 410 of BYU's 540 yards of total offense and 30 of the team's 47 points.
Hill got the start at quarterback in place of the ailing Riley Nelson and led the offense to the fast start it was looking for. On the game's very first possession he marched the offense 77 yards in nine plays to go up 7-0 early. He completed three of his passes for 44 yards and rushed the ball three times for 19 yards on the touchdown drive.
Later, Hill ended the first half in style — bursting through the line on a quarterback draw 68 yards for a touchdown. Hill finished the half with 12 rushes for 146 yards and 10-15 passing for 88 yards.
Williams accounted for BYU's first score of the game on a 2-yard run and took over primary ball-carrying duties early after starter Michael Alisa sustained a fractured forearm. Williams, a Fontana, Calif. native, responded in a big way and finished the first half with 10 carries for 97 yards and the aforementioned touchdown.
Sandwiched between Williams' and Hill's touchdown runs was a 22-yard touchdown pass from Hill to receiver Ross Apo. The Cougars dominated the first half of play and went into the locker-room with a 20-0 advantage on the scoreboard and a 343-99 advantage in total yards.
The second half followed suit with BYU cashing in an early Hawaii turnover for another 2-yard touchdown run from Williams. The defense was active and aggressive throughout the game, but particularly in the third quarter. Overall it accounted for three turnovers on the night.
For the game, BYU's defense yielded just 149 yards and no offensive points for the second week in a row.
Converted rugby star Paul Lasike saw extended action in the second half and responded with 10 carries for 40 yards and two touchdowns.
With the win BYU moves to 3-2 overall and will next take on Utah State at home this coming Friday.
Twitter: @BrandonCGurney