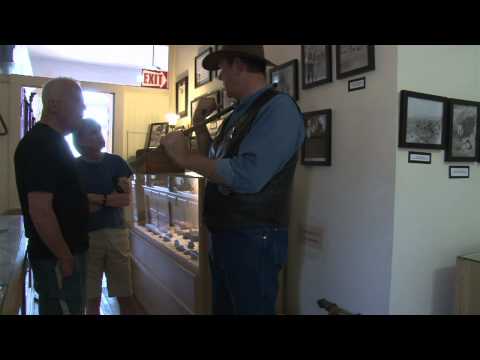 View 2 Items
Utah League of Cities and Towns

LEEDS — A small Utah town is trying to bring history to life in two adjacent ghost towns. The Town Council of Leeds is creating a historic walking trail connecting to the old mining towns of Silver Reef and Harrisburg.
The town of Silver Reef, just outside of Leeds and northwest of present-day St. George in Washington County, was bustling after a fantastic discovery in 1866. Prospectors converged on the town site when John Kemple discovered silver in the sandstone. Local Historian Eric Fleming explains, "It's the only place in the United States where silver was found in sandstone." Fleming is the Director of Wells Fargo Silver Reef Monument, which has been restored from the bustling times in the late 1800's.
Longtime resident LoAnne Larsen Barnes explains Silver Reef had the flavor of a typical scene from an old western movie: "Well, it was in every way one of those mining towns that you read about: shootouts, saloons, claim jumping. There were a lot of people who came after the railroad finished its run across the country."
Kemple's discovery quickly made this small Utah town rich, not only in resources, but in culture. People from all over the world settled there. Council member Angela Rorh said, "At one time Silver Reef was the largest town of Washington County. They were afraid it was going to become the county seat."
But the new townsfolk didn't stay long. The ore in the sandstone hills was played out while the price of silver plummeted, and there wasn't enough to keep them employed. Meanwhile, the nearby town of Harrisburg flooded, forcing homeowners to relocate, and many went to Leeds. But today in the area of the three towns you can still see the remnants from those years, and a group of residents would like to see a trail tie the three areas together.
"It will connect this museum about three miles to the Adams house, which is now part of the Red Cliffs National Conservation area," Barnes said. "The Adams house is completely restored, so it would be great to connect that to Silver Reef because our histories are completely connected."
Rorh explains, "We get people who come in the museum and they want to know where can they hike, where can they camp. It would be nice to have a better system mapping that out for them."
As plans for construction proceed, organizers are hoping to enlist the help of college students to build the trail. They are just finalizing the strategic plan for the trail.
ULCT is a non partisan, inter-local, government cooperative, working to strengthen the quality of municipal government and administration. The League serves as a voice for Utah's 245 cities and towns at the county, state and federal level.