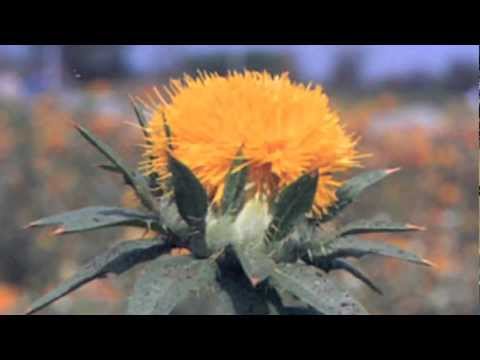 View 2 Items
Utah League of Cities and Towns

A plot of weedy, arid land southwest of the Salt Lake International Airport is turning into a cash-farm of sorts for Salt Lake County taxpayers.
The land is owned by Salt Lake City and will one day be the site of a sewage treatment plant. Until then, it would be sitting fallow but Salt Lake County officials came to the city with a proposal. Teaming up with experts from Utah State University, the county proposed growing safflower to create biofuel.
Under the right conditions, the woody-looking plants thrive in dry environments. When the safflower blossoms, it is harvested and squeezed to produce oil and glycerin. The glycerin is used to make soap. The oil is used in biofuel.
While walking across the site near the airport, Dallas Hanks, Utah State University's director for the Center of Agronomic and Woody Biofuels, said, "This site cannot be used to grow food because there isn't any water here and the soil is in marginal shape, but it's a real good dry land opportunity for us." He calls it Shangri-La in terms of its potential to produce biofuel.
The idea to utilize city- or county-owned land sitting fallow for urban gardens is taking off in Utah. Salt Lake County councilman Jim Bradley explained, "This really is going to work and I think it has a lot of public benefit. We're taking a public asset and turning it to some type of beneficial use for the community."
The safflower field has been in production for three years. The biofuel powers the county fleet. Just one acre of safflower can produce 25 to 30 gallons of biofuel. A 150-acre farm could potentially produce four or five thousand gallons of fuel.
Julie Peck-Dabling, Salt Lake County Open Space and Urban Farming coordinator, also checked in on a field in the Murray-Holladay area. The field was once covered with thistle and dry brush.
"We'd get complaints from neighbors and now as you can see it's a beautiful field of tomatoes and melons," she said.
Through the urban gardens program, farmer Thayne Tagge rents the lot from the county for a minimal price and grows produce. The fruits and vegetables are sold at neighborhood fruit stands. Peck-Dabling explained that local produce like Tagge's "taste so much better. It's also more nutritionally beneficial for people. There are benefits as well for our pollution control issues."
The tomatoes for sale in your grocery store may have traveled 1,400 miles before they arrived at market, according to Peck-Dabling. With the urban garden program, fruit and vegetables are plucked from the field and are sold nearby. The product is fresh, often comparable in price and less fuel is burned in its transportation to market.
Peck-Dabling explained, "I just think our program is a great model for other cities and counties throughout the nation." In fact, the program is attracting national attention from other cities, states corporations and even the military. The U.S. Army hired USU to inventory six military bases east of the Mississippi to see if there are resources to grow biofuel.
Summarizing the success of the project, Peck-Dabling said, "People long for something home grown, something that reminds them of the past or whatever it may be. There's no bigger kick in the world than planting a seed and seeing it produce something. So it's been a hit and I'm glad to see that it's going to continue on."
ULCT is a nonpartisan, interlocal, government cooperative, working to strengthen the quality of municipal government and administration. The League serves as a voice for Utah's 245 cities and towns at the county, state and federal level.