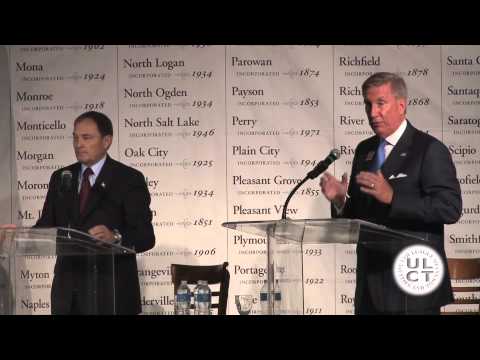 View 9 Items
Utah League of Cities and Towns

SALT LAKE CITY — Two very different pictures of Utah emerged Friday from the first debate between GOP Gov. Gary Herbert and his Democratic challenger, Peter Cooke, held at the annual Utah League of Cities and Towns convention.
Cooke called for an overhaul of the state's economic development efforts, citing what he called "brutal facts," including that Utah wages are falling at one of the fastest rates in the nation while the state has dropped from second to 10th in the nation in job creation.
"I think it's horrible for you to sit here and think we … are in a state of economic recovery when I have given you the facts. We need to come up with a new economic game plan," the retired general said, describing Herbert as selling Utah as a source of "cheap labor." 
But Herbert, who has been governor since 2009, said while he understands there is still uncertainty about the economy, Utah is "clearly on a consistent road to recovery," as evidenced by the state's ranking as one of the best places in the country to do business.
The governor later defended his sales pitch for the state's workforce.
"We sell Utah. I'm a strong advocate for Utah," Herbert told reporters. "If you don't believe in the state, you ought not be running for governor."
Utah, he said, is "climbing out of the hole much faster than the rest of the country, which is stagnating, so there's a lot to applaud. Are we where we want to be? No. But we're on the right road, going in the right direction."
Cooke said after the debate that the governor's response to his concerns about the economy shows a lack of leadership.
"This economy is not doing well," he said. "When you start saying that (it is), you're trying to win elections, and you're trying to be a salesperson."
Both Herbert and Cooke told the audience of local government officials gathered at a downtown hotel ballroom for the hourlong debate that although this is not the right time to raise taxes, changes may need to be made in the gas tax.
Herbert said there needs to be a "healthy discussion" and suggested adjusting the tax collected on the sale of gasoline for inflation. Cooke said all revenue sources should be reviewed, not just gas taxes.
There was little agreement between the candidates about the future of Hill Air Force Base.
"We are in trouble at Hill," Cooke said, accusing the administration of being caught off guard by an effort to move the base's maintenance mission to Oklahoma.
Herbert said it is in the best interest of the military and taxpayers to keep the base open.
The governor received a round of applause for his stand against federal control of public lands in Utah. He said the state would attempt to negotiate with Washington and that there was "no willy-nilly plan" to sue the federal government.
Cooke said the state should look at alternatives to going to court, including reviving the so-called "Sagebrush Rebellion" launched by the state's last Democratic governor, Scott Matheson, more than three decades ago.
The audience also liked Herbert saying that fireworks and target shooting bans should be left up to local governments rather than "have some micromanagement from a 'godfather' on top telling you how to do it."
Cooke, who had called for a statewide ban on fireworks at the height of the summer fire season, said repeatedly he was not in favor of big government but seeking leadership from the governor.
Friday's debate was moderated by KSL NewsRadio's Doug Wright and broadcast live. The next gubernatorial debate is scheduled for Oct. 4 and will be hosted by the Salt Lake Chamber.
The final debate between Herbert and Cooke is set for Oct. 11 and will be recorded for broadcast that evening on KUED Channel 7, as well as other public television and radio stations.
E-mail: lisa@desnews.com, Twitter: dnewspolitics