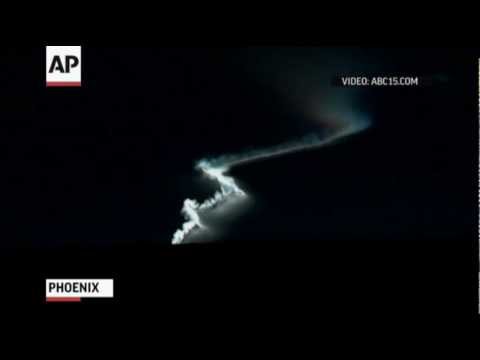 View 7 Items
Associated Press

SALT LAKE CITY — A thick white streak above the horizon in the southern sky of Utah Thursday morning had several people wondering what they were seeing. Some thought it was a meteor; others thought it was space debris.
"It kind of freaked us out at first," said Roni Neilsen, who saw the streak while driving on I-80. "It was so abnormal to see and at first, we thought it was an airplane, and then no, it's not an airplane, and coming from a military family, I thought maybe it's a rocket."
It turns out it was part of a successful missile test in New Mexico. Moments after the missile was launched at 6:30 a.m. it could be seen from Utah, Arizona and Nevada.
Monte Marlin, from U.S. Army public affairs, said it actually was a Patriot Advanced Capability-3 (PAC-3) missile fired from the White Sands Missile Range.
"What people were seeing was fired from Fort Wingate near Gallup," Marlin said. "They saw the contrails of the target missile."
The target missile went so high in the sky that when the sun caught its contrail, it lit it up so brightly that it could be seen for hundreds of miles. The swirly pattern was the result of the different wind patterns in the various layers of the atmosphere.
2
comments on this story
"This is the 14th time we've launched one of these large target missiles from Fort Wingate since the early '90s, sometimes depending on the time of year and sun, sometimes it's been visible from faraway, and sometimes not," he said.
According to the Army, the missile performed exactly the way it should, and when it was intercepted, its debris fell on Army property.
That's a relief for those who watched the light show from hundreds of miles away.
"The fact that you could actually see something like that from far away it makes you think it must have been something large for it to travel that far and actually see it that clearly," said Alpine resident Micah Workman.
Contributing: Associated Press