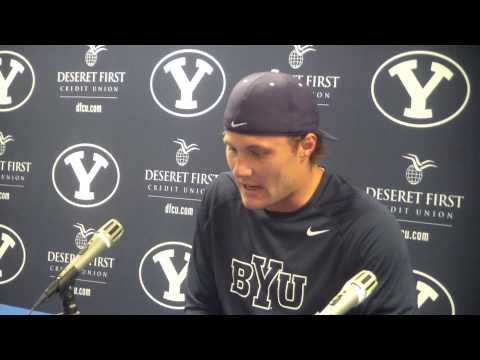 View 40 Items
Brandon Gurney, Deseret News



Just because we put together more scoring drives as the game went on doesn't mean that it erased those miscues early on in the game.

—BYU QB Riley Nelson
BYU football: Impact stats during BYU's easy win over Weber State
BYU Cougars report card: Slow start, big offensive finish
BYU football: Blowout score, backups lead to interesting Twitter discussions
BYU football: Cody Hoffman records 7th career 100-yard receiving game in return against Weber State
BYU football: Cougar backups contribute in blowout victory
Dick Harmon: James Lark's loyalty to BYU pays off with 2 scores in mop-up duty
BYU, Weber State football: Scoring summary
PROVO — As expected, BYU cruised to an easy victory Saturday against Big Sky opponent Weber State.
While the Cougars happily took the win, they know they still have plenty of room for improvement as they prepare to visit arch-rival Utah next week.
BYU didn't play as cleanly as it would have liked in its 45-13 triumph over the inspired Wildcats before a crowd of 60,314 at LaVell Edwards Stadium.
Execution errors give BYU plenty to work on heading into its showdown with the Utes.
Offensively, the Cougars, who finished with 532 yards of total offense, started slowly, punting on their first two possessions.
"We have to address that. You can't ignore that. Just because we put together more scoring drives as the game went on doesn't mean that it erased those miscues early on in the game," said quarterback Riley Nelson. "It was like last week (against Washington State). We were able to come away with a win, and a pretty convincing win, walking away grateful for what happened, but very hungry to get better and eager to evaluate our performance and get better."
BYU ended up scoring 21 points in the first half on a 37-yard touchdown pass from Nelson to Cody Hoffman, a 2-yard run by backup QB Taysom Hill, and an 8-yard run by Michael Alisa.
"I thought we started the game slowly in the first quarter but then it picked up as the game went on," said coach Bronco Mendenhall.
Nelson suffered back spasms during the game and did not play in the second half. In one half, he completed 18-of-29 passes for 244 yards. He said he could have played in the second half if needed.
"It's not anything out of the ordinary," Nelson said of his back. "I just got popped. They were a good, physical team. I've got to credit them. I got popped as good as I've been hit in my college career."
Backup James Lark played most of the second half and led the Cougars to 17 second-half points. Hill replaced Lark in the fourth quarter and ran for another TD.
"Riley's back was a little tight and I thought we would be moving the ball pretty comfortably," Mendenhall said. "It's a long season and with his back spasms, I thought it made sense to pull him."
The most glaring errors were two turnovers in the first half, including a Nelson interception as he scrambled out of the pocket, throwing an ill-advised pass that was picked by Weber State's Tony Epperson in the closing minutes of the first half.
"Oh, man. It was a bad decision on my part," said Nelson. "I mean, I won't do that again from here on out. That was dumb. No reason to do it."
"We just can't have that it (in) a football game," said offensive coordinator Brandon Doman. "(Nelson) knows better than that. He's handled himself so well. We're going to have some errant throws occasionally from him, just because of who he is. But I would have liked to have seen him not make that decision and throw an interception."
Earlier in the half, Hoffman caught a pass and fumbled inside the red zone.
"Going into these big games, we can't be in the red zone going in to score and have Cody fumble the football ball and in a critical situation before the half, throw an interception," said offensive coordinator Brandon Doman. "I don't want to see that stuff. If we can eliminate that kind of stuff and play the way we're playing, with our defense, I think we have a pretty good team."
Speaking of the defense, the Cougars held the Wildcats to 254 yards of total offense. But they were disappointed they weren't able to pitch a shutout against Weber State. One of the Wildcat's two TDs came with :50 seconds remaining in the game.
"I don't think we should be satisfied. It's not the best team that we've played, and two touchdowns is too much," said Cougar cornerback Preston Hadley. "I think our team and our defense need to be hungry this week. A lot of (Weber State's) success came due to our mental mistakes and missed assignments. It's stuff we need to clean up."
10
comments on this story
BYU surrendered its first touchdown of the season late in the third quarter.
"That's something that shouldn't happen against our defense," Hadley said. "It was missed assignments, lack of focus, lack of concentration. We gave them opportunities to make plays. It's disappointing because we never want to have (opposing) touchdowns scored in our stadium."
Overall, though, Mendenhall liked his team's "methodical and workmanlike" effort against Weber State.
"I think we handled the game and the week maturely," he said.