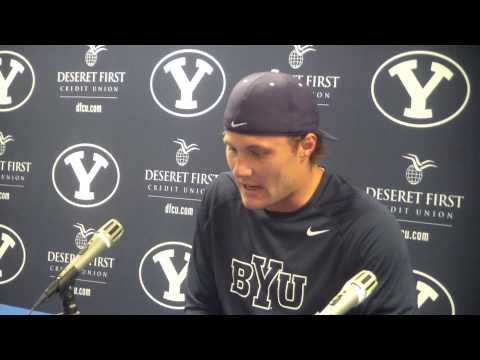 View 40 Items
Brandon Gurney, Deseret News



BYU football: Cougars take care of business against Weber State
PROVO — In the season-opener last week against Washington State, BYU wide receiver Cody Hoffman suffered a contusion in his leg and missed most of the game.
Hoffman returned in the Cougars' 45-13 win over Weber State — hauling in six passes for 110 yards and one touchdown.
It marked the seventh 100-yard receiving game of his career.
"It's always good to be back, to be out there and help the team and make plays when they need it," Hoffman said.
"It's nice to have a big, experienced target out there," said coach Bronco Mendenhall. "He's a player that's proven and experienced. It was nice to have him back."
Hoffman scored BYU's first TD of the day when he caught a 37-yard pass from quarterback Riley Nelson.
"The whole game, (Weber State) really emphasized stopping the run," Hoffman said. "They brought the safeties down so I had one-on-one coverage. Riley had faith in me and just threw it up. I can make those plays, so I came down with it."
Hoffman extended his receiving streak, catching at least one pass in 21 consecutive games. He's caught a pass in 27 of 28 career games.
While Hoffman returned, the Cougars' other starting outside receiver, Ross Apo, sustained a hamstring injury during practice late in the week.
Mendenhall said Apo dressed and participated in warmups before the game, but "he wasn't quite ready" to play.
With Apo out, Alex Kuresa filled in nicely, grabbing four passes for 51 yards.
FALSLEV PLAYING THE FIELD: Versatile wide receiver JD Falslev contributed in multiple ways Saturday.
Not only did he catch one pass for six yards, but he also returned a punt 33 yards, then, two plays later, he gained 53 yards on a running play that set up a touchdown in the third quarter.
"It's fun to get on the field and do anything I can to help our team," said Falslev, who finished with 129 all-purpose yards.
QUARTERBACKS ON PARADE: BYU played three different quarterbacks against Weber State — Nelson, James Lark and Taysom Hill.
Nelson played in the first half only. Lark completed 7-of-10 passes for 45 yards and threw his first career touchdown pass, a 2-yarder to tight end Kaneakua Friel. He also ran for another, which was also his first career rushing TD.
Hill ran for two touchdowns — one out of the wildcat in the first half, and then another for BYU's final TD of the day late in the game. He rushed six times for 27 yards and he completed 1-of-3 passes for 18 yards.
2
comments on this story
Offensive coordinator Brandon Doman would have liked to have put Jason Munns into the game as well.
"It would have been nice. We just ran out of time," he said. "It's hard to get four quarterbacks into a game. But I would foresee an opportunity for (Munns) to get into a game down the road."
FLAG-BEARERS: Prior to the game, defensive back Daniel Sorensen carried out the team flag while defensive lineman Ezekiel Ansah carried out the special teams flag.
Former BYU running back Brian McDonald (2000-01) carried out the alumni flag.