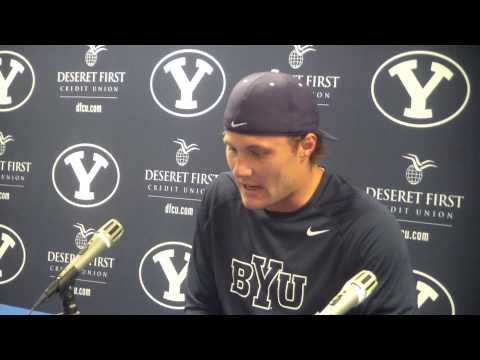 View 40 Items
Brandon Gurney, Deseret News



BYU football: Cougars take care of business against Weber State
BYU's football team rolled to an easy 45-13 win over Weber State Saturday afternoon at LaVell Edwards Stadium. Here are quarter-by-quarter impact stats from the game:
Impact stat of the first quarter: 6 inches
In a game where stats are measured in yards, sometimes a few inches are the difference between winning or losing.
Riley Nelson tossed a 37-yard score to Cody Hoffman with 3:19 to play in the first quarter, and it was a 6-inch height advantage that allowed the 6-4 Hoffman to reach over the head of the 5-10 defensive back of Weber State and haul in the touchdown. Nelson had Hoffman open down the right sideline but the ball was thrown slightly to the inside, giving the DB a chance to make a play on the ball, but to no avail as Hoffman made the snag.
That slight advantage produced a 7-0 lead for the Cougars. Following a forced fumble and recovery by Daniel Sorensen, Nelson missed JD Falslev by the skin of his teeth as the ball skimmed off his fingertips. Had the ball been thrown six inches shorter, Falslev had a seem down the sideline that may have given BYU a chance to extend its lead to 14-0.
Instead of stepping on the gas, Cody Hoffman returned the favor by fumbling while trying to gain extra yardage, allowing the Wildcats to remain within striking distance.
BYU led 7-0 after the first quarter.
Impact stat of the second quarter: 95 percent
The unofficial stat of not only the second quarter, but the whole first half, was a hard-hitting, helmet-cracking campaign by the Cougar defense to finish off every play.
The Wildcats' quarterback, Mike Hoke, was picking turf out of his facemask nearly every time he dropped back to pass. What was impressive was that it wasn't only on a blind-side shot to Hoke's ribs, but it was on every running play and even some bone-crunching pass break-ups.
Impact stat of the third quarter: six points
The shut-out bid was lost after Weber State got on the board with six points and the only drama remaining vanished.
Impact stat of the fourth quarter: 2s and 3s
Nelson found himself confined to the sidelines and the second half was the Taysom Hill and James Lark show. Lark showed off his arm and decision-making ability, while some people in the stands stuck around to see the raw talent and potential of Hill.
The two combined for four touchdowns to Nelson's one and Bronco had to be happy with the chance to get some of the young talent live game reps.
Jonathan Boldt is the Editor-in-Chief of the UVU Review at Utah Valley University, and can be reached at jonboldt@gmail.com. Follow him on Twitter @jboldt24. www.uvureview.com