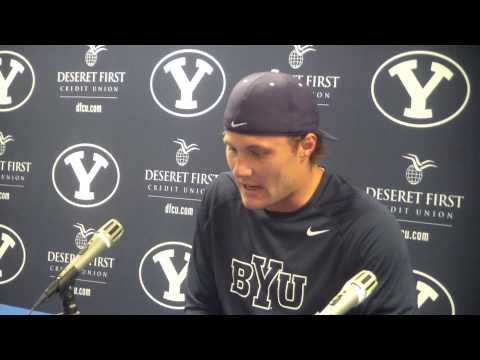 View 40 Items
Brandon Gurney, Deseret News



BYU football: Cougars take care of business against Weber State
PROVO — BYU made sure only one in-state upset took place this weekend between battling local football teams.
After shaking off a sluggish start, the Cougars walloped Weber State 45-13 this afternoon at LaVell Edwards Stadium.
The FCS visitors managed to keep it close for a quarter before the expected blowout took place.
The Cougars punted on their first two possessions before finally getting on their fancy new scoreboards late in the opening quarter when senior quarterback Riley Nelson connected with junior receiver Cody Hoffman for a 37-yard touchdown.
But the Cougars got a whole bunch more while racking up 532 yards off offense and holding the Wildcats to just 254 yards. BYU had a fairly balanced offensive attack, with 307 yards coming through the air and 225 yards rushing.
Freshman QB Taysom Hill and running back Michael Alisa both found paydirt on the ground in the second quarter when the Cougars opened up a three-TD lead.
After missing most of the Washington State win with a quad contusion, Hoffman hauled in 115 yards receiving on seven catches, including his soaring score over Wildcat cornerback Devin Pugh.
Nelson threw for 244 yards on 18-for-29 passing with one touchdown and an interception in the first half. He didn't play in the second half, with Hill (1-3, 18 yards) and backup James Lark (7-10, 45 yards) getting their turns leading the Cougar offense.
BYU coach Bronco Mendenhall said Nelson was sidelined in the second half after experiencing back spasms.
Both Hill and Lark rushed for touchdowns in the second half as the Cougars outscored WSU 24-13 in the final 30 minutes.
This is the second game featuring Utah colleges in as many days. Utah State upset Utah in overtime with a 27-20 win in Logan on Friday night.
The Cougars get their chance at the Utes next Saturday night at Rice-Eccles Stadium.
Tony Epperson provided the most highlights from the Weber State side. He punted 10 times for 507 yards (50.7 yards per punt) and made a game-high 10 tackles. He also managed an interception and a fumble recovery.
BYU also saw its own strong punting performance by Riley Stephenson. He averaged 53.2 yards on five punts while also making six PATs and a 33-yard field goal.
EMAIL: jody@desnews.com
TWITTER: DJJazzyJody