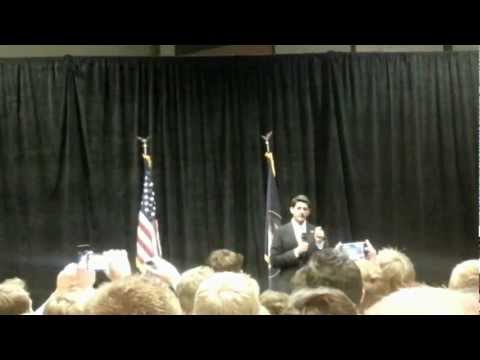 View 18 Items
YouTube

We're going to be deciding, not just who the president is going to be for four more years, we're going to decide what kind of country we're going to have for a long time.

—Paul Ryan
PROVO — GOP vice presidential nominee Paul Ryan promised he and Mitt Romney would stick to the country's founding principles if elected, a pledge that drew cheers at his fundraiser here Wednesday night.
"We are not going to transform this country into something it was never intended to be. We will not replace our founding principles. We will re-apply our founding principles," Ryan told several hundred people who paid $1,000 each to attend a 7 p.m. reception.
Standing on a stage in the grand ballroom of the Utah Valley Convention Center, Ryan said the Republican ticket would be guided by the belief that "we as people, as families, are the nucleus of our society, of our economy, not the government. It's just that simple."
He told the enthusiastic crowd that "this is the most important election of your lifetime and it doesn't matter what generation you come from. We're going to be deciding, not just who the president is going to be for four more years, we're going to decide what kind of country we're going to have for a long time."
President Barack Obama, Ryan said, took office in tough times and the country is now even worse off than it was. "We're a nation deeper in debt, further in doubt and on a road to decline. We can't let that happen. Not on our watch."
The Wisconsin representative selected by Republican presidential nominee Romney to be his running mate spoke for only 10 minutes to a crowd that included a number of students able to attend for just $20 each.
Brigham Young University student Kelsie Everson said she came because she's still undecided about who to support in the presidential race. Everson said she liked what she heard from Ryan.
"He gave a lot of positive reinforcement about what he and Mitt are planning on doing to help this country," she said. "I can tell that they're looking to really try and fix the economy and get it in a good position."
Gwen Warren of Mapleton said she was elated when Romney named Ryan to the No. 2 spot on the ticket. She spent $2,500 before Ryan spoke to attend a VIP reception and have her photo taken with the candidate.
"I think he's solid. I think he's a very honest man. And, I think he's brilliant when it comes to the economy," Warren said. "He's serious about what he does, and he loves this country....We really need this. And I'm going to be terribly disappointed if we lose."
During a stop in Utah that lasted just over seven hours, Ryan also held a $25,000-a-plate dinner at 5 p.m.. Both the dinner and the VIP reception were closed to the media, but reporters were allowed into the general reception for Ryan's speech.
Ryan, who was in Iowa earlier Wednesday, left Utah for Colorado not long after 7:30 p.m. He had campaign events scheduled in Nevada on Friday, one of several key swing states in the presidential election.
The candidate's Utah visit began shortly after 1 p.m. when he was greeted by a local troop of Boy Scouts after his campaign plane landed at the Provo airport.
He waved to the media and the handful of people gathered outside the security fence to cheer his arrival but made no public statement. Ryan did, however, take time to ask the Scouts from Troop 720 their names and shake their hands.
Eighth-grader Schafer Heiner admitted he was anxious about his first meeting with someone famous.
"I was really nervous, and I was really hoping that I wouldn't mess up," Heiner said. "He told us hi, and thanks for coming out. He also told us his kids were Cub Scouts. He seemed cool. I just told him my name and I said hi."
Scoutmaster Paul Mix said he got a call Tuesday night from the Romney campaign asking for him to arrange for scouts to meet Ryan's plane, emblazoned with the GOP ticket's "Believe in America" slogan.  
"I was so excited to call the parents," Mix said. "I mean, how many times can you call up a parent and say, 'The future maybe vice president of the United States wants to meet your boy tomorrow.' It's just unique. You don't ever have that happen."
The scouts were excused from school to attend, and parent Dirk Astle said the experience was worth it. "They all said what a normal guy he was, which is really cool," he said. "To hear them say that obviously gives them hope for what they could become."
Ryan was in Utah even before he was selected as the GOP vice presidential nominee, back in June to raise money for 4th District congressional candidate Mia Love. Wednesday, Love was named to Romney's Black Leadership Council. 
Democrats responded to Ryan's fundraising stop in Utah even before his plane touched down.
Wayne Holland, the former Utah Democratic Party chairman, called Ryan's visit "a little surprising" in an interview from Charlotte, N.C., site of this week's Democratic National Convention.
Holland, now the Western States campaign liaison for President Barack Obama, said Ryan would be better off spending his time in one of the battleground states up for grabs in the November election rather than Republican-dominated Utah.
"Of course," he said, "the Romney campaign has used the state as its ATM for a couple years now, so I guess fundraising could make some sense."  
E-mail: lisa@desnews.com
Twitter: dnewspolitics