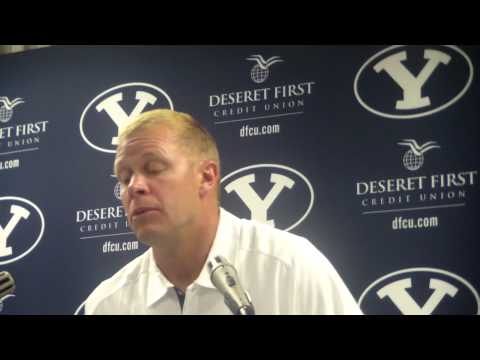 View 46 Items
Brandon Gurney, Deseret News



Since the inception of the Bronco Mendenhall era at BYU, the Cougars have been notorious for slow starts and playing from behind — especially at the beginning of the year. After two first downs on the opening drive of Thursday's season-opener against Washington State, an eerily similar feeling began to sweep over LaVell Edwards Stadium when BYU's punt team made its way out onto the field.
As one familiar feeling started, however, an equally foreign one popped up into the air as a broken-up pass went skyward and was picked off by BYU's Uona Kaveinga for the first big play of the game. One big play is all it takes for some teams to put their foot on the gas and get rolling.
That was definitely the case for QB Riley Nelson and the BYU offense. Nelson connected with Cody Hoffman for nearly a 30-yard gain only a couple plays later and following a big run by Michael Alisa the Cougars were inside Washington State's 10-yard line.
Nelson took a three-step drop from the 7-yard line and floated a pass to Skyler Ridley in the back corner of the end zone for the first score of the game and of the season.
One of the biggest question marks for BYU this season was with Nelson and the passing game. Last year he proved his worth as a playmaker and a leader, but this year he will try to make his mark through the air. In Game 1, Nelson looked more comfortable in the pocket and delivered accurate throws, ending the night with 285 yards and two touchdowns.
The offense did slow down in the second half, only recording two field goals that made the score look respectable and not a complete blowout.
Last year the Cougars looked to be waiting for the big play to happen. Tonight was a complete reversal. They looked sharp and, more importantly, they looked aggressive, looking to make big plays happen.