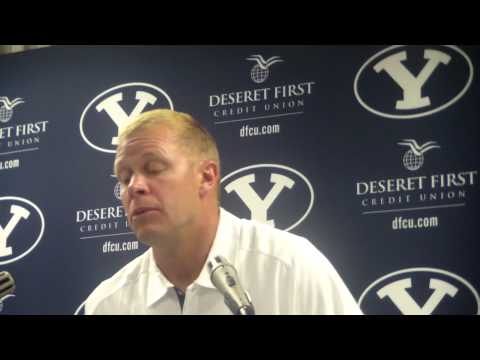 View 34 Items
Brandon Gurney, Deseret News



PROVO — BYU welcomed well-known football coach Mike Leach back to his old stomping grounds with a different kind of stomping.
The Cougars — the ones from Provo — scored the first two touchdowns and cruised to a 30-6 stomping of Leach's new Washington State squad late Thursday night at LaVell Edwards Stadium.
Starting quarterback Riley Nelson threw for 285 yards and two touchdowns on 25-for-36 passing to help lead BYU's offensive attack. The home Cougars outgained Wazzu 426 yards to 224 yards.
Tight end Kaneakua Friel was on the other end of two TD passes, six receptions and 101 receiving yards in a breakout night.
Nelson helped put BYU up 7-0 in the first quarter with a a 7-yard TD pass to Skyler Ridley. The Cougars' southpaw then added a second scoring strike — a 25-yard hook-up with Friel — late in the second quarter as BYU rolled into the locker room ahead 24-6 at the break.
That was Friel's second touchdown catch, but the first from BYU's starting QB.
Freshman QB Taysom Hill took a snap on a fourth-down situation early in the second quarter and turned his first collegiate pass into a 17-yard touchdown to the junior tight end.
Kicker Riley Stephenson was the only BYU player to score in the second half with field goals from 21 yards and 31 yards. He was 3-for-4 on the night.
Receiver Cody Hoffman suffered a quad contusion in the first half after hauling in three receptions for 46 yards. He rode the stationary bike in hopes of returning but was ruled out at halftime.
9
comments on this story
BYU had several stellar defensive performances. Star linebacker Kyle Van Noy had four tackles, two sacks and three quarterback hurries.
Uona Kaveinga thwarted an early WSU drive with an interception, and Jordan Johnson returned a pick 64 yards to set up a second-half field goal.
This ESPN-televised game — attended by 57,045 mostly white-clad fans — marked the first time Leach has faced his alma mater on the football field. It was also Leach's first game since he parted from Texas Tech in 2009.
BYU next hosts Weber State on Saturday, Sept. 8, at 1 p.m.
EMAIL: jody@desnews.com
TWITTER: DJJazzyJody