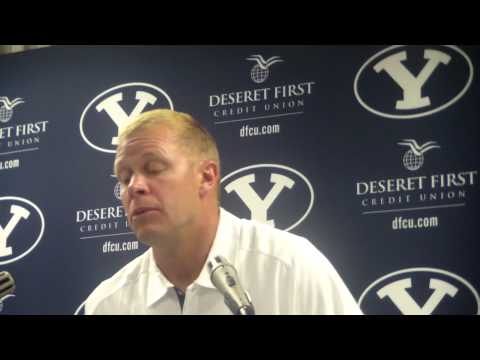 View 46 Items
Brandon Gurney, Deseret News



PROVO — BYU looked in midseason form throughout its season-opener Thursday against Washington State, providing a lot of yards on offense while not yielding many yards on defense.
All in all, BYU exceeded most expectations by building a big lead early and holding WSU in check throughout the rest of the night en route to a 30-6 win.
Offense: The BYU offense came out humming, accounting for 24 points and 296 yards of total offense in the first half. Even with star receiver Cody Hoffman going down early with a quad injury, sophomore walk-on Skyler Ridley stepped up and scored the first touchdown of the season on a seven-yard reception from Riley Nelson.
Nelson finished the game with 25-36 passing for 285 yards and two touchdowns. Tight end Kaneakua Friel showed why he came out on top of the tight end battle with six catches for 101 yards and two touchdowns. The offense dominated in time of possession and wore down the WSU defense with long drives. The offense did stall outside the endzone on three occasions in an otherwise very efficient performance. The running game was mediocre with 123 yards gained on 41 attempts. Grade: B+
Defense: The defense came out aggressive, but maybe a bit too aggressive. Multiple personal foul penalties extended WSU drives in the first half at least as much as anything else. BYU racked up 10 penalties for a combined 112 yards with most of those going against the defense.
Jordan Johnson, making his first start at corner, had mixed results, but picked off a pass early in the second half to end a WSU scoring bid. Uona Kaveinga also accounted for an interception courtesy of a tipped pass by safety Daniel Sorensen in the first half.
Holding a Mike Leach offense to just two field goals is an enormous accomplishment along with allowing just 224 yards of total offense. Grade: A
Special Teams: The kickoff coverage shined in the first half — consistently holding WSU short of its 25-yard line. The coverage unit did allow a long kick return to start the second half, but was bailed out by a string of WSU penalties and the Johnson interception.
Riley Stephenson connected on 3-of-4 field goals in place of the injured Justin Sorensen and had a decent effort punting the football. The punt cover unit provided a blocked punt that led to a short field and an easy score. Grade: B
13
comments on this story
Coaching: The team looked well-prepped and assignment-sound throughout the contest. Offensive coordinator Brandon Doman called a good mix of run and pass plays that led to long drives and a lot of yards. On defense BYU used unbalanced lines and creative blitz packages to keep WSU out-of-sorts and inconsistent with its attack. Grade: A-
Overall: There wasn't a lot to criticize regarding the team's performance overall. The offense looked sharp and was efficient. The defense dominated the course of play throughout. And the special teams play was solid. The Cougars left no question who was the best team on the field. Grade: A-
Email: bgurney@desnews.com
Twitter: @BrandonCGurney