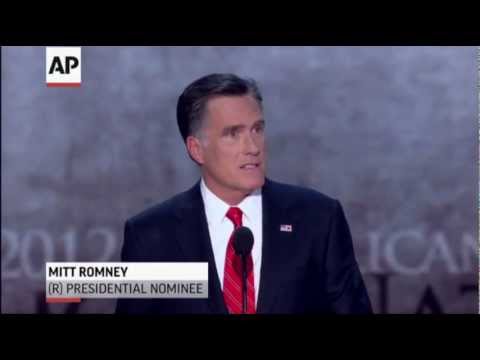 View 13 Items
AP via YouTube

He talked about how much he understood how hard it was to raise five kids. I think sometimes Republicans are seen as not understanding that somehow. But we know better than anyone.

—Utah House Speaker Becky Lockhart
TAMPA, Fla. — As he strode into the Republican National Convention to give the most important speech of his life Thursday night, Mitt Romney made a beeline to greet several members of the Utah delegation.
Former Utah congresswoman Enid Mickelsen got a hug from Romney on his way to the stage, but not before he commented on the long string of badges she was wearing designating all her positions in the party.
"What were the chances? That was surprising." He said, 'Look at all that.' We laughed and he gave me a hug," Mickelsen said. "It was just a nice moment."
She said Romney did what he needed to do in his speech, which drew frequent applause and chants of "USA" from nearly all of the crowd at the Tampa Bay Times Forum, but especially the Utah delegation.
"His job tonight was to connect with people on a personal level. Everybody in the country knows he's brilliant and a very successful businessman. His job tonight was to let them see how he's like them," Mickelsen said.
Romney accomplished that goal, she said, because "he opened up on his faith, on his family, on things that I don't think he's ever really done before. I think people should see it was heartfelt. He gave them substance but he also gave them a glimpse into who he really is."
Sen. Orrin Hatch, R-Utah, who was also greeted by the GOP presidential nominee, said Romney sold the crowd on his dependability, a trait showcased in videos and testimonials about his personal, professional and political life.
"People know that when Mitt Romney says he's going to do something, he really does it. That's the message there.  Look, he's not just blowing smoke, this guy knows what he's doing. This guy wouldn't know how to blow smoke."
Utah Attorney General Mark Shurtleff said Romney needed to let his audience watching in the arena and around the country "see his heart," so they could connect with them the way he did with Utahns, who consider him an adopted "favorite son."
Romney, a Mormon, lived in Utah as a student at Brigham Young University and later, to run the 2002 Winter Olympics. Shurtleff said even though Romney grew up in Michigan and considers Massachuetts, where he served as governor, his home, it's Utah that knows him best.
That connection was made Thursday night, Shurtleff said.
"The stiffness was gone. The humility, the feeling was there," the attorney general said, calling it the best speech he'd ever heard from Romney. "I was hoping he would really feel what he was saying in his heart and soul because I know it's there".I just felt the passion and the true belief in everything he was saying."
Former U.S. Senate candidate Tim Bridgewater agreed that Romney was able to show America a different side of himself Thursday night.
"Mitt has struggled to be who he is in the public arena," Bridgewater said. "Personally, I think it's his personality that limits him more from being open than his being a Mormon."
Romney mentioned his faith several times in his speech, which pleased Utah Eagle Forum leader Gayle Ruzicka, part of the 180 member Utah delegation.
"Those were tears in my eyes," the conservative leader said. "It was a great night. It was a long time coming and it came. Now we just have to get him elected," she said from the convention floor, where she watched Romney accept the nomination for president.
Utah House Speaker Becky Lockhart said she appreciated Romney's repeated references to women in his speech, both the roles they play in families and in the workplace.
"He talked about how much he understood how hard it was to raise five kids," Lockhart said. "I think sometimes Republicans are seen as not understanding that somehow. But we know better than anyone."
She said Romney, who appointed a number of women to key roles in his administration, made it clear "he's not afraid to have powerful, competent women around him. He understands the kind of contributions they can make and he values that. That's huge."
The Olympics were also highlighted in the final night of the convention, with a group of Olympians taking the stage to voice their support for Romney.
Among them was Olympic gold medalist speedskater Derek Parra, who ended up getting so close to Romney that he lived in his Deer Valley home for a while after the 2002 Winter Games.
Parra said he was proud to take the stage at the GOP convention because he believes Romney "can do for this country what he did for the Olympics, and put us back on top."
For bobsledder Jim Shea, also a gold medalist in 2002, being on the stage was an opportunity to return a favor.
"Mitt Romney was at the finish line in my race," Shea said. "He was there at my big moment. I want to be at his."
Shea made a number of appearances for the campaign during this week's convention, all but losing his voice describing over and over how Romney stepped up to unsnarl traffic at a parking lot after a pre-Games meeting for Olympic volunteers.
"That's the way he handled everything," Shea said, calling Romney's nomination "an amazing point in history and I'm so happy to be part of it."
Thursday morning, Mitt and Ann Romney attended a family reunion breakfast of more than 150 members of their families gathered at the convention from around the country, including Utah delegate Greg Robinson.
Robinson, whose mother Jane is Mitt Romney's sister, said it was "pretty powerful to be together this morning. The mood was very much we're on the verge of history. There was a tremendous confidence."
A wealth adviser who lives in Park City, Robinson said he isn't surprised to see a Romney nominated for president.
"We had a feeling growing up that someone in our family might someday be president," Robinson said. At one time, he said, the family thought it would be Romney's late father, former Michigan Gov. George Romney.
Robinson teared up as he described what it meant to see his uncle accept the nomination. "It's emotional," he said. "He's a great, great man."
E-mail: lisa@desnews.com
Twitter: dnewspolitics