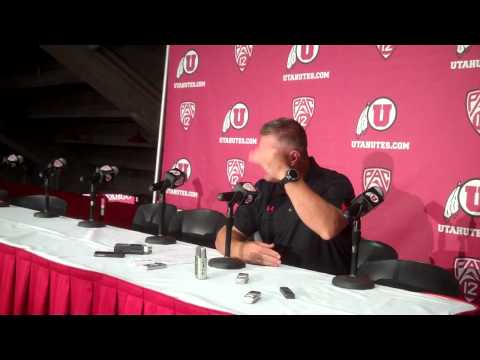 View 28 Items
Amy Donaldson





SALT LAKE CITY — Utah coach Kyle Whittingham summed things up quickly after the Utes' 41-0 victory over Northern Colorado.
"This was a good start to the season," he said. "There was some good and some bad, but mostly good."
On the positive side, Utah recorded its first shutout since a 50-0 victory over Wyoming in 2007. In doing so, the Utes never allowed their Big Sky Conference opponent to cross midfield and held the Bears to just 114 yards of total offense and only seven first downs. They also intercepted a pass and recovered a fumble.
"The defense did exactly what they were supposed to do — played tough against the run, won third downs, got a couple of takeaways and got a shutout," Whittingham said.
There were other bright spots as well. The Utes racked up 414 yards of total offense and 26 first downs.
Quarterback Jordan Wynn made a successful return after missing nearly 11 months with a shoulder injury. The junior completed 19-of-27 passes for 200 yards and two touchdowns. He was intercepted once.
Whittingham noted that running back John White "did his thing" with 119 yards rushing and was also impressed with the play of sophomore Jake Murphy, who led Utah with six receptions for 78 yards.
Other than a slow start, Whittingham was pleased with how things went in new offensive coordinator Brian Johnson's debut.
"Once the offense hit a rhythm I thought they played good football," Whittingham said. "The execution was good."
While the defense put the clamps on Northern Colorado, Utah's offense was sluggish early on. The Utes' first two possessions ended with an interception and a punt.
Utah held a 91-13 advantage in total offense after the first quarter but failed to put any points on the board. That changed, however, when play resumed. The Utes scored 21 points before the half was complete.
The barrage began with a 10-yard scoring strike from Wynn to Murphy with 13:05 to go in the second quarter. The Utes added short touchdown runs by Travis Wilson (3 yards) and White (5 yards) in the final 2:17 to pull comfortably ahead.
"Obviously we'd like to start a little faster on offense. A lot of that has to do with me," Wynn said. "If I don't throw that pick in the first series it sets up the rest of that series and the rest of the game. We responded well and had a good second and third quarter to put them away."
Utah had 227 yards and 14 first downs at the break. Northern Colorado managed only 41 yards and moved the chains just four times.
The Utes extended their lead to 28-0 early in the third quarter when Wilson scored his second touchdown of the game on a 6-yard run.
"I was really excited that I got my name called to go out there and run a little bit," Wilson said after his collegiate debut. "I got some good blocks and was able to get into the end zone."
After forcing Northern Colorado to punt for the seventh and final time, Utah went on a historic and lengthy march downfield. The Utes set stadium records by keeping the ball for 21 plays and taking 10:43 off the clock on a 91-yard scoring drive.
An 8-yard touchdown toss from Wynn to Murphy capped off the series with 12:18 left to play.
Leading 34-0 after a missed PAT, the Utes picked up a defensive score less than two minutes later. Defensive end Joe Kruger returned an interception 24 yards for a touchdown. Coleman Petersen added the extra point to close out all scoring in the contest.
27
comments on this story
"You can shut them out one quarter, but you have to sustain it for four quarters. That's what it's all about. Football is played in four quarters," said Northern Colorado coach Earnest Collins Jr. "That's the deal with playing a game up a level. You can hang with them in the beginning, but their depth outweighs your depth."
The Bears, who have now lost 12 consecutive games over two seasons, lost three starters to injury.
Utah moves on to face Utah State next Friday in Logan.
"Overall it was a decent start. Obviously the degree of difficulty gets much higher next week," Whittingham said. "We're going to have to play good football up in Logan. They're going to be well-coached. I think Gary (Andersen) has done a lot of great things with that program."
Email: dirk@desnews.com Twitter: @DirkFacer