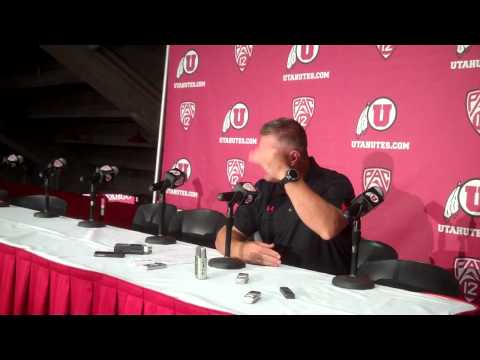 View 30 Items
Amy Donaldson





SALT LAKE CITY -- With an interception in the first series, Jordan Wynn and the Utah Utes started their contest against Northern Colorado slowly. The final score wouldn't reflect that, however, as the Utes defeated the Bears 41-0, keeping the visitors from their first victory since 2010.
Balanced offensive attack: Wynn shook off his first-series miscue to record 200 passing yards and two scores. Even heralded freshman Travis Wilson went 2-of-2 by the end of the contest. Jake Murphy and Dres Anderson led the receiving corps with six and four receptions, respectively. Wynn amassed most of his numbers in the first half, when he threw for 149 yards. The Utes compiled 221 total passing yards, while John White's 119 yards on the ground contributed to a Utah ground charge of 193 total yards.
Staunch defense: Though the Utah offense failed to score in the first quarter, the defense paved the way by halting the Bear attack, which endured throughout the contest. Northern Colorado managed just 114 total yards with quarterback Seth Lobato going 11-of-26 for 79 yards and an interception. Neither runningback Tromaine Dennis or Quentin Hildreth, who each had eight carries, managed more than 27 yards on the ground, and no receiver tallied more than three catches and 21 yards.
General efficiency and dominance: It reads up and down the box. Wynn led the Utes on a 9-of-15 third-down conversion rate as well as an impressive 3-of-3 fourth-down success, just three penalties for 20 yards, and a time-of-possession rate of more than 37 minutes.
Rhett Wilkinson attends Utah State University and is the co-founder of Aggie BluePrint. He's previously been an intern for the Deseret News and on Capitol Hill. He can be reached at rhett.wilkinson@usu.edu or on Twitter: @wilklogan