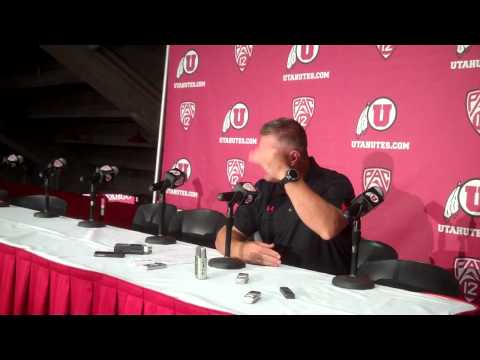 View 29 Items
Amy Donaldson





SALT LAKE CITY -- It didn't start out to be the overwhelming performance fans might have expected against a team that didn't win a single game last year, but the Utes gained steam in their opener Thursday to impress in almost every aspect of the game.
The Utes showed versatility on offense and toughness on defense as they defeated the Northern Colorado Bears 41-0.
Utah's defense was expected to be the team's strength and that proved to be true as it carried the team through a lackluster first quarter. Neither team could get much going in the way of offense and, on Utah's first drive, junior quarterback Jordan Wynn threw a long bomb that was intercepted by Northern Colorado.
He recovered, thanks in part to a great performance from his tight ends, most notably Jake Murphy. Murphy finished with six receptions, 78 yards and two touchdowns, including the game's first score -- a 10-yard pass from Wynn.
Wynn threw to eight different receivers including running back John White IV, who earned his ninth straight 100-yard game (119 yards on 24 carries). He scored a touchdown with 34 seconds left in the first half on a five-yard run.
Utah used freshman quarterback Travis Wilson to push the ball into the end zone twice, and he showed his athleticism and fearless attitude in hurdling defenders and taking tacklers head on. He scored in the second quarter on a three-yard run and in the third quarter on a six yard run.
The defense had two big moments in the fourth quarter. Junior defensive end Joe Kruger intercepted a pass and ran it 23 yards for a touchdown. Then two series later, the defensive line forced a fumble and recovered it.
Wynn finished with an impressive outing in which he went 19-for 27, 200 yards and two touchdowns. Wilson went 2-for-2 and rushed for two touchdowns (seven carries and 15 yards).
39
comments on this story
The one troublesome area was special teams. Coleman Petersen missed a 27-yard field goal attempt just before halftime and then missed an extra point after Murphy's second touchdown in the third quarter. Both times he hit the upright. He did come in and hit an extra point after Kruger's touchdown, but the mistake brought back memories of last year's three misses in the Colorado loss.
The Utah defense held Northern Colorado's offense to 103 rushing yards and 79 yards passing. While Utah earned 26 first downs, the Bears managed just seven. Bears junior linebacker Clarence Bumpas had his 10th game with double-digit tackles.
Twitter: adonsports email: adonaldson@desnews.com