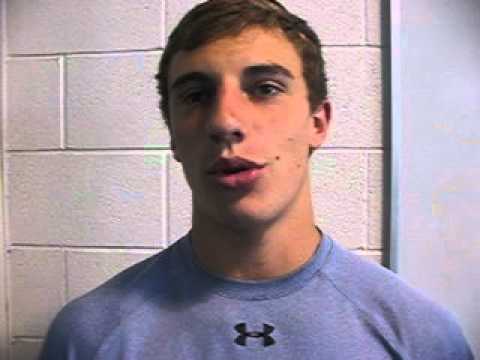 View 19 Items
Randy Hollis, Deseret News

Scroll to bottom of story to see Roy Felt's Facts
Note: Roy High finished with a 4-5 overall record and was sixth in Region 5 with a 1-4 record in 2011. It did not qualify for the 4A playoffs.
ROY — Phase 2 of the Roy High Football Rejuvenation Project is under way.
And chief architect Fred Fernandes feels like steady progress is being made toward completing that long-awaited project — hopefully someday not too far down the road.
"I think we were competitive last year," said Fernandes, a former multi-sport star at the school who's beginning his second season as the Royals' head coach. "We won four games and, realistically, I thought we were in four more.
"From where we started when I got here, I was encouraged with the progress we made. We've had a great offseason, and we're almost where a high school football team should be now. We've got a couple of guys who really took care of the weight room, so we've gotten stronger.
"We don't have any track guys or any speed demons yet, but we've got a couple of guys that pretty quick," said the guy they once called "Fast Freddy." "The commitment still isn't quite where it needs to be for us to be a championship team. It takes awhile to change that."
While pointing out that he's disappointed some of his players still aren't sure they want to make football their top priority, Fernandes feels like this once-proud program is turning the corner toward regaining respectability and prominence.
After all, last year's win total was the most at the school since 2007 and followed a dismal three-year stretch from 2008-10 when the Royals won just three games —combined.
Of course, last year's team wasn't without its shortcomings. While the defense did a decent job in most games, Roy managed to score a total of just 30 points in its five league games — 17 of those coming in the season-ending victory over Mountain Crest — and put a paltry average of less than 10 points per game on the scoreboard for the season.
They're hoping to remedy that with a revamped offense and renewed enthusiasm in a program that hasn't had a winning season in a couple of decades.
Sophomore Tyler Skidmore and senior Garrett Bowman are battling for the starting job at quarterback, and both of them will see playing time this year.
"Bowman has come a long ways and he's had a lot of bright spots," Fernandes said, "but so has Skidmore."
At running back, junior Justin Weaver and senior Hunter Grimes will share the position, while seniors Austin Terry and Grady Hansen will rotate at fullback.
"He's our best player — period," Fernandes said of Hansen, who only played a total of six plays last year due to injuries to his foot and back. "As a sophomore, he was something special."
At flanker, senior Connor McGuire is a returning starter, and he's backed up by promising sophomore Logan LaRose and senior Ryan Taylor.
"He's going to be a real dynamic player for us," Fernandes said of LaRose, a member of an outstanding group of sophomore athletes who have the Royals' head coach eager to see what they can do when they grow and mature a little more.
"When this sophomore class becomes seniors, we're going to be really tough to beat," he said. "There's just a bunch of really good players in that class."
The Royals have a couple of returning starters at wide receiver in senior David Hadley and sophomore Nathaniel Jones, who Fernandes calls "a dynamic player who's going to be a real asset for us."
At tight end, seniors Braxton Patton and Noah MacInnes will split time along with solid sophomore Cody Hobbs.
Ryker Mlynarski, a senior, will start at center, backed up by junior Kayne Boyer. The offensive guards are junior Pedro Quintana and senior Tyler Nicotera, and at offensive tackle, junior Kayne Boyer and senior Tim Jenkins are the starters.
"He's come a long way," Fernandes said of Jenkins. "He's gonna be a great player."
Over on defense, Terry, Nicotera and junior Wesley Brown will see action at defensive tackle, while Patton and MacInnes will start at defensive end, backed up by sophomores James Martinez and Bridger Gray.
The senior trio of Grimes, Hansen and Kennedy Linehan are the team's top linebackers.
At cornerback, seniors Jake Smith and Ryan Taylor, who's battling an injured ankle, will get playing time along with LaRose. And at safety, Jones and junior Justin Weaver will get the call.
Ben Aikuli, a sophomore refugee from Africa, will handle the place-kicking chores.
Although the Royals' program appears on the upswing, it'll be tough to climb the league ladder because of all the other good teams that Region 5 has to offer.
"The league is tougher than nails," Fernandes said. "Logan is going to be unbelievable; Mountain Crest, Sky View and Box Elder all will be good, and Bonneville's got a good thing going. (First-year Lakers coach) Tyler (Gladwell) has got a good staff — some quality guys that are helping him."
With all those potential roadblocks in their way, is it still possible for the Royals to reach postseason play for the first time since 2007?
"Absolutely," Fernandes said confidently. "I'll be very disappointed if we don't make the playoffs, very disappointed. We were a game away last year, but I still think that we should make the playoffs — we'd better.
"And when we get this thing rolling, it's gonna be something special around here."
That's when the Roy High Football Rejuvenation Project will cut the ribbon and officially stage its long-awaited grand re-opening — something Royal fans have anxiously been waiting for since the early 1990s.
Roy Royals at a glance
Coach: Fred Fernandes begins his second season as Roy's head coach. He went 4-5 in his first year at the school and has compiled a 91-48 overall record in 13 seasons as a high school head coach. He is a graduate of Roy High.
Offense
(6 returning starters; Multiple-formation offense)
While Tyler Skidmore and Garrett Bowman battle for the starting quarterback job, the receiver corps looks strong with Connor McGuire, Logan LaRose, Ryan Taylor, David Hadley, Nathaniel Jones, Braxton Patton, Noah MacInnes and Cody Hobbs providing potential pass-receiving targets. The O-line isn't huge but has enough savvy and experience to get the job done.
Defense
(5 returning starters; Base 4-3 defense)
The Royals' defense, which did a decent job last year, needs to step up and become a cohesive unit while the offense puts things together. Roy was solid on "D" in 2011 and will need more of the same this season — especially while the offense tries to get into a rhythm.
Coaches preseason Region 5 straw poll: Fourth
Deseret News Region 5 prediction: Fourth (tie)
Bottom line: Fernandes knows how to win, as witnessed by the three straight state championships his teams won at Northridge, and the way he turned around a long-suffering Woods Cross program a few years back. As a former Roy High superstar himself, he'd like nothing better than to re-energize the program where he was such a dynamic all-around athlete more than 30 years ago. Most folks figure that if anybody can turn this program around, it'll be Fernandes who gets the job done. Key home games late in the season against Bonneville (Sept. 28) and Sky View (Oct. 5) will go a long way to determining whether the Royals make good on Fernandes' quest to reach postseason play.
2012 Schedule
Aug. 17 CLEARFIELD, 7 p.m.
Aug. 24 at Weber, 7 p.m.
Aug. 31 FREMONT, 7 p.m.
Sept. 7 at Murray, 7 p.m.
Sept. 14 at Box Elder, 7 p.m.
Sept. 21 at Logan, 7 p.m.
Sept. 28 BONNEVILLE, 7 p.m.
Oct. 5 SKY VIEW, 7 p.m.
Oct. 12 at Mountain Crest, 7 p.m.
Oct. 17 MORGAN, 7 p.m.
Felts Facts for Roy High School
All-time record: 207-258-2 (47 years)
Region championships: 7 (1975, 1976, 1980 co, 1983 co, 1989 co, 1990 co, 1991 co)
Playoff appearances: 20
All-time playoff record: 11-19
State championships: 1 (1981)
State championship record: 1-1
Most played rivalry: 48 meetings with Bonneville dating back to 1965. Bonneville leads 34-14. Meet on Sept. 28.
Felt's Factoid(s): Royal Larry Riggs holds the record for longest interception return in a championship game: 88 yards in 1981. Even though Riggs didn't score, Roy defeated Bonneville 14-13 for the 4A title. ... Roy is one of just eight teams to keep an opponent from gaining a first down in a game (2001 vs. Ogden).
Roy coaching history
2011-current — Fred Fernandes (4-5)
2010 — Ron Koford (1-9)
2008-2009 — Roger Horne (2-18)
2006-2007 — Rod Bockwoldt (9-13)
2003-2005 — Brian Berrong (8-22)
2000-2002 — Guy Andersen (7-23)
1997-1999 — Shane Quilling (3-25)
1994-1996 — Mark Smith (6-23)
1982-1993 — Fred Thompson (56-60)
1970-1981 — Ernest Jacklin (79-44-1)
1967-1969 — Unknown (23-8)
1965-1966 — DelRay "Ted" Campbell (9-8-1)
Deseret News First Team all-staters the past 10 years
2005 — Daniel Elgaaen, Specialist
2004 — Drew Willard, TE
To view second team and honorable mention all-staters through the years, check out the Deseret News All-State Archives.