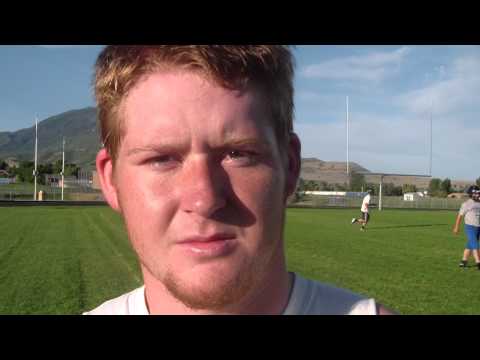 View 6 Items
Brandon Gurney, Deseret News

Scroll to bottom of story to section to see Felt's facts
Note: Salem Hills finished with a 2-8 overall record and was seventh in Region 8 with a 2-5 record in 2011. It did not qualify for the 4A playoffs.
SALEM — New Salem Hills coach Joel Higginson was born in Salem Hills, grew to love the community and loves the potential of the Skyhawk football program. He'll have his work cut out for him, however, coaching a team that has won four games the past two seasons and is picked to finish last in Region 8.
As Maple Mountain proved last year, however, things can be turned around and turned around quite quickly.
Entering last season, Maple Mountain, which is just down the street, was the consensus pick to bottom-feed in Region 8 and ended up finishing second.
"Maple Mountain proved last year that you can rise above your expectations and turn things around quickly," said Higginson. "It takes great coaching, which they have there, and kids that are willing to work, and hopefully we prove to have both of those things here."
It won't be easy for Salem Hills to rise above the last-place expectations, though. Higginson is in his first year and is attempting to overhaul the team's entire offensive system and overall attitude.
To rise above expectations takes trust and a helpful attitude from the players. Just a few months into his new job, Higginson believes his team has those two things.
"I love the attitude of these kids and I love how they've responded to what we've asked them to do so far," said Higginson. "We obviously have a lot of work to do to change this into a winning program, but I believe we're willing to do that work."
Along with attitude comes a simple belief that things can be turned around.
"It sounds cliché, but I truly believe that you have to go into (it) truly believing that you can come out on top," said Higginson. "For years there's been a losing attitude here and we need to turn that around. We need to bring these kids to the point where they expect to win and expect to be on top and that isn't easy."
For his first season, Higginson believes his team can make some big strides.
His players agree.
"It's a lot different this year with coach Higginson," said senior Zac Lundell. "We needed a new start I think and coach Higginson is so motivated to win and he makes you want to play football for him. In past years I don't know if a lot of us really enjoyed playing, but I think that's changing a lot this year. We're motivated and we're excited to play."
Lundell will help lead the defense from his cornerback position where he started and saw a lot of success last season. The strength of the defense looks to be at linebacker and in the secondary.
"We really like our cover corners and our linebacking crew is very strong," said Higginson.
The defensive line will be led by senior Nick Stones.
"I've been around a lot of football players, but I don't know anyone who works as hard as hard as Nick Stones," said Higginson. "He comes to work every day and puts his sweat on and just does whatever is necessary to be his best."
On offense Higginson is still looking for a quarterback, but believes he has some good options in Kyle Tarter, Garrett McEwen and Scotty Lyman. Tarter is more of a running threat while McEwen and Lyman have strong arms.
The strength of the offense looks to be at receiver where Zack Zobell returns and hopes to lead the way.
"He's one of the top receivers in the state, I think," said Higginson. "He was only a sophomore last year and I think he's going to be tremendous. We have some good seniors and when we we're able to solidify a quarterback to get those guys the ball, then we could be really good."
Along the offensive front Higginson will start a lot of underclassmen, including three sophomores.
"All of them are big guys, but we're going to be inexperienced there," said Higginson. "I like our young sophomores though, and in a few years they're all going to be tremendous players. I love the kids I've been able to work with and really believe we'll turn this thing around and be competitive here soon."
Salem Hills Skyhawks at a glance
Coach: Joel Higginson starred at receiver for Spanish Fork and then for Utah State at the collegiate level. He was an assistant coach at both Spanish Fork and Salem Hills before taking his current post.
Offense
(Spread offense)
Gone is the triple-option at Salem Hills in favor of a spread offense that should fit right in with pass-happy Region 8.
"It's the offense I know and what I'm comfortable running here," said Higginson. "It's also the offense that best suits our current talent, so yeah, we plan on throwing the ball around and hopefully we can be successful with it."
Defense
(Base 4-3 defense)
Not as much will change on the defensive end with Higginson holding over largely the same defense the coaches have run in the past.
"It's not a complicated system and it's looked really good for us in practices so far," said Higginson. "We'll be very conservative, but we have a coach who really knows when to take his shots, so I think our base is going to be really strong. I'm excited about the direction of our defense."
Coach's preseason Region 8 straw poll: Eighth
Deseret News Region 8 prediction: Eighth
Bottom line: It's not going to be easy for Salem Hills to have a Maple Mountain-like breakthrough in 2012. There are too many question marks at key positions — such as offensive line and at quarterback — to prognosticate much success. Coach Higginson brings a lot of enthusiasm and promise, however, so don't be surprised if the Skyhawks pull some upsets and find themselves out of the Region 8 cellar.
2012 Schedule
Fri. Aug. 17 — Juan Diego, 7 p.m.
Fri. Aug. 24 — at Payson, 7 p.m.
Fri. Aug. 31 — at Juab, 7 p.m.
Fri. Sept. 7 — Timpanogos, 7 p.m.
Fri. Sept. 14 — at Orem, 7 p.m.
Fri. Sept. 21 — at Provo, 7 p.m.
Fri. Sept. 28 — Springville, 7 p.m.
Thu. Oct. 4 — Timpview, 7 p.m.
Wed. Oct. 10 — at Mountain View, 7 p.m.
Wed. Oct. 17 — at Maple Mountain, 7 p.m.
Felt's Facts for Salem Hills High School
All-time record: 11-30 (4 years)
Region championships: 0
Playoff appearances: 2
All-time playoff record: 0-2
State championships: 0
State championship record: 0-0
Most played rivalry: 4 meetings with two schools, Springville and Uintah, both dating back to 2008. Springville leads 4-0 and Uintah leads 3-1. Meets Springville on Sept. 28; last met Uintah in 2010.
Felt's Factoid(s): SH is one of just 11 schools to qualify for the playoffs in its first year of football.
Salem Hills coaching history
2012 — Joel Higginson
2008-2011 — Monte Morgan (11-30)
Deseret News First Team all-staters the past 10 years
(None)
To view second team and honorable mention all-staters through the years, check out the Deseret News All-State Archives.