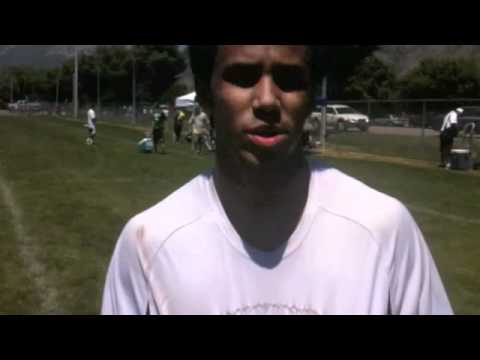 View 14 Items
James Edwards

Scroll to bottom of story to see Hurricane Felt's Facts
Note: Hurricane finished with a 13-0 overall record and was first in Region 9 with a 6-0 record in 2011. It beat Desert Hills, 21-0, in the 3A championship game.
HURRICANE — Not that anyone is complaining, but Hurricane lost a bit of its identity when it finally broke through by winning last year's 3A state championship.
Losing on the final play of three straight title games had come to define the program until last year's undefeated season.
Now what?
As far as Hurricane is concerned, it's a new year and it's just as hungry to go out and win another state championship.
"We've heard a lot of rumors saying that we're going to live off last year's (success) and we don't even care, but that's not true. We're going to work hard every day, get in the weight room, do our sprints and hopefully come back next year with another title," said senior Adam Thompson.
Coach Chris Homer hasn't sensed any complacency from his players throughout the summer, and he's confident in the leadership of his senior class that it won't become a problem either.
Coming off a 13-0 season, and with a fair amount of starters returning, Hurricane not surprisingly was the overwhelming choice by the rest of coaches as the preseason No. 1 in 3A. One Region 9 coach went so far as to say Hurricane might even be better this year.
Homer isn't ready to make such a bold prediction.
"I said last year I wasn't sure how good our team was until we played Desert Hills, and that was Week 8. It might take a little while to fill out this team. It takes time to really get a feel for how good a team can be," said Homer.
Outside of Thompson, who is one of the fastest players in the state, Homer said this year's team doesn't have the same type of star power it did a year ago. But there's still plenty of talent across the board to expect another great season.
Last year Hurricane averaged 39 ppg, and with the explosive Thompson back another dominant season is possible.
As a junior last year, Thompson had 81 carries for 827 yards and 12 TDs. His 10.2 yard per carry average is proof he's a threat to score every time he touches the ball.
"That's one guy I think I may even overlook how good he is. He's so fast. You can throw him into kick return situations, punt return situations. He's got good hands he can catch the ball," said Homer.
"Adam has special speed, and I don't think it mattered what classification that kid was in. By next year he'll be running under 11 in the 100 in track, but the good thing is he has football speed too. It translate into pads, plus he has agility and moves laterally."
Thompson was part of a three-headed running back monster last year that included 3A MVP Brian Scott and first team all-stater Weston Yardley. Without the other two, defenses will inevitably key more on Thompson. That's risky according to Homer.
Even though Homer's unsure who will emerge as his second starting wingback alongside Thompson, he has complete faith in Jared Edwards taking over for Scott at fullback
Edwards led Hurricane in tackles last season as a junior linebacker. He'll bring that same tenacity to the offense.
"Jared's a quality fullback — people have no idea. He's just overshadowed. He's just a different style and different kid," said Homer.
With Zac Prince taking over as quarterback — a player who could easily start at wing back if necessary — Hurricane's quarterback will inevitably run more than last year. A defensive starter last year, Prince is a three-time state wrestling champ and has tremendous leadership skills.
At 5-foot-8, he doesn't fit the prototypical quarterback, but Homer said, "he's perfect for us."
Hurricane opens the season against Skyline and West Jordan this year, great early-season tests for the Tigers both offensively and defensively.
Hurricane Tigers at a glance
Coach: Chris Homer is entering his 11th season as Hurricane's head coach. He's amassed 76-42 record during that span, which includes a 3A state championship last season. He's a graduate of Bear Lake, Idaho.
Offense
(3 returning starters; Wing-T offense)
Over the past four years, Hurricane has demonstrated an incredible knack for reloading instead of rebuilding, and that should be the case again this year. Despite one returning starter on the offensive line, Thurman Joe, that position should once again be a strength for the Tigers. Jared Edwards takes over for fullback after playing sparingly there last year with 36 carries for 279 yards and three TDs. Wing back Adam Thompson is the primary returning starter offensively, but Zac Prince gained plenty of varsity experience last year as well starting three games for injured QB Taylor Parker early in the season.
Defense
(5 returning starters)
The Tigers only allowed 15 ppg last season, but with five starters back and a bunch of newcomers eager to make their mark, the defense should be a strength again this year. Everything starts on the defensive line with 285-pound nose guard Sean Hafen. He will likely be double-teamed all year which should free up Hurricane returning starting linebackers Edwards and Kellen Seely to stuff the run. Edwards led the team with 118 tackles last year, but his production will likely go down a bit because of his fullback duties offensively. Zac Prince is a returning starter at safety.
Coaches preseason Region 9 straw poll: First
Deseret News Region 9 prediction: First
Bottom line: It will be tough to duplicate last year's undefeated season, but this team is certainly capable. Over the past four years, Hurricane has amassed a 48-7 record and advanced to four state championship games — finally winning its first last season. The Tigers might have a hard time duplicating last year's offensive (39 ppg) and defensive (15 ppg) dominance, but they're still the team to beat in a pretty wide-open 3A field this year.
2012 Schedule
Aug. 17 — SKYLINE, 7 p.m.
Aug. 24 — at West Jordan, 7 p.m.
Aug. 31 — LEGACY, NEV., 7 p.m.
Sept. 7 — at Cedar, 7 p.m.
Sept. 14 — DIXIE, 7 p.m.
Sept. 21 — at Snow Canyon, 7 p.m.
Sept. 28 — at Pine View, 7 p.m.
Oct. 5 — Bye
Oct. 11 — DESERT HILLS, 7 p.m.
Oct. 17 — CANYON VIEW, 7 p.m.
.....
Felt's Facts for Hurricane High School
All-time record: 283-289-12 (63 years)
Region championships: 10 (1965 co, 1980, 1982, 1989 co, 1990, 2005, 2008, 2009 co, 2010 co, 2011)
Playoff appearances: 31
All-time playoff record: 25-30
State championships: 1 (2011)
State championship record: 1-6
Most played rivalry: 61 meetings with Cedar dating back to 1949. Cedar leads 43-15-3. Meet on Sept. 7.
Felt's Factoid(s): Hurricane made the most improvement in one season in state history, going from 1-8 in 2004 to 12-1 in 2005. ... Tiger Lance Gubler holds the career interception record, 34, set from 1980-82.
Hurricane coaching history
2001-current — Chris Homer (80-47)
1989-2000 — Wes Christiansen (54-57)
1983-1988 — Wayne Edwards (20-37)
1972-1982 — Wes Christiansen (57-58)
1957-1971 — Unknown (41-75-9)
1954-1956 — Jim Richardson (11-11)
1950-1953 — Unknown (16-10-3)
1949 — Edgar Lempold (4-2)
.....
Deseret News MVPs the past 10 years
2011 — Brian Scott, RB
Deseret News First Team all-staters the past 10 years
2011 — Alex Sefita, OL
2011 — Kevin Mortensen, DL
2011 — Taylor Parker, DB
2011 — Weston Yardley, SP
2010 — Daniel Nielson, OL
2010 — Jarom Healey, RB
2010 — Taylor Parker, DB
2010 — Eric Canfield, DL
2010 — Corey Edwards, K
2009 — Ian Gates, LB/OL
2009 — Kylynn Iverson, OL
2009 — Jeff Staples, DL
Comment on this story
2009 — Corey Edwards, K
2008 — Gordie Dotson, RB
2008 — Ryan Butler, OL
2008 — Riley Pentico, LB
2008 — Gary Bracken, DB
2007 — Ryan Butler, OL
2005 — Kenny Scott, RB
2005 — Tyler Bishop, OL
2005 — Callin Nay, LB
2005 — Cody Olsen, DB
2002 — Scott Barrett, DL
To view second team and honorable mention all-staters through the years, check out the Deseret News All-State Archives.
Email: jedward@desnews.com
Twitter: @DNewsPreps
Contributing: Jessica Wilde, Conner Johnson, Steve Mundee and prep football historian George Felt.