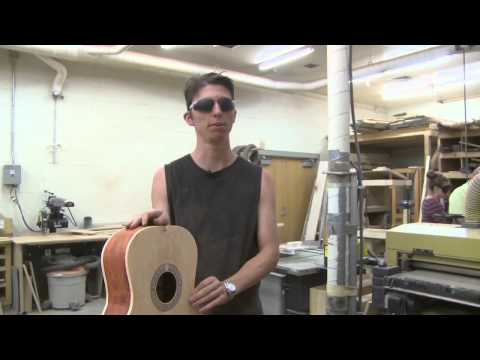 View 2 Items
Utah League of Cities and Towns

SALT LAKE CITY — Dennis Stapley has been working with wood most of his life. It came easily to him, as his father taught wood shop in high school. Over the years, Dennis has honed his skills to the level of a master craftsman, making fine furniture, guitars and even caskets. His work is rich, smooth and a delight to the eye. But that is something Dennis will not experience — Dennis Stapley is blind.
He has a shop in his home in the Salt Lake Valley, but does much of his work in the wood shop of the Utah Division of Services for the Blind and Visually Impaired. It is a workshop that would put caution to many not used to the sophisticated power equipment, filled with tools that can easily slice a finger or hand, but Dennis has no problem walking through the shop and using power saws, lathes and other potentially dangerous equipment.
Dennis now teaches others who are blind to turn out the same kind of fine woodwork he does. He had seven students in the shop the day we visited, all legally blind except for one new employee at the Division of Services for the Blind and Visually Impaired. She was wearing a blindfold and finding her way around the machinery. All employees of the Division are required to undergo sightless training.
Two of Dennis's students were making their own guitars. Ironically, none play the instrument, including Dennis. But they all said they might take lessons now that they have crafted a musical instrument.
Lessons can truly be learned from the experience of spending a few hours with Dennis and his students, lessons in determination, inspiration and humility.
Dennis Stapely is a Utahn of remarkable talent and a Utahn who is sharing that talent and love with others who never would have thought to create beauty as he has with the power of the mind and the ability of the hands.
Woodworking class for the visually impaired
ULCT is a non partisan, inter-local, government cooperative, working to strengthen the quality of municipal government and administration. The League serves as a voice for Utah's 245 cities and towns at the county, state and federal level.