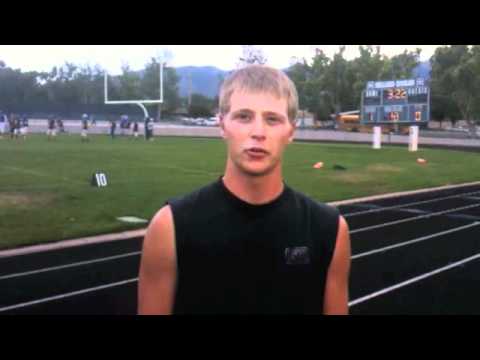 View 15 Items
James Edwards

Scroll to bottom of story to see Beaver Felt's Facts
Note: Beaver finished with a 6-4 overall record and was tied for second in the 2A South region with a 5-2 record in 2011. It lost to South Summit, 17-7, in the quarterfinals of the 2A playoffs.
BEAVER — This might finally be the year Beaver's football team makes the jump into the upper echelon of 2A.
Lately, that elite group has included San Juan, Manti, Millard and South Summit, but Beaver is optimistic about turning the Big 4 into the Big 5 in 2012.
"We really need to take that next step. For our program's sake we'd like to join that top group of teams," said coach Steve Hutchings.
There are several reasons to believe Beaver can make the jump. For starters, the Beavers are deeper than they've been in nearly a decade.
Beaver's senior and junior classes are both pretty good, according to Hutchings, the first time in quite awhile he can recall having back-to-back strong classes in his program. Usually the classes have alternated between strong and weak.
Senior Lyndon Bradshaw believes that will make a big difference as Beaver tries to dethrone San Juan as the 2A South region champion.
"There's people competing for every position this year. That's something Beaver especially hasn't had for years. This year we have a lot of seniors and we've had a lot of juniors step up competing for those positions," said Bradshaw.
The other thing Bradshaw and his teammates have going for them is a belief they can compete.
In the past Beaver seemed resigned to its place in the 2A pecking order. The semifinals were simply an unattainable dream. Making it to the quarterfinals was the plateau. It showed in the 2010 quarterfinals as South Summit rolled over Beaver for a 46-0 win.
Last year the teams met in the quarterfinals again, but Beaver was in the hunt the entire game before eventually losing 17-7 on a late South Summit touchdown. Two weeks earlier Beaver played No. 1 San Juan tough as well, eventually losing 25-13.
Having come close to beating one of the Big 4 in the playoffs, Beaver's deep roster and the inner-drive to take the next step as a program makes it a very dangerous team this season.
It's all about filling in the gaps. Beaver has a great foundation to build on with six returning starters on offense, but plugging the holes at quarterback, fullback and two of the offensive line positions is going to be critical.
"If our kids can step up to that, we'll be as good if not better than last year. If we can't step up to that, we won't," said Hutchings.
Michael Roberts is the front-runner to be handed the quarterback reigns of the Wing-T offense. He was the JV quarterback last year and looked good throughout the summer.
The fullback position is more up in the air with Anthony Gibson, Jessee McMullin and Baily Bradshaw in the mix. All three will play, and one of the three will likely end up playing a running back position.
Defensively, Hutchings is very confident in his team and expects that to be the strength early on.
Kendall White is a four-year starter at linebacker with roughly 160 career tackles and eight sacks. Bradshaw is a ball hawk in the secondary with 16 career interceptions.
The defensive line is strong as well with Landon Smith and Tyler Terry all returning starters in the trenches. Those three will need to come up big if Beaver is going to have success stopping the run.
"In 2A, there's teams that can pass, but normally not everyone is in the spread throwing the ball, so we need to stop the run," said Hutchings.
Beaver Beavers at a glance
Coach: Steve Hutchings is entering his eight year as head coach at his alma mater. His current record is 30-41, and he's guided the Beavers to back-to-back winning seasons.
Offense
(6 returning starters; Wing-T offense)
At least early on, the strength of the offense is on the line with Landon Smith, Sam Myers and Tyler Terry all returning as starters. Their experience with the timing of the offense could play big dividends early in the season, especially in the region-opener against Richfield on Aug. 31. Michael Roberts is taking over at quarterback for Ty Yardley, and the junior is poised for a strong season. Beaver must replace its two leading rushers from a year ago, but Jessee McMullin should be able to step in and fill one of those voids as he was third on the team last year with 435 rushing yards and three TDs. Anthony Gibson and Baily Bradshaw have the potential to be strong running threats as well.
Defense
(6 returning starters)
Beaver ranked seventh in 2A last year surrendering 22 ppg. It's not bad by any means, but that will never be good enough if it hopes to crash the party at the top of 2A. San Juan and Millard both surrendered less than 10 ppg last year, while Manti only allowed 12 points. Beaver is counting on a strong defensive line and then the experience of Kendall White to push it over the top.
Coaches preseason 2A South straw poll: Second
Deseret News 2A South prediction: Second
Bottom line: There's little doubt this year's team is stronger than a year ago. Beaver, however, is setting its sights beyond just another one-and-done quarterfinal experience. The potential is there for greater things in 2012. San Juan is the obvious favorite to win the 2A South region, but Beaver is a sleeper team to dethrone the Broncos. Beaver's games with San Juan, Richfield and Enterprise are all at home this year, a slight advantage that could push the Beavers over the top.
2012 Schedule
Aug. 17 — NORTH SUMMIT, 7 p.m.
Aug. 24 — at Gunnison, 7 p.m.
Aug. 31 — RICHFIELD, 7 p.m.
Sept. 7 — at Kanab, 7 p.m.
Sept. 14 — at South Sevier, 7 p.m.
Sept. 21 — ENTERPRISE, 7 p.m.
Sept. 28 — at Parowan, 7 p.m.
Oct. 5 — SAN JUAN, 7 p.m.
Oct. 12 — at Grand, 7 p.m.
Oct. 19 — Playoffs
.....
Felt's Facts for Beaver High School
All-time record: 403-240-11 (72 years)
Region championships: 14 (1962, 1965 co, 1969, 1970, 1972, 1973, 1977 co, 1978, 1979, 1980, 1987, 1992 co, 1994 co, 2002 co)
Playoff appearances: 45
All-time playoff record: 56-36
State championships: 9 (1970, 1971, 1973, 1975, 1979, 1980, 1981, 1983, 1990)
State championship record: 9-9
Most played rivalry: 83 meetings with Kanab dating back to 1950. Beaver leads 45-38. Meet on Sept. 7.
Felt's Factoid(s): Beaver is tied with two other teams for the most shutouts in one season with 10 (1973).
Beaver coaching history
2005-Current — Steve Hutchings (30-42)
1999-2004 — Brandon Draper (41-25)
1989-1998 — Alan Raddon (64-40)
1963-1988 — Al Marshall (218-70)
1955-1962 — Pat Lindsay (26-24)
1954 — Unknown (2-5)
1950-1953 — Lamont Thornock (11-14)
1949 — Unknown (4-3)
.....
Deseret News First Team all-staters the past 10 years
2011 — Jeremy Brown, RB/DB
2010 — Slade Edwards, FB/LB
2008 — Jordan McMullin, OL/LB
2006 — Justin Moss, QB/DB
2006 — Jeff Oldroyd, FB/LB
2004 — Ben Roberts, RB
2003 — Luke Beaumont, QB
To view second team and honorable mention all-staters through the years, check out the Deseret News All-State Archives.
Email: jedward@desnews.com
Twitter: @DNewsPreps
Contributing: Jessica Wilde, Conner Johnson, Steve Mundee and prep football historian George Felt.