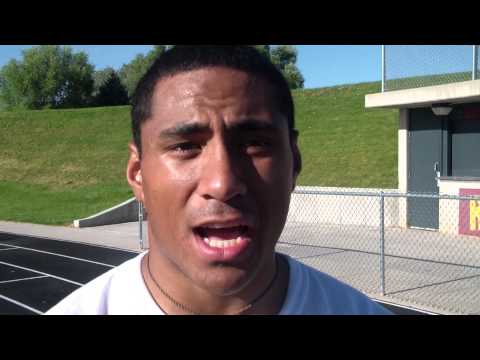 View 11 Items
Brandon Gurney, Deseret News

Scroll to bottom of story to see Mountain View Felt's Facts
Note: Mountain View finished with a 3-6 record overall and was sixth in Region 8 with a 2-5 record in 2011. It did not qualify for the 4A playoffs.
OREM — Twenty-eleven was a tough year for Mountain View. Although they were young and inexperienced, the Bruins found themselves just short of knocking off some top region teams, including Timpview.
That's all in the past now, however, and this year the Bruins hope to be a much different team — one that's experienced and poised to make a run at both the playoffs and the Region 8 title.
"With what we went through last year — the lessons we learned and the experience we have back — we're feeling good about things," said coach Jon Snyder. "We're deeper at most positions and won't have as many players playing both ways, so we think that will help us."
Snyder believes the big lesson learned from 2011 was consistency in the Bruins' approach.
"We really put it all out for Timpview early in the year and put so much of our focus on just beating them," explained Snyder. "When it didn't happen, after we dominated them for most of the game, we had a tough time recovering from it and I think it really affected us being such a young team. I think it was a big lesson not only for the players, but for us as coaches."
Snyder is entering his third year as head coach, which is typically when coaches feel their systems are completely in place. That feeling exists at Mountain View with players being optimistic as a result.
"We feel great about this coming season," said senior Atunaisa Palu. "We're a smaller team, but we're quicker and we're faster than we were last year. ... A lot of people are looking down on us because we're a small team, but I always tell them that it's like David and Goliath — you just have to have faith and push forward."
Palu is expected to do a lot for the team this season at running back, slot and maybe even on defense.
"Naisa (Palu) is a great team leader and just a great kid who does his work on and off the field," said Snyder. "He rushed for a lot of yards for us last year and he's just the type of kid you want back to lead the team. He's going to have a great year."
At quarterback, Snyder may opt to go with two quarterbacks this season.
"We have George Beaton, who I brought in some last year because he runs the options so well," said Snyder. "Then there's Jacob Bingham, who is a better thrower. So we have some good confidence in (both), so we may be using both of them."
The key receivers are expected to be Kalin Curran and Pupunu Sitake. "I like our receivers a lot and so we may be throwing a lot more this season," said Snyder.
Along the offensive front Snyder is leaving it up to Mike Empey, whom he has a load of confidence in.
"We lost a couple of big guys, but I don't worry about what goes on there with coach Empey," said Snyder. "He coaches up guys so well that I'm not at all concerned that he'll have them going good again."
On defense Snyder feels strong at almost every position — starting with his linebackers.
"Our linebackers should be phenomenal," said Snyder. "We have Brooks Benson and Delu Cruser as our inside guys and they're both great players. At line we're going to have a lot of guys play just defense when there were a lot of guys who played both ways last season."
Mountain View Bruins at a glance
Coach: Coach Jon Snyder is entering his third year at Mountain View where he's compiled an 8-12 overall record. He's a graduate of Dugway High School.
Offense
(Flex-bone offense)
With small size but good quickness, Snyder will again employ an option-run heavy offense that is a lot like Navy and a departure from the mass of spread offenses in Region 8.
"It's what we feel we have to do here with the type of talent we get and it's worked well for us," said Snyder about his offense. "I do think we may be throwing it a bit more because we have some good talent at receiver that we'll want to use. We're going to change things up and hopefully surprise some people this year though."
Defense
(Base 3-4 defense)
As mentioned, a big key this year will be having the starters along the front seven just playing defense. Snyder felt that many of his key players were worn out by the end of the year having to play on both sides of the football.
With all the spread teams in Region 8 it's important to have good talent in the secondary and Snyder believes he has just that.
"We're a bit younger there, but we have some real tall and athletic kids who will just be playing secondary, so we're confident," said Snyder. "Cline Mattingly is our returning senior, so he'll lead us there and hopefully things work out."
Coach's preseason Region 8 straw poll: Sixth
Deseret News Region 8 prediction: Third
Bottom line
After a successful first season under Coach Snyder, the Bruins took a bit of a step back in 2011. Although they didn't lose games by much they found themselves shut out of the state playoffs. But they should rebound this season. Mountain View is a team that learned some hard lessons last year and has good identity in who it is and how it needs to do things. Look for Mountain View to be competitive in all of its games and to sneak into the state playoffs.
2012 schedule
Fri. Aug. 17 — at Mountain Crest, 7 p.m.
Fri. Aug. 24 — BOUNTIFUL, 7 p.m.
Fri. Aug. 31 — WESTLAKE, 7 p.m.
Fri. Sept. 7 — at Timpview, 7 p.m.
Fri. Sept. 14 — PROVO, 7 p.m.
Fri. Sept. 21 — at Maple Mountain, 7 p.m.
Fri. Sept. 28 — TIMPANOGOS, 7 p.m.
Thu. Oct. 4 — at Orem, 7 p.m.
Wed. Oct. 10 — SALEM HILLS, 7 p.m.
Wed. Oct. 17 — at Springville, p.m.
.....
Felt's Facts for Mountain View High School
All-time record: 149-169 (32 years)
Region championships: 5 (1983, 1985 co, 1989, 1999, 2004 co)
Playoff appearances: 18
All-time playoff record: 13-18
State championships: 0
State championship record: 0-0
Most played rivalry: 33 meetings with Orem dating back to 1980. Orem leads 26-7. Meet on Oct. 5.
Felt's Factoid(s): MV is the only school to win a playoff game the year it opened (1980). ... Bruin Brian Smith set a single-game field goal record by booting five against Springville in 2005.
Mountain View coaching history
2010-current — Jon Snyder (8-12)
2007-2009 — Teko Johnson (14-17)
2003-2006 — Doug Meeks (11-30)
1995-2002 — Randy Rehrer (44-40)
1991-1994 — Bryce Monsen (21-19)
1987-1990 — Steve Park (20-17)
1982-1986 — Austin McNaughton (24-24)
1980-1981 — Dave Allphin (10-10)
.....
Deseret News First Team all-staters the past 10 years
2011 — Bennett Maxwell, LB
2007 — Greg May, DB
2004 — Jordan Bateman, DL
To view second team and honorable mention all-staters through the years, check out the Deseret News All-State Archives.