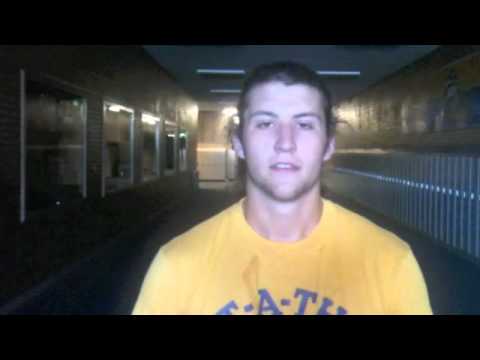 View 33 Items
Randy Hollis, Deseret News

Scroll to bottom of story to see Bonneville Felt's Facts
Note: Bonneville High finished with a 5-5 overall record and was fifth in Region 5 with a 1-4 record in 2011. It did not qualify for the 4A playoffs.
WASHINGTON TERRACE — Tyler Gladwell has come up with a great way to help get Bonneville High's football program back where it belongs.
The Lakers' first-year head coach, who starred at Bonneville in the mid-1990s, has surrounded himself with a coaching staff that is brimming with other former Laker players who care deeply about the program's success.
Every one of them played for Laker legend Thom Budge, who guided Bonneville's football fortunes to 239 victories in a brilliant coaching career spanning more than three decades (1975-2005) before he retired.
The beloved Budge, whose Bonneville teams won 14 region titles and the 1980 state championship, died of a heart attack in September 2009.
"One really good thing that we have going right now with our coaching staff is everybody is a Laker, and we all played for coach Budge," said Gladwell, who was a star quarterback and graduated from Bonneville in 1996, then played at Weber State from 1998-2001. "They're guys who teach here now, and if they're not teaching here now, they all played here.
"That was one of my goals when I was going through the hiring process. I wanted guys who wanted this program to be successful, guys who had a sincere desire for this program to be successful and for the kids here to be good football players. It was important for me to get guys like that, and I thought, 'Hey, the guys who are going to be like that are guys who played here and have pride in the school and have pride in the football program.
"I think the kids really enjoy that," he said. "It's cool because we're all Lakers and we're all back here to help the program become successful and help the kids be successful, and that's something that's really been well received by the kids and the community."
It's not as if the Lakers' program is in a hopeless situation. Sure, they've certainly struggled at times — including three two-win seasons over the last eight years. But they also reached the 4A quarterfinals each year from 2007-09.
Bonneville went a very respectable 5-5 last year, but the Lakers have only had one winning season since 2004 — a far cry from the glory years when they were a perennial region title contender and state playoff participant.
Gladwell, in his first head coaching role after spending six seasons as an assistant at Davis High, wants a return of the good ol' days at his old stomping grounds — where the Lakers stomped on many opponents over the years.
"I had a lot of good experiences playing here," he said. "I had an opportunity to play a lot of different sports, and now I'm just hoping to come back and have a good experience as a coach, because I had one as a player, and help these players be successful here now.
"We're expecting a lot. We're putting some high expectations on our players and high expectations with the coaching staff. We have good athletes here, and all these kids want to win. They're all working hard and the biggest thing is trying to build some confidence and change the attitude here a little bit.
"You don't just show up on Friday night to win games. You've got to put your time in in the gym and the weight room, and you've got to practice hard Monday through Thursday," Gladwell said. "We've really been focusing on all the little things that it takes to win on Friday night. And I think that's something that maybe they haven't been doing in the past. ... Kids have bought in and been working really hard. So we've just been working on those little things to help make us a better team. We've got great kids; I think we've got good athletes; I think we've got kids that want to win. Everybody wants to win, but are you going to do the things that it takes to win?"
Coach Gladwell feels like he's got the team that can.
At quarterback, senior Braxton Stofferahn takes over as the starter after seeing some mop-up duty last year.
"He's a smart kid and he's a very hard worker," Gladwell said. "Anything that he does very well is because he just works extremely hard. He's a real good leader and a great kid."
At H-back, the Lakers have four experienced seniors — Colby Bedford, Andrew Croyle, Brock Kap and Jaydn Peck — who all started some last season. What's more, they're versatile and can play multiple positions.
"We have four kids that can run the ball really well," Gladwell said, "so we'll rotate 'em and play 'em at different positions.
"All four of those kids are good athletes and good runners. They'll also play wide receiver for us as well as running back. We're just going to try and put them in a lot of different spots. They could all be in the game at the same time, easily, and we'll just try to be creative with how we get each one of them the ball.
"They could all play H-back. They could all play a slot receiver, a split receiver, fullback and a couple of them could play tight end for us, so we'll just move 'em all over — move 'em around so teams can't focus on just stopping them at one position," he said. "They're all returners from last year so they have good experience, and they're all seniors and all good leaders who all work extremely hard."
The other wide receivers are seniors Carson Smith, Joe Wickham and Austin Young and juniors Chandler Baddley and Mitch Westmoreland.
On the offensive line, senior Wilson Atagi is a returning starter and a strong leader, and he'll be backed up by his younger brother, sophomore Ethan Atagi. Seniors Dustin Wood and Kiefer Halterman will start at guard, with seniors Seth Schreyer and Sage Zisumbo at the tackle spots.
On defense, seniors Mario German and Dominic Barela are the team's top D-tackles, with senior Zack Scott, a returning starter, and senior Bryson Bell at defensive end, and junior Jose Duran providing depth.
At linebacker, Croyle and Kap are returning starters, and they'll be joined by senior Skyler Bentley and junior Ammon Eberhard.
Seniors Casey Black and Braxton Doutre join returning starters Peck and Wickham at cornerback, with senior returning starter Tucker Redd, junor Mitch Westmoreland and senior Jordan Jarvis at safety.
"Depth is something that we're working on," Gladwell said. "As we go along, I think we're going to develop more depth. Everything is so new — our offense is new, our defense is new, our special teams are new — and everybody's still trying to learn everything.
"The depth is gonna come because we're still trying to figure out who all the starters are going to be and they're learning a new scheme. In the big picture, I think we'll be OK with depth."
Gladwell's focus right now is offering the kids in the program something the Lakers had for all those years under coach Budge — consistency.
"If it's at practice, in the classroom, in the hallways, we just always want to give the kids that consistency that will build confidence," Gladwell said. "That's what coach Budge was all about.
"You always knew what you were going to get from coach Budge — you always knew his behavior, his demeanor, what his practice schedule was going to be like, what he expected from you in the classroom, what he expected you to do on the weekends with your friends. He was very consistent with all that stuff, and that's something I'm trying to do now as a coach here."
And as they work toward that goal, the Lakers' new head coach figures they can't afford to give anybody a free pass.
"We're going to play our best players," Gladwell said. "They've been through the ringer with three head coaches in three years. We're telling them we want to see you go out and compete, and on Friday night the best players are going to play and it doesn't matter if you're a senior, junior or sophomore, we want you to go out and compete and play hard and be coachable and all those things."
Gladwell looks at the other teams in Region 5 and shudders.
"Every team in our region has really good players with really good coaches," he said. "It's a tough region. If we sat and talked about our region, it would be overwhelming.
"I'm coming from one tough region (Region 1) to another tough region. Here they run five wides and throw it all over the field. It's a different type of football in this region. You come from a region where you're winning games 6-3 and you come here to this region and you're winning games 45-40."
But when it comes to getting Bonneville's proud program back where it belongs, Gladwell will gladly take all the 45-40 wins he can get.
Bonneville Lakers at a glance
Coach: Tyler Gladwell begins his first season as Bonneville's head coach. It is the first head coaching job for the Bonneville High graduate.
Offense
(6 returning starters; Spread offense)
The versatile foursome of Colby Bedford, Andrew Croyle, Brock Kap and Jaydn Peck will carry much of the load, seeing playing time at various times at halfback, fullback, slotback, receiver and even at tight end. Wilson Atagi anchors the offensive line and is a solid leader of this senior-laden lineup.
Defense
(5 returning starters; Base 4-3 defense)
Zack Scott returns on the D-line, with Croyle and Kap back at linebacker and Peck, Joe Wickham and Tucker Redd in the secondary. With all that starting experience returning to the Lakers' lineup, their defense should be sound. Developing more depth, though, is vital since many of their players must go both ways.
Coaches preseason Region 5 straw poll: Sixth
Deseret News Region 5 prediction: Sixth
Bottom line: There's a new sheriff in town in Gladwell, and all of his deputies are former Laker players, too, who all recall very vividly how great this program once was. If they can get their kids to buy what they're selling, it could be a surprisingly strong season in Laker land. But with all of that firepower up in Cache Valley and rising expectations at traditional rival Roy, it will be difficult for Bonneville to climb very far up the league ladder right away. However, a favorable preseason schedule should help them build confidence, and the future looks bright for this proud program.
2012 Schedule
Aug. 17 at Ogden, 7 p.m.
Aug. 24 WOODS CROSS, 7 p.m.
Aug. 31 WEBER, 7 p.m.
Sept. 7 at Clearfield, 7 p.m.
Sept. 14 LOGAN, 7 p.m.
Sept. 21 MOUNTAIN CREST, 7 p.m.
Sept. 28 at Roy, 7 p.m.
Oct. 5 BOX ELDER, 7 p.m.
Oct. 12 at Sky View, 7 p.m.
Oct. 17 at Murray, 7 p.m.
email: rhollis@desnews.com
.....
Felts Facts for Bonneville High School
All-time record: 339-201-1 (52 years)
Region championships: 18 (1970, 1971, 1973, 1974, 1978 co, 1980 co, 1981, 1985 co, 1986, 1988, 1989 co, 1991 co, 1992 co, 1995, 1996 co, 1997, 1999 co, 2002)
Playoff appearances: 36
All-time playoff record: 36-35
State championships: 1 (1980)
State championship record: 1-4
Most played rivalry: 51 meetings with Weber dating back to 1960. Bonneville leads 36-15. Meet on Aug. 31.
Felt's Factoid(s): Long-time coach Thom Budge (1975-2005) holds the Utah record for mos games coached at the same school with 341. ... Bonneville holds the single-game pass interception record (tied with Judge) of nine, set against Viewmont in 1977.
Bonneville coaching history
2012-current — Tyler Gladwell
2011 — Randy Johnson (5-5)
1
comment on this story
2006-2010 — Matt Williams (21-31)
1975-2005 — Thom Budge (239-104)
1973-1974 — Brent Hancock (14-5)
1968-1972 — Larry Kneves (32-16)
1962-1967 — Unknown (24-29)
1960-1961 — Harry Burchell (7-11)
.....
Deseret News First Team all-staters the past 10 years
2009 — Connor Stephens, DL
2007 — Jim Eskelsen, OL
2004 — Devon Holbrook, WR
2004 — Aric Hutchinson, SP
2003 — Andrew Rich, DB
To view second team and honorable mention all-staters through the years, check out the Deseret News All-State Archives.