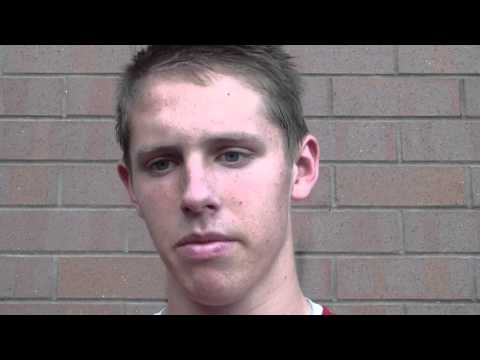 View 9 Items
Brandon Gurney, Deseret News

Scroll to bottom of story to see Timpview Felt's Facts
Note: Timpview finished with a 10-3 overall record and was first in Region 8 with a 7-0 record in 2011. It lost to East, 24-10, in the 4A semifinals.
PROVO — Timpview enters the 2012 season with a new coach, but it still has the same objective — to stay on top of its region and challenge for a state championship.
Gone is long-time coach Louis Wong, and in is long-time assistant coach Cary Whittingham, who has some big shoes to fill.
Whittingham adheres to the theory that if something isn't broke, you don't fix it. In being a long-time assistant, he's very aware of why Timpview has been able to stay on top and subsequently aims to keep the T-Birds there.
"I've been acquainted with Louis (Wong) since we both played at BYU, so he's a good friend and someone I have a ton of respect for," said Whittingham. "I'm very aware of his accomplishments because I've been working for him in some capacity for a long time. We might change a few things, but we'll mostly just try to do the same things that Louis did and hopefully have the same type of success."
Whittingham inherits most of Wong's existing staff and some key returning starters to help him maintain the standard Timpview has set over the years.
It won't be easy, however.
Sure, the Thunderbirds ran the table in region play last season and haven't dropped a region game since 2005, but they were threatened in 2011 unlike they have been for a long time. Three teams (Mountain View, Maple Mountain, and Timpanogos) came very close to pulling off upsets, which is something the program isn't used to.
"The bottom line is winning games and we were able to come out on top of those close games because we were doing things right," said Whittingham. "We're obviously hoping to get to the year's past where it was dominant Timpview football and games didn't come down to the last minute. Teams are getting better around us though, and they're gunning for us, so it's not going to be easy."
Whittingham returns some key components from last year's team in some key positions. Leading the way is senior quarterback Jake Lloyd.
"His leadership ability has grown in leaps and bounds this year," said Whittingham. "His athleticism and pure football ability has also improved. I think he may be one of those late bloomers and I've seen a lot of maturity since last season, so I think he's on his way to have a breakout year."
Lloyd will have a potent group of receivers around him led by senior Dax Raymond.
"We have a lot of guys who can make plays for us at receiver," said Whittingham. "Connor Mendivil, Rhett Van Leeuwen, Gregson Aspinall, along with Dax Raymond, are guys we have a lot of confidence in to lead the offense. There's so many names that I know I'm missing."
Line play on both sides of the ball is the big concern from Whittingham's perspective. If the lines can sort themselves out and be effective, Timpview could well find itself on top of Region 8 and contending for a state championship.
"Line play will be key because we have a lot of question marks there," said Whittingham. "If we can coach those guys up — make them into physical and aggressive players — then we could do some good things and potentially go far."
Timpview Thunderbirds at a glance
Coach: Cary Whittingham is entering his first year as Timpview's head coach after serving nine years as an assistant. He's the brother of Utah Coach Kyle Whittingham and like his brother, comes from a defensive-coordinating background.
Offense
One of the key assistant coaches Whittingham has retained is long-time offensive coordinator and former head coach Chad Van Orden.
"I just leave the offense up to him and try not to get in the way," said Whittingham about Van Orden. "He's so experienced and has had so much success that he obviously has my complete trust with whatever he tries to do. Hopefully we can present a good running game and a good passing game."
Timpview will be led on the ground by Gregson Aspinall, who is coming off a successful 2011 season.
Defense
Whittingham didn't mention specific names, but cites defensive line play as the big concern and linebacker play as the likely strength this coming year.
"We really like our linebackers and their ability to make plays," said Whittingham. "We're going to use some underclassmen at several positions, so we're hopeful that those guys can step up. But we have a lot of work to do on the defensive end."
Coach's preseason Region 8 straw poll: First
Deseret News Region 8 prediction: First
Bottom line: Quarterback play is the key for most teams and Timpview has a very good one in Lloyd. A core of quality returning starters should place the Thunderbirds on top of Region 8, but don't be surprised if they drop their first region game since 2005. Teams will be licking their chops this season after seeing some uncommon vulnerability in 2011.
2012 Schedule
Fri. Aug. 17 — ALTA, 7 p.m.
Fri. Aug. 24 — at Westlake, 7 p.m.
Fri. Aug. 31 — at Lone Peak, 7 p.m.
Fri. Sept. 7 — MOUNTAIN VIEW, 7 p.m.
Fri. Sept. 14 — MAPLE MOUNTAIN, 7 p.m.
Fri. Sept. 21 — at Timpanogos, 7 p.m.
Fri. Sept. 28 — OREM, 7 p.m.
Thu. Oct. 4 — at Salem Hills, 7 p.m.
Wed. Oct. 10 — SPRINGVILLE, 7 p.m.
Wed. Oct. 17 — at Provo, 7 p.m.
.....
Felts Facts for Timpview High School
All-time record: 281-108 (35 years)
Region championships: 18 (1977 co, 1986 co, 1991, 1992, 1993 co, 1995, 1996, 1997, 2000, 2002, 2003, 2005 co, 2006, 2007, 2008, 2009, 2010, 2011)
Playoff appearances: 31
All-time playoff record: 56-23
State championships: 8 (1986, 1991, 1997, 2004, 2006, 2007, 2008, 2009)
State championship record: 8-1
Most played rivalry: 36 meetings with Provo dating back to 1977. Timpview leads 26-10. Meet on Oct. 17.
Felt's Factoid(s): Timpview owns the longest winning streak in state history at 36, dating from Sept. 15, 2006 to Nov. 21, 2008. ... The Thunderbirds hold the record for total yards in a championship game, 611 in the 4A final in 2007. ... Timpview's Andrew Badger holds the state record for yards gained per reception during a season with 35.80 in 2003.
Timpview coaching history
2012 — Cary Whittingham
2005-2011 — Louis Wong (77-10)
1990-2004 — Chad Van Orden (134-38)
1985-1989 — Garry Walker (30-24)
1982-1984 — Sam Hard (15-13)
1977-1981 — Paul Gillespie (25-23)
.....
Deseret News Mr. Football recipients
2008 — Craig Bills, DB
Deseret News MVPs the past 10 years
2009 — Ofa Latu, LB
2008 — Xavier Su'a-Filo
2007 — Dominique Moe, LB
2006 — Jackson Owen, RB
2004 — Stephen Covey, QB
Deseret News First Team all-staters the past 10 years
2011 — Rickey Shumway, WR
2011 — Josh Burr, LB
2010 — Christian Covey, QB
2010 — Kalvin Cusick, OL
2010 — Colby Jorgensen, DL
2009 — Trevor Brown, QB
2009 — Tyson Tiatia, OL
2009 — Chris Badger, DB
2008 — Casey Rumsey, QB
2008 — Travis VanLeeuwen, WR
2008 — Bronson Kaufusi, DL
2008 — Jason Whittingham, LB
2008 — Chris Badger, DB
2007 — Quinn Mecham
2007 — Mark Ercanbrack, WR
2007 — Tui Crighton, OL
2007 — Craig Bills, DB
2007 — Xavier Su'a-Filo, OL
2007 — Kevin Bills, LB
2007 — Bronson Kaufusi, DL
2006 — Houston Reynolds, OL
2006 — Kevin Bills, DL
2006 — Devin Mausia, LB
2006 — Craig Bills, DB
2005 — Houston Reynolds, OL
2005 — Preston Phillips, LB
2005 — David Jackson, K
2004 — Harvey Unga, RB
2004 — Luke Ashworth, WR
2004 — Matt Reynolds, OL
2004 — Greg Atkinson, LB
2003 — Stephen Covey, QB
2003 — Matt Reynolds, DL
2002 — Mike Affleck, QB
2002 — Matt Reynolds, OL
2002 — Dallas Reynold, OL
2002 — Brian Soi, DL
2002 — Scott Johnson, DB
To view second team and honorable mention all-staters through the years, check out the Deseret News All-State Archives.