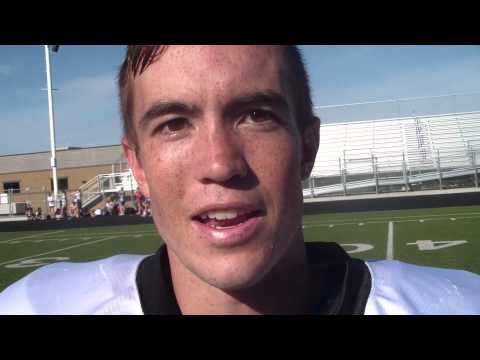 View 9 Items
Brandon Gurney, Deseret News

Scroll to bottom of story to see Pleasant Grove Felt's Facts
Note: Pleasant Grove finished with a 3-7 overall record and was fifth in Region 4 with a 1-4 record in 2011. It did not qualify for the state playoffs.
PLEASANT GROVE — Pleasant Grove has a new head coach, and it brings back a lot of players from last year's team. Those two things have created a lot of excitement at the school, which has high hopes for this fall — and beyond.
Coach Les Hamilton has taken the reigns and has big plans for the football program he fell in love with back in 2009.
While coaching for Alta that year, his team matched up with Pleasant Grove for the region championship. The game went down to the wire, and Hamilton left feeling very impressed with the atmosphere in the stands.
"I sort of decided right there and then that if I was ever to leave Alta that I'd want to coach at Pleasant Grove," said Hamilton. "I loved the setting, the electric atmosphere and I've always loved the community here."
After spending a year in Chile, Hamilton took the coaching job at Hunter High with the understanding that if Pleasant Grove came calling he'd at least have the chance to interview for the spot. Sure enough, the Vikings came calling after the retirement of longtime coach Dale Sampson at the end of last season.
"I'm thankful for the administration at Hunter being so understanding," said Hamilton. "I loved the program at Hunter, but my wife is from Pleasant Grove and I was commuting from here to Hunter, so it's been great for me and my family and we're excited about the potential of this program."
His players are excited about the potential as well. Hamilton has brought many of the same concepts that led to two state championships in the six years he was at Alta.
One of these concepts is good, old fashioned hard work.
"He's just been kicking our butts in the weight room and with all the workouts, but it's a good thing and we know it will make us better," said senior running back Colton Babb. "We've been so much more focused and dedicated leading up to the season this year compared to last. He's really changed everything here and it's a completely new attitude."
Babb rushed for over 1,200 yards last season and is expected to be the focal point of Pleasant Grove's offense again this season.
"He's a big, physical-type runner and I think he'll be even better this year," said Hamilton about Babb. "He'll be our workhorse and I expect great things from him. He's a big, physical runner who we expect to help lead our offense."
Hamilton is known for his spread offense that requires good play-making ability on the outside. Hamilton believes he has good playmakers in receivers Skyler Munson, Spencer Romney and Cody Scott, among others.
"I like those guys and I also like a kid named Dallin Hatch, who will be playing at tight end and linebacker for us," said Hamilton. "I really like Dallin's potential and I think we'll have more than enough players to run what I like to run effectively."
The offensive line also looks strong led by junior Zach Dawe. "We're big and we're physical up front, which is always important to be effective on offense," said Hamilton.
On defense Hamilton has retained coordinator Steve Brady.
"We had a solid defense last year, but we should be even better this year," said linebacker Brandon Dennison. "Coach Brady is still here and he's a great coach. He's changed a few things this year and we think it's going to be really good for us."
"Brandon Dennison is just another one of the great middle linebackers that Pleasant Grove always seems to have," added Hamilton. "I expect Zach Dawe to play some defense and we have Mark Kruger, who is 6-foot-3 and 275 and he's going to do a great job for us at nose guard. Tyler Chatterton will be our free safety and he's our fastest player, so we think we'll be strong there as well."
Hamilton knows it will be tough-sledding in stacked Region 4, but he loves the overall attitude of his players and how they've bought into his system.
"I have great kids here and it's such a great community," said Hamilton. "It's tough putting in a new system — not just for the players, but for my assistant coaches — but so far they've all bought in and I've been impressed with the attitude and they work. So I think we'll be capable of doing some good things this year."
Pleasant Grove Vikings at a glance
Coach: Les Hamilton is entering his first year at Pleasant Grove after coaching at both Alta High, Hunter High and Grantsville High. He has a 77-37 career record. He won two state championships while at Alta, and he's from Petaluma, Calif.
Offense
(Spread offense)
Michael Anderson is expected to lead the offense at quarterback and has gained a lot of trust from his teammates and coaches in the offseason.
"It's not easy learning a new system, but Michael has really put in the work and has made big strides over the summer," said Hamilton. "He has some great playmakers around him, which will help a lot, and I think he's going to have a very good year."
Defense
Pleasant Grove has always been known for its solid, traditional-style defense. This won't change with coach Brady being retained, but there will be some new wrinkles with Hamilton bringing some of his 3-3-5 concepts to the table.
"We'll be a mix of what I like to do and with what coach Brady has been so successful with here," said Hamilton. "He's a great defensive mind and we think the defense could do some great things this year with the returning talent we have there."
Coach's Region 4 preseason straw poll: Fourth
Deseret News Region 4 preseason prediction: Fourth
Bottom line: There is little question that Pleasant Grove will see improvements in 2012 with Hamilton taking over the program. There is good experience on both sides of the football, but the Vikings will likely struggle against the top schools in the region. Making the playoffs, however, looks to be a real possibility.
2012 Schedule
Fri. Aug. 17 — KEARNS, 7 p.m.
Fri. Aug. 24 — PROVO, 7 p.m.
Fri. Aug. 31 — at Timpanogos, 7 p.m.
Fri. Sept. 7 — WEST JORDAN, 7 p.m.
Fri. Sept. 14 — at Brighton, 7 p.m.
Fri. Sept. 21 — LEHI, 7 p.m.
Fri. Sept. 28 — at Riverton, 7 p.m.
Thu. Oct. 4 — LONE PEAK, 7 p.m.
Wed. Oct. 10 — at American Fork, 7 p.m.
Wed. Oct. 17 — BINGHAM, 7 p.m.
.....
Felt's Facts for Pleasant Grove High School
All-time record: 350-354-11 (715 years)
Region championships: 13 (1955, 1956, 1957, 1973 co, 1982 co, 1986 co, 1988 co, 1993 co, 1994, 1998, 2006, 2007 co, 2008)
Playoff appearances: 29
All-time playoff record: 27-26
State championships: 3 (1955, 1956, 1993, )
State championship record: 3-2
Most played rivalry: 77 meetings with American Fork dating back to 1931. American Fork leads 48-27-2. Meet on Oct. 10.
Felt's Factoid(s): PG took part in the longest game in state history, a seven-overtime contest in 1982. Provo ended up beating Pleasant Grove 51-44. ... Viking Bridger Anderson holds the Utah record for interceptions returned for TDs in a game with three in 1999 against Springville.
Pleasant Grove coaching history
2012-present — Les Hamilton
2004-2011 — Dale Sampson (48-44)
1987-2003 — Bill Mikelson (89-83)
1980-1986 — Doug Bluth (46-26)
1976-1979 — Bill Kelly (17-21)
1971-1975 — Paul Gillespie (32-17)
1967-1970 — Unknown (15-22)
1966 — Ron Nielson (4-5)
1962-1965 — Gordon Osborne (18-15-3)
1957-1961 — Unknown (18-22-2)
1955-1956 — Ned Alger (22-0)
1953-1954 — Gil Meier (5-9-2)
1952 — Mr. Shifrer (0-7)
1943-1951 — Unknown (25-39)
1937-1942 — Earl "Duke" Giles (8-26-1)
1936 — Elroy West (0-4)
1908-1935 — Unknown (3-14-3)
.....
Deseret News First Team all-staters the past 10 years
2011 — Brandon Fanaika, OL
2010 — Austin Heder LB
2009 — Joe Kruger, DL
2009 — Dallas Lloyd, Specialist
2008 — Josh Ramage, OL
2008 — LeSean Wilcox, DB
2006 — Zach Brady, DB
To view second team and honorable mention all-staters through the years, check out the Deseret News All-State Archives.