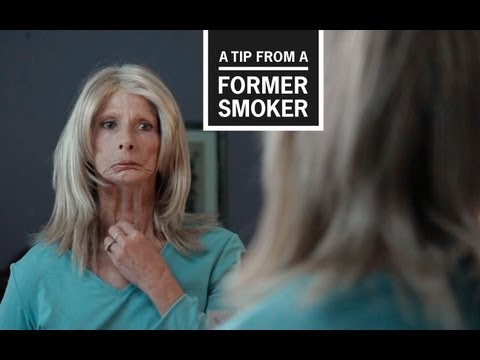 View 2 Items
CDCStreamingHealth

SALT LAKE CITY — Many Americans were likely shocked and uncomfortable upon first seeing the anti-smoking ad featuring longtime smoker Terrie Hall removing her wig and warning against the dangers of smoking in a hoarse voice. That is what the Centers for Disease Control wanted, so expect more to come.
"We made the danger accessible and realistic," says Eric Asche, who works for the anti-smoking group Legacy and who consulted with the CDC on the ads, in a USA Today article. "When you personalize a story, it's powerful."
Hall's personal story is indeed powerful, and she has used her own experiences to try and prevent others from following in her footsteps.
"Terrie Hall has toured the country, speaking at schools and community gatherings about her firsthand experience with smoking-related illness," according to a recent Fox News article. "But the 51-year-old throat cancer survivor ventured beyond her comfort zone when she appeared in a national television ad, in which she's seen putting in false teeth and covering her stoma with a scarf."
The U.S. government worked with the CDC to create the anti-smoking ads, which ran for 12 weeks in spring and early summer and were aimed at getting 500,000 people to try to quit and 50,000 to quit long-term, according to USA Today.
The ads worked. If not getting people to quit outright, they at least generated buzz and provided an alarming look at the long-term consequences of smoking.
"The CDC doesn't have a tally yet on how many people actually tried to quit, but it says the ads generated 192,000 extra calls — more than double the usual volume — to its national toll-free quit line, 800-QUIT-NOW, and 417,000 new visitors to smokefree.gov, its website offering cessation tips. That's triple the site's previous traffic," according to USA Today.
The CDC plans to continue the ads next year and says viewers, for the most part, were very receptive to the explicit campaign featured in print, broadcast and online.
Christi Leigh Sims, a 42-year-old mother of two, was so affected by the ads that she quit cold turkey after about 20 years of smoking.
"I wanted to change my life now before it was too late," Sims told USA Today. "I didn't want to look or live like that."
The ads may be too graphic or powerful for some, but the CDC found this is what is necessary to affect real change.
"CDC health officials analyzed the impact of graphic smoking advertising campaigns throughout different states and countries," said Dr. Tim McAffee, director of the office on smoking and health at the CDC, in an ABC News article. "The shocking and uncomfortable photos and videos of former smokers seem to convey the dangers of smoking in a way that encourages people to quit."
"I'm confident that this campaign is saving thousands of lives," CDC director Dr. Thomas Frieden said in the Fox News article. "I'm confident that truth will prevail, because these are real stories about real people."