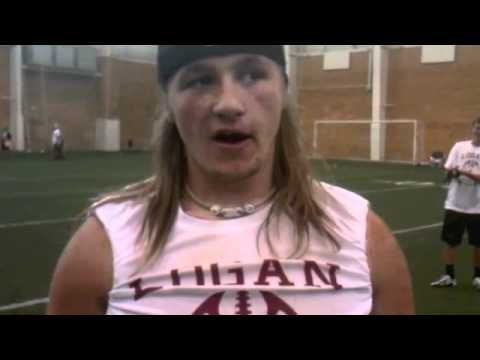 View 26 Items
Randy Hollis, Deseret News

Scroll to bottom of story to see Logan Felt's Facts
Note: Logan High finished with a perfect 14-0 overall record and was first in Region 5 with a 5-0 record in 2011. It beat East, 18-11, in the 4A championship game.
LOGAN — The nature of high school football is that, whenever a team wins a state championship, most of that team's key players are typically seniors who are subsequently lost to graduation.
Thus, it stands to reason that a bit of a drop-off might be expected the following season.
Logan High, however, is not your typical high school football program.
The Grizzlies, who rampaged through an undefeated season in 2011 and captured the 4A state championship with a dramatic last-gasp victory over East, are actually loaded for bear — again — and will definitely contend for a second straight state title this fall.
Sure, they lost some great players off that championship squad, but a bunch of great ones return, including several on the defensive side of the ball.
And with a no-nonsense coach like Mike Favero, who begins his 14th season at the Logan High helm, nobody's going to get too cozy or comfortable with what they accomplished a year ago — because, check your calendars, folks, that's in the past.
"It's a new year," said Favero, who has guided the Grizzlies to three state championships over the last seven seasons and four state titles in all. "Sure, last year was great, but it has no impact on this year other than people will be coming after us a little more.
"You've got to be a little careful. You relish it from the standpoint that the previous year's team created a great history that'll last forever. But this year, it doesn't win you any games; it can only lose you games because if you think you're just gonna show up and rely upon what happened last year, you're gonna get beat.
"So it won't help us win any games and we're gonna make sure it doesn't cause us to lose games by thinking we're just gonna show up and win," he said.
With five returning starters from last year's explosive offensive squad that averaged 44 points per game, the Grizzlies should still be able to light the scoreboard with regularity.
And on defense, they have seven starters returning — and that number would've been eight if not for a serious head injury suffered by all-state defensive end Caden Andersen, who was hurt in a skateboarding accident.
"He was a great player for us, so that'll set us back a bit," Favero said. "He was a first-team all-state end for us last year. He cracked his head and it was a pretty serious injury."
Nonetheless, the nucleus of a stout defensive unit remains intact with seniors Jacoby Wildman and Jaxton Birky at the tackle positions, juniors Sam Bennion, Casey Coe and Shawn Gudmundson at the end spots, and senior Chasen Andersen, a first team all-state selection last year, and junior Jaden Connor at linebacker.
Throw in junior free safety Chase Nelson, senior strong safeties Dallin Dahl and Hunter Ballam and junior Taylor Compton and senior Josh Wilson at cornerback, and the Grizzlies have definitely got the makings of a 'D' that'll be darned difficult to penetrate.
"Most of our defensive guys are back and we played good defense last year," Favero said, "so that's a good foundation to start with."
Over on offense, senior quarterback Luke Falk steps in to take the place of last year's All-Everything signal-caller, D.J. Nelson, the sparkplug behind Logan's 2011 state title team.
But while Nelson left behind some mighty big shoes, the 6-foot-4, 220-pound Falk, who played last season in California, certainly appears to have the potential to fill 'em.
"He throws the ball well," Favero said of Falk, who won't pose the running, scrambling threat on the ground that Nelson did. "Luke's more of a pro-style guy. His strength is throwing the ball."
Falk will be backed up by Jesse Braddy, Chase Nelson and Kincade Wildman.
Braddy, a senior, will start at one of the Grizzlies' receiver positions, and Chase Nelson, a junior who's D.J.'s younger brother, will share the running back duties with senior Chasen Andersen and junior Taylor Compton.
Along with Braddy, the team's other top wide receivers are seniors Hagen Andersen, Beau Artist, Jake Thompson and Zach Rich.
On the offensive line, senior Dito Marin is the man in the middle and a returning starter at center, flanked by seniors Vincent Lalau and Trevor Anderson at the guard spots, with Bryce Skabelund providing depth. The starters at offensive tackle will be junior Logan Rice and senior Luis Velazquez.
While Logan has enough offensive weapons and defensive experience to make another strong league and state title run, Favero isn't taking anything for granted.
"There's some experience coming back, and any time you have experience coming back, you're a little further along than you'd be if you were inexperienced," he said.
"We have the same concerns anyone else has in high school. We've got a number of positions that will be filled with kids that haven't played varsity ball, so it's our job to grow 'em up quick and try to gain a lot of experience as quickly as we can with our inexperience."
Sizing up the Region 5 race, Favero figures all league opponents are going to be gunning to shoot down the defending state champion Grizzlies.
"Mountain Crest is very strong. Box Elder is strong. Sky View is very talented," he said. "Bonneville's got a new coach (Tyler Gladwell) and Freddy (Fernandes) is in his second year at Roy, so I think those two teams will be improved."
And Logan? Well, it looks like they're loaded for bear — pardon the pun — again this year.
Logan Grizzlies at a glance
Coach: Mike Favero begins his 14th season as Logan's head coach. He has compiled a 112-50 record in 13 seasons at the school. He is a graduate of Helix (Calif.) High.
Offense
(5 returning starters; Spread offense)
QB Luke Falk takes over the controls of an explosive offense that averaged 44 points per game last season, and Chase Nelson, Jesse Braddy, Chasen Andersen, Hagen Andersen, Beau Artist, Taylor Compton, Jake Thompson and Zach Rich give him plenty of potent weapons. Dito Marin will anchor the O-line. Though they lost some great players off last year's state championship team, it doesn't look like the Grizzlies will miss a beat.
Defense
(7 returning starters; Base 4-2-5 defense)
With seven returning starters, Logan's opponents will have a tough time moving the football. The Grizzlies will certainly miss injured all-state defensive end Caden Andersen, but with Nelson, Dallin Dahl, Hunter Ballam, Compton and Josh Wilson patrolling the secondary, and guys like Jacoby Wildman, Jaxton Birky, Sam Bennion, Casey Coe, Shawn Gudmundson, Chasen Andersen and Jaden Connor up front, Logan will challenge opposing teams to put many points on the scoreboard.
Coaches preseason Region 5 straw poll: First
Deseret News Region 5 prediction: First
Bottom line: If Falk steps up as expected and the defense does its job the way it should, it looks like Logan has all the components of another possible championship team. The only thing that could stall the Grizzlies' mauling would be injuries or complacency, and the fiercely competitive Favero won't ever let the latter happen on his watch. But the remaining teams in Region 5 all appear to be improved over a year ago, and if Logan looks past anyone, the Grizzlies could pay dearly for it.
2012 Schedule
Aug. 17 NORTHRIDGE, 7 p.m.
Aug. 24 COTTONWOOD, 7 p.m.
Aug. 31 at Bountiful, 7 p.m.
Sept. 7 SPANISH FORK, 7 p.m.
Sept. 14 at Bonneville, 7 p.m.
Sept. 21 ROY, 7 p.m.
Sept. 28 at Sky View, 7 p.m.
Oct. 5 MOUNTAIN CREST, 7 p.m.
Oct. 12 at Box Elder, 7 p.m.
Oct. 17 EAST, 7 p.m.
.....
Felt's Facts for Logan High School
All-time record: 477-347-24 (93 years)
Region championships: 25 (1920, 1921, 1922, 1923, 1931, 1932, 1947, 1956, 1958, 1961, 1966 co, 1967 co, 1978, 1979 co, 1985 co, 1986 co, 1988, 1989, 1993, 2000, 2001 co, 2005, 2007, 2010 co, 2011)
Playoff appearances: 45
All-time playoff record:49-38
State championships: 7 (1978, 1988, 1989, 2000, 2005, 2007, 2011)
State championship record: 7-8
Most played rivalry: 93 meetings with Box Elder dating back to 1919. Box Elder leads 61-29-3. Meet on Oct. 12.
Felt's Factoid(s): Logan holds the season total offense record of 6,587 yards (2005). ... Brothers Riley and D.J. Nelson rank one and two in season total offense: Riley accumulated 5,815 in 2005 and D.J. totaled 5,096 in 2011. D.J. also set the state record for single-game total offense with 606 yards in last season's 4A semifinals against Bountiful. ... Logan is the only school to score more than 600 points in a season two times — 2005 and 2011. ... Logan is one of five teams in state history to have a 14-0 record (2011).
Logan coaching history
1999-current — Mike Favero (112-50)
1979-1998 — Perry Christensen (114-92)
1977-1978 — Mel Galli (16-5)
1974-1976 — Steve Malnar (3-24)
1964-1973 — Hal Lewis (42-51)
1963 — John Whatcott (4-1-2)
1947-1962 — Cliff Poole (81-52)
1927-1946 — R. Burns Crookston (76-51)
1924-1926 — unknown (7-11)
1922-1923 — Wilf Romney (9-3)
1920-1921 — Dixon Kapple (8-5)
1919 — unknown (1-3)
.....
Deseret News Mr. Football recipients
2005 — Riley Nelson, QB
Deseret News MVPs the past 10 years
2011 — D.J. Nelson, QB
2007 — Jordan Ballam, LB
Deseret News First Team all-staters the past 10 years
2011 —John Schmidt, RB/WR
2011 — Dalton Cole, OL
2011 — Caden Andersen, DL
2011 — Chasen Andersen, LB
2011 — Jake Thompson, K
2008 — Jeff Manning, QB
2008 — Stephen Gwynn, WR
2008 — Jared Theurer, OL
2008 — Ian Haderlie, DL
2007 — Jeff Manning, QB
2007 — Koddy Thigpen, LB
2007 — Duncan Olsen, DB
2006 — Kyle Dragnich, WR
2006 — Tanner Richins, OL
2006 — Josh Flores, SP
2005 — Kyle Dragnich, WR
2005 — Tanner Richins, OL
2005 — Junior Keiaho, DL
2005 — Pete Dien, DL
2005 — Cole Farmer, LB
2005 — Jeff Alley, DB
2005 — Josh Flores, SP
2004 — Riley Nelson, QB
2003 — Ben Macey, QB
2003 — Bobby Winder, LB
To view second team and honorable mention all-staters through the years, check out the Deseret News All-State Archives.