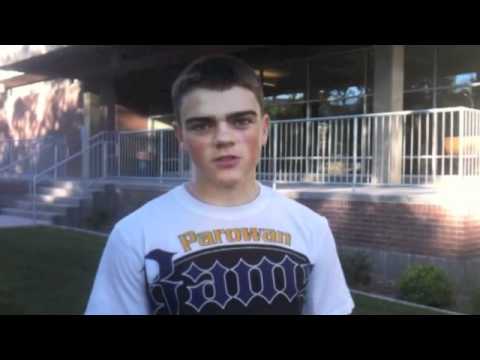 View 6 Items
James Edward, Deseret News

Scroll to bottom of story to see Parowan Felt's Facts
Note: Parowan finished with an 0-9 overall record in 2011 and was last in the 2A South region with an 0-7 record. It did not qualify for the 2A playoffs.
PAROWAN — Brigham Nielsen is out to change the culture of Parowan's football team.
He knows it won't be easy after the Rams went 0-9 last year, but the 2006 Highland High graduate isn't approaching the challenge solely from a win-loss mentality. He doesn't believe success is only measured on the scoreboard.
"These kids need to start believing in themselves that they can be successful, and not just in football — but in life. That's the main purpose of me being here. Through football, we're going to try and teach them that," said Nielsen. "There's a lot of skills I learned through football — how to be successful in life, to be a leader, to be dependable, to find success and bring success to yourself through hard work."
Nielsen did his student teaching at Parowan last fall, and when the head coaching job opened up with the departure of Matt Labrum to his alma mater at Union High, the recent Southern Utah graduate jumped at the chance.
"I couldn't pass up an opportunity to try and get back out here. I love the kids and the community and administration here," said Nielsen.
In addition to changing the attitude of his players, Nielsen's also making bold changes to the offense. He's abandoning the spread offense and going back to his roots by installing Highland High's triple option.
It's a drastic shift in philosophy, but for a team that only scored five offensive touchdowns last year and 50 total points, it's probably a welcome change.
Parowan's senior class was pretty small last year, and as a result the Rams have 13 starters returning who were either full- or part-time starters. Nielsen isn't quite sure how that experience will translate into the triple option once the season gets going, but he's excited for the challenge.
The rest of 2A isn't the only thing Parowan's football program is competing against. A lot of kids have stopped coming out for football to focus on other sports.
Nielsen understands that other sports — most notably cross country — have been more successful lately, and therefore more appealing. He enters as Parowan's head coach wanting to encourage kids to play as many sports as possible, and he just hopes football is part of their plans.
He hopes kids will embrace the challenge of turning the program around — not so much for his satisfaction but for the lessons they'll learn along the way.
"There's a lot of hard work that goes into football, and when you don't feel like it pays off it can really be discouraging. Of course wins are important, but I want to try and help these kids recognize that there's really something to be said in this world for finishing something," said Nielsen.
"A lot of the problems that we see in the world today are because people are lazy. They don't see the satisfaction and growth that can come in finishing something whether or not you were the very best at it."
Parowan Rams at a glance
Coach: Brigham Nielsen is entering his first year as a high school football coach at any level. He's a graduate of Highland High, and a recent graduate of Southern Utah University.
Offense
(8 returning starters; Triple-option offense)
None of Parowan's players have played the triple option before, and coach Nielsen admits it might take a while to make sure he's got the right players in the right positions — both at the skill positions and on the line. Three players he expects to make contributions carrying the ball are Taylor Harris, Jake Topham and Austin Pickett. When Parowan does throw Justin Hulet and Kirk Harrison will be deceiving receiving threats. How well an inexperienced line comes together will ultimately determine if Parowan avoids finishing last in the 2A South region again.
Defense
(8 returning starters)
Parowan was the worst defensive team in 2A last season as it allowed 35 points per game. Changing that is the first order of business for the Rams. Nielsen is enlisting the help of former Parowan head coach Rod Murphy to shore up the defense. Murphy was the head coach at Parowan from 1999 to 2006. Parowan will be small defensively, but it should make up for it with speed.
Coaches preseason 2A South straw poll: Eighth
Deseret News 2A South prediction: Eighth
Bottom line: Parowan's football program is by no means a sleeping giant, but there's definitely potential. It went 5-5 in 2010 and 7-5 in 2008. A change in offensive philosophy might be just what the program needs in the long run. In 2012 though, it could be another long and frustrating season as a very young Parowan team adjusts to the nuances of the triple-option offense.
2012 Schedule
Aug. 17 — MILLARD, 7 p.m.
Aug. 24 — CEDAR JV, 7 p.m.
Aug. 31 — ENTERPRISE, 7 p.m.
Sept. 7 — at Richfield, 7 p.m.
Sept. 14 — at San Juan, 7 p.m.
Sept. 21 — GRAND, 7 p.m.
Sept. 28 — BEAVER, 7 p.m.
Oct. 5 — SOUTH SEVIER, 7 p.m.
Oct. 12 — at Kanab, 7 p.m.
Oct. 19 — Playoffs
.....
Felt's Facts for Parowan High School
All-time record: 141-392-7 (63 years)
Region championships: 1 (1989)
Playoff appearances: 17
All-time playoff record: 6-17
State championships: 0
State championship record: 0-1
Most played rivalry: 80 meetings with Milford dating back to 1949. Milford leads 42-35-3. Last met in 2011.
Felt's Factoid(s): Ram David Bettridge returned a missed field goal 99 yards in 1993 to set a record for the longest missed field goal return.
Parowan coaching history
2012 — Brigham Nielsen
2007-2011 — Matt Labrum (17-35)
1999-2006 — Rod Murphy (21-50)
1997-1998 — Joe Hays (7-12)
1994-1996 — Danny Lewis (5-22)
1987-1993 — Scott Henderson (24-44)
1986 — Bob August (1-8)
1985 — Unknown (3-6)
1984 — Kevin Singleton (2-6)
1978-1983 — Scott Doubek (7-44)
1977 — Jery Dyer (1-8)
1976 — Tom Baltzer (1-7)
1972-1975 — Dave Jenson (17-23)
1970-1971 — Don Olson (5-13)
1967-1969 – Unknown (7-16-1)
1962-1966 — Lowell Caldwell (10-30)
1959-1961 — Unknown (2-18-1)
1958 — John Wood (0-7)
1956-1957 — Richard Jones (3-11)
1954-1955 — Bruce Decker (4-8-2)
1952-1953 — William "Twist" Jones (1-10-2)
1950-1951 — Unknown (1-10-1)
1949 — Ray Watters (2-4)
.....
Comment on this story
Deseret News First Team all-staters the past 10 years
2010 — Zach Wood QB/SS
2009 — Corie Blackham, RB, DB
2008 — Cody Bradley, K
2008 — Nick Wood, QB/DB
2007 — Taggert Smith, OL/DL
2006 — Cole Stanton, WR/DB
2005 — Travis Jones, QB/DB
2004 — Travis Jones, QB
To view second team and honorable mention all-staters through the years, check out the Deseret News All-State Archives.
Email: jedward@desnews.com
Twitter: @DNewsPreps
Contributing: Jessica Wilde, Conner Johnson, Steve Mundee and prep football historian George Felt.