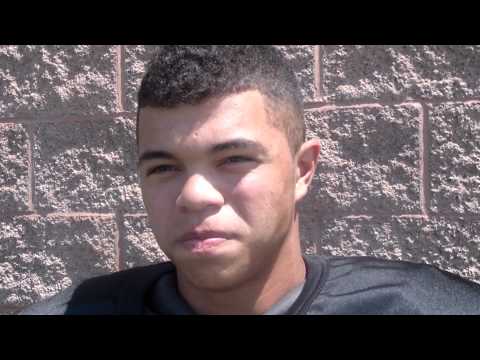 View 5 Items
Brandon Gurney, Deseret News

Scroll to bottom of story to see Maple Mountain Felt's Facts
Note: Maple Mountain finished with a 7-4 record and a 5-2 region record in 2011. It lost to Highland, 42-20, in the first round of the 4A playoffs.
SPANISH FORK — Entering his fourth year at Maple Mountain, coach Brad Burtenshaw is still trying to establish traditions in his young football program that exist in programs that have been around for much longer.
It's certainly not an easy thing to do, and it's something he admits has taken longer than he hoped when he became the program's first head coach. However, while Maple Mountain's football team is still searching for specific traditions, last season Burtenshaw's team worked to establish the most important tradition of all — winning.
The Golden Eagles finished 2011 with a 7-4 record and a second-place finish in Region 8 after being picked to finish dead last in the preseason.
"The credit goes to the kids and the hard work they put in," said Burtenshaw of last year's success. "I think it was just a result of us maturing as a program. It was our third year and I think we just needed that time to find our identity as a program and, in some ways, we're still looking for that identity — those traditions that define programs.
But winning games sure helps."
The goal now is to simply keep it going, and with a good core of returning players at key positions, the team is confident it can build on last year's success.
Leading the group of returning players is quarterback KJ Hall, who came up big in his first year starting last season.
"KJ is a tremendous athlete and he's put in the work to be even better this season," said Burtenshaw. "He's worked on his strength and his speed and with that first year under his belt — I think he'll be able to do some special things for us this year."
Having a good quarterback on defense is important as well, and the Golden Eagles have one in senior middle linebacker CJ Hildebrand. Hildebrand is a 6-foot-5, 220-pound enforcer who has started since his sophomore year.
"CJ Hildebrand is basically a heat-seeking missile," said Burtenshaw. "He's exactly the type of player you want in the middle of your defense and he's worked hard every offseason and he should be the best he's been this season."
It's also imperative to have good experience up front and Maple Mountain looks to have exactly that, returning three of its five starters from a year ago. Senior Tyler Boyer anchors both the offensive and defensive fronts and will be counted on heavily to win the battle in the trenches.
"We're strong where we need to be, but we also have a lot of other holes that we need to fill," said Burtenshaw. "You don't just lose 31 seniors and not have that affect you. We'll need to find some key replacements — especially at running back, receiver and in the secondary. We have talented guys at those positions, but we're young, so we'll need guys to step up there."
Burtenshaw understands the expectations for his team will rise significantly this season, but he feels his players are up to the challenge.
"We can't surprise anyone anymore — teams aren't going to take us lightly and every game is a tough game in Region 8," said Burtenshaw. "We have some good leadership and we now have kids who know how to win football games, so it's important that we keep doing that. We need to show people that our play last year is who we are and that we can improve on what we did last year."
Maple Mountain Golden Eagles at a glance
Coach: Brad Burtenshaw is entering his fourth year at Maple Mountain High School with a 10-22 overall record. He's a graduate of San Juan High School.
Offense
(5 returning starters, spread offense)
KJ Hall proved to be one of the most exciting players in the state last season and should be that much better entering his senior year. He'll have to make due with a largely inexperienced group of running backs and receivers, however.
"I like our young talent and I like how they've worked in the offseason. They definitely have the desire," said Burtenshaw. "KJ (Hall) has really improved with his ability to throw the football and we have some good, tall guys that we'll be looking to throw it to. So hopefully we can have our running backs and receivers step up. If they can, then I think we can be really good."
Defense
(2 returning starters, 4-3)
Burtenshaw will look for many of his seasoned offensive linemen to also anchor the defensive line. The plan is rotate five or six players frequently up front to stalemate opposing offenses.
At linebacker, players like Jake Abbott, Spencer Acey and Jordan Williams will work to effectively flank Hildebrand. In the secondary, Burtenshaw will have to replace not only his starters from last year, but most of the backups.
"We're very young in the secondary and at two of our linebacker positions, so we'll need some guys to step up," said Burtenshaw. "Although we're young I liked how they've looked in the offseason, so I'm confident we'll be OK there this season."
Coaches preseason Region 4 straw poll: 3rd
Deseret News preseason Region 4 prediction: 4th
Bottom line
While Hall and Hildebrand are among the best in the state at their respective positions, there are too many question marks around this team to guarantee much improvement from last season. The inexperience in the secondary could especially loom large given the amount of teams who run spread offenses in Region 8. There should be enough talent, however, to reach the playoffs for the second straight season.
2012 Schedule
Fri. Aug. 17 — MORGAN, 7 p.m.
Fri. Aug. 24 — at Lehi 7 p.m.
Fri. Aug. 31 — PAYSON, 7 p.m.
Fri. Sept. 7 — Springville, 7 p.m.
Fri. Sept. 14 — at Timpview 7 p.m.
Fri. Sept. 21 — MOUNTAIN VIEW, 7 p.m.
Fri. Sept. 28 — PROVO, 7 p.m.
Thu. Oct. 4 — at Timpanogos 7 p.m.
Wed. Oct. 10 — at Orem 7 p.m.
Wed. Oct. 17 — SALEM HILLS, 7 p.m.
.....
Felts Facts for Maple Mountain High School
All-time record: 10-22 (3 years)
Region championships: 0
Playoff appearances: 2
All-time playoff record: 0-2
State championships: 0
State championship record: 0-0
Comment on this story
Most played rivalry: 3 meetings with four schools, Payson, Salem Hills, Springville and Uintah, all going back to 2009. Payson, SH and Springville lead 2-1 and MM leads Uintah 2-1. Meets Payson on Aug. 31, SH on Oct. 17, Springville on Sept. 7. Last met Uintah in 2010.
Felt's Factoid(s): MM is one of just five schools to have a perfect record in overtime games (2-0).
Maple Mountain coaching history
2009-current — Brad Burtenshaw (10-22)
.....
Deseret News First Team all-staters the past 10 years
(None)
To view second team and honorable mention all-staters through the years, check out the Deseret News All-State Archives.
Email: bgurney@desnews.com
Twitter: @BrandonCGurney
Contributing: Jessica Wilde, Conner Johnson, Steve Mundee and prep football historian George Felt.