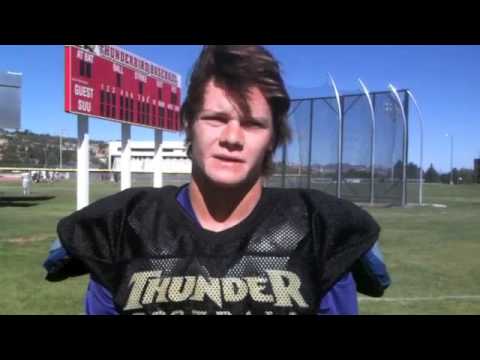 View 6 Items
James Edward, Deseret News

Scroll down to see Desert Hills Felt's Facts
Note: Desert Hills finished with a 9-4 overall record and was tied for second in Region 9 with a 4-2 record in 2011. It lost to Hurricane, 21-0, in the 3A championship game.
ST. GEORGE — After coming up one victory short of what would've been a surprising 3A state title last year, it's back to the drawing board for Desert Hills' football program.
In fact, the majority of what made the Thunder recognizable last year will be different.
Jake Nelson resigned as head coach. Defensive coordinator Matt Roberts took the head coaching job at North Sanpete. The program graduated 27 seniors who'd been at the school since the doors opened in 2008, including dominant first-team all-staters Mike Needham, Peter Brown and Bud Pope.
Even the uniforms will have a different look as new coach Carle Franke is moving away from Desert Hills' golden helmet look in favor of a sleek black in the mold of the Oregon Ducks.
For a program that increased its win total in each of its first four years — and one many believe has the potential to be an upper-echelon team for years to come — the question is: Will 2012 be a rebuilding year or a reloading year?
Returning starter Ty Rutledge is hungry to make it a reloading year as he shifts from wide receiver to starting quarterback this season.
"We've got to put in the work. It didn't come easy (last year). We might not have been the most talented team but we worked pretty hard. We've got to focus on trying to do that again," said Rutledge, who hasn't played quarterback since his freshman season.
In many ways, Desert Hills is just as athletic as it was a year ago with the likes of Rutledge, Josh Anderson and Travis LaGrone returning.
The overall depth of the team took a big hit with the graduation of those 27 seniors, and Franke — the team's offensive coordinator last season — said a bunch of players will have to start both ways as a result.
"For us to get back to where we were last year we're going need a little luck, we're going to have to put in a ton of hard work and we have to stay away from the injury bug," said Franke. "Our goal is to always win a state championship, but the reality is we have a lot of work to get there cause we are so young and inexperienced."
Not too much was expected of Desert Hills heading into last year's playoffs with back-to-back losses to Hurricane and Cedar to end the regular season.
Quarterback Porter Harris and running back Needham rose to the challenge in the playoffs, however, leading the Thunder to three straight victories before falling to Hurricane in the championship. Replacing those two outstanding offensive threats won't be easy.
Needham's void is the biggest question mark. Realistically, senior Brock Johnson and sophomore Bridger Cowdin will end up sharing the workload as neither has the same downhill power running ability of Needham.
As a receiver last year, Rutledge hauled in 42 catches for 591 yards and eight TDs. Franke believes Rutledge's understanding of the offensive should make for a smooth transition.
"It's not going to be difficult cause he's such a great athlete. He has such a feel for the game. He understands all the parts of the game. Even at wide receiver last year, he knew where everyone should be lined up," said Franke.
Assuming Rutledge's transition from receiver to QB is as seamless as advertised, he'll have two outstanding weapons to throw to. First, tight end Josh Anderson is back after grabbing 34 catches for 378 yards a year ago.
He's a 6-foot-3, 240-pounder who runs a 4.6 40-yard dash and has great hands. Utah State and Southern Utah are both showing interest in Anderson right now.
Brad Wulfenstein only had one catch a year ago, but he could emerge as one of 3A's best receivers this year. Confidence gained on the track is a big reason why. Wulfenstein finished third in the 110 and 300 hurdles last spring, and he's carried that momentum into football.
"He's a different kid this year — bigger, stronger and faster — and he's got a lot of confidence going into the season and that's helped a lot this year," said Franke.
Offensive line is certainly a question mark with the graduation of four starters, and the Thunder might only be starting one senior in the trenches this year.
Defensively, Desert Hills won't be as big at the line of scrimmage as it was a year ago, but Franke believes the team will make up for it with speed and the overall willingness to work hard.
"Effort and heart is something we can't teach, and this team has a lot of effort and heart," said Franke. "We just need to clean up all the technique-type stuff and find the right personnel on the field to do that."
Desert Hills Thunder at a glance
Coach: Carl Franke is in his first year as head coach at Desert Hills, but he's been an assistant coach with the Thunder the past couple years. He's a graduate of Minnisink Valley High in New York.
Offense
(3 returning starters; Spread offense)
An inexperienced offensive line is the big question mark facing Desert Hills this year. Odds are good that first-year quarterback Ty Rutledge will be fine, as will Brock Johnson and Bridger Cowdin at running back, but who does the blocking is the concern. Brock Doman is the lone returning starter, but he's just a junior. He could be joined by at least two more juniors and a sophomore in the trenches this year. The X-factor could be Josh Anderson at tight end. He's arguably the best tight end in 3A, and he'll present match-up problems for opposing defenses all year.
Defense
(5 returning starters)
Speed will be Desert Hills' top weapon defensively this year. Travis LaGrone will anchor things at linebacker. He's good enough to play wide receiver as well, but Franke said he wants the senior healthy and rested for defense this year. Junior Sil Bundy is another player expected to make contributions at linebacker. Seniors Keenan Wittwer and Josh Anderson will anchor the defense line, while Jordan Hokansen is a very athletic player who will roam the secondary. Quarterback Ty Rutledge will have to play some secondary as well.
Coaches preseason Region 9 straw poll: Fourth
Deseret News Region 9 prediction: Fifth
Bottom line: The big question surrounding this program is whether it reloads or rebuilds after the graduation of 27 seniors. It will likely be a combination of the two. As a result, Desert Hills will likely be in a dog fight all year for a Region 9 playoff berth. Hurricane is the favorite to win the league title, while Dixie and Pine View should be much improved. That likely leaves Desert Hills battling it out with Cedar, Snow Canyon and Canyon View for the last playoff spot.
2012 Schedule
Aug. 17 — at Syracuse, 7 p.m.
Aug. 24 — BYE
Aug. 31 — WEST, 7 p.m.
Sept. 7 — at Canyon View, 7 p.m.
Sept. 14 — PINE VIEW, 7 p.m.
Sept. 21 — at Dixie, 7 p.m.
Sept. 28 — at Stansbury, 7 p.m.
Oct. 5 — SNOW CANYON, 7 p.m.
Oct. 11 — at Hurricane, 7 p.m.
Oct. 17 — CEDAR, 7 p.m.
.....
Felt's Facts for Desert Hills High School
All-time record: 25-19 (4 years)
Region championships: 0
Playoff appearances: 4
All-time playoff record: 4-4
State championships: 0
State championship record: 0-1
Most played rivalry: 5 meetings with two schools, Cedar and Hurricane, both dating back to 2008. Cedar leads 4-1 and Hurricane leads 4-1. Meets Cedar on Oct. 18 and Hurricane on Oct. 11.
Felt's Factoid(s): DH, 4 years old, is one of just three schools to make the playoffs every year of its history.
Desert Hills coaching history
2012 — Carl Franke
2009-2011 — Jake Nelson (22-12)
2008 — Kevin Cuthbertson (3-7)
.....
Deseret News First Team all-staters the past 10 years
2011 — Mike Needham, RB
2011 — Peter Brown, LB
2011 — Bud Pope, DB
2010 — Peter Brown, LB
2010 — Bud Pope, DB
To view second team and honorable mention all-staters through the years, check out the Deseret News All-State Archives.
Email: jedward@desnews.com
Twitter: @DNewsPreps
Contributing: Jessica Wilde, Conner Johnson, Steve Mundee and prep football historian George Felt.