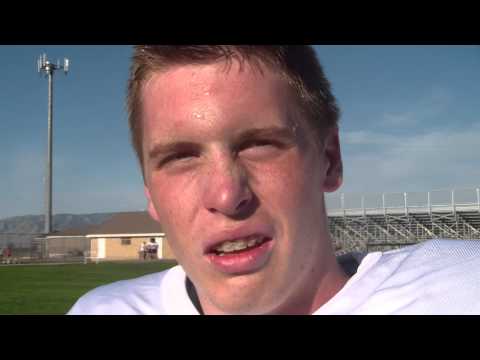 View 6 Items
Brandon Gurney, Deseret News

Scroll to bottom of story to see Lone Peak Felt's Facts
Note: Lone Peak finished 14-0 overall and 5-0 in region play in 2011. It won the 5A state championship, 41-21, over Fremont.
HIGHLAND — After running the table in 2011 and taking the 5A state championship, Lone Peak is starting the 2012 season with a big target on its back.
That could be both a good thing and a bad thing — good in that the team now has a very personal reference for what it takes to get on top and bad in that, well, there's a target on its back.
"Everyone wants to beat the team on top, so I'm sure we'll get everyone's best game," said senior linebacker Spencer Reinstein. "We certainly can't take anyone lightly, but I don't think this team will. We're not last year's team, but we can do great things like we did last year."
Accomplishing what last year's team did will be no small feat and the Knights will have to do so with several notable departures. First and foremost is replacing one of the more dominant players in Utah prep history — quarterback Chase Hansen.
Braden Miles and Jordan transfer Baron Gajkowski are currently competing for the starting quarterback spot. No winner has been declared leading up to the season.
"I love it here at Lone Peak," said Gajkowski. "The coaching staff really cares for their players and it's a great opportunity for me to help out playing on a great team. I couldn't be more happy to be here at Lone Peak."
Miles has previously been in Hansen's shadow and understands how difficult it will be to replace Hansen, the superstar who was named Mr. Football in 2011
"Chase was obviously great, but I can't worry about what he did and just concentrate on what I can do," said Miles. "I have a lot of great guys around me, so we're confident entering the season. We just can't worry about expectations and what we did last year and just play our own game."
Of course, Lone Peak isn't trying to just replace Hansen. Other key players from last year's title-winning team are also gone, including receiver Zac Saunders and Micah Hannemann. Austin McChesney will try to replace a lot of what Saunders brought to the team along with Talon Shumway, who is one of the most capable playmakers in the state.
"Talon is a special kid who has had to battle through some injuries, but we think he'll be close to 100 percent this season," said Lone Peak coach Tony McGeary. "We're going to try and get the ball in his hands as much as possible. He can do it as a receiver, running back and he's going to play some more defense for us. He'll be a huge part of our offense."
While offense drove the machine for much of last season, defense may take the steering wheel this year.
"I feel really good about our team defensively, and on offense it's probably going to take some time," said McGeary. "So we may go from a team that scores a lot of points to a team that doesn't give up a lot of points, but you win games in any way you can.
"So I feel good about this team's potential."
Leading the defense are linebackers Josh Buck and Reinstein. Both are comfortable leading not only the defense, but the entire team.
"Our defense is definitely going to be the strength this year," said Reinstein. "We've already been together for a long time. We have a good flow going. And we're ready to lead the way."
Other top players on defense include defensive linemen Levi Fiso, Austin Kruger, linebacker Payton Thomas and defensive backs Matt Criddle and Matt Dastrup.
Despite all the changes with this year's team, McGeary feels the key to success will be hard work and a consistent approach.
"There's a price to pay to win and these guys need to decide if they're willing to pay that price," said McGeary. "We try to keep it real and never get too high and never get too low. Teams are going to be hungry going against that and it's all about how much these kids want it and how hard they're willing to work because I feel we have the talent to do some good things again."
Lone Peak Knights at a glance
Coach: Tony McGeary will be entering his fifth year at Lone Peak where he's compiled a 41-9 record and a state championship. He is from Thomas Heyward, S.C.
Offense
(Spread offense)
Lone Peak won't be changing its schemes much on offense this season although it may choose to run the football a bit more often.
"We'll always spread the field and throw the ball around," said McGeary. "We'll try and get the ball downfield again, but with what we have coming back we may be trying to run it a bit more than we did last season."
The offense will run behind an offensive front that is undersized, but athletic.
"We're not big, strong guys upfront. We're more finesse guys and real athletic on the offensive line," said McGeary. "We'll have to reload there — it seems we always have to reload — but we have a great offensive line coach who I have a lot of confidence in to get those guys playing well."
Defense
(Base 4-3 defense)
McGeary is confident about his defense this coming year. With good returning talent and experience at most positions, he's confident his players can do well against what other teams present from week to week.
"Everyone is so diverse with what they do offensively that you have to have a defense that can adjust," said McGeary. "We feel we have a team that can pack it in against teams that like to run the ball and a defense that can spread out and defend those pass-happy teams."
Coach's preseason Region 4 straw poll: Second
Deseret News preseason Region 4 prediction: Second
Bottom line: The defense stepped up big for the Knights in the 5A championship game last year and should be able to lead the way in 2012. The Knights play one of the most difficult schedules in the state, so whatever they get will be well-earned, and they'll certainly be capable of winning every game on that schedule. Despite all the significant losses, Lone Peak could very well be making its way back to Rice Eccles stadium in November.
2012 schedule
Fri. Aug. 17 — at Bountiful, 7 p.m.
Fri. Aug. 24 — at Mountain Crest, 7 p.m.
Fri. Aug. 31 — TIMPVIEW, 7 p.m.
Fri. Sept. 7 — HIGHLAND, 7 p.m.
Fri. Sept. 14 — WEST, 7 p.m.
Fri. Sept. 21 — at American Fork 7 p.m.
Fri. Sept. 28 — BINGHAM, 7 p.m.
Thu. Oct. 4 — at Pleasant Grove 7 p.m.
Wed. Oct. 10 — RIVERTON, 7 p.m.
Fri. Oct. 19 — at Lehi 7 p.m.
.....
Felts Facts for Lone Peak High School
All-time record: 124-51 (15 years)
Region championships: 9 (1999, 2001, 2002, 2003, 2004 co, 2005, 2009 co, 2010, 2011)
Playoff appearances: 13
All-time playoff record: 19-12
State championships: 1 (2011)
State championship record: 1-2
Most played rivalry: 15 meetings with two schools, American Fork and Pleasant Grove, both dating back to 1997. LP leads AF 9-6 and PG 11-4. Meets AF on Sept. 21 and PG on Oct. 4.
Felt's Factoid(s): Lone Peak is one of five teams in state history to have a 14-0 record (2011).
Lone Peak coaching history
2008-current — Tony McGeary (41-9)
1997-2007 — Monte Morgan (86-51)
....
Deseret News Mr. Football recipients
2011 — Chase Hansen, QB
Deseret News First Team all-staters the past 10 years
2011 — Connor Humphrey, WR
2011 — Curtis Taufa, LB
2011 — Micah Hannemann, DB
2011 — Zach Saunders, SP
2009 — Kyson Flake, LB
2006 — Preston Yates, OL
2005 — Jordan Stephan, DB
2004 — Mavrick Auelua, DL
2004 — Doug Mulliner, Lb
2004 — Jason Long, DB
2003 — Jared Hamilton, DL
2003 — Michael Jensen, DB
2002 — Howie Harmer, TE
2002 — Matt Ah You, LB
2001 — Phillip Aldredge, OL
To view second team and honorable mention all-staters through the years, check out the Deseret News All-State Archives.