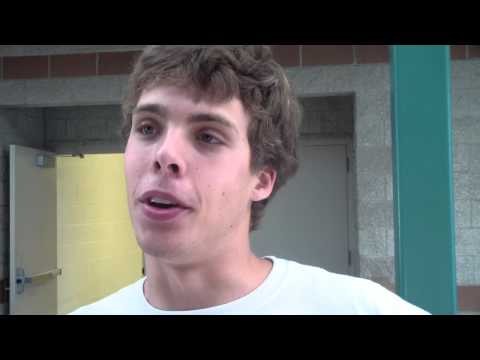 View 10 Items
Brandon Gurney, Deseret News

Scroll to bottom of story to see Provo Felt's Facts
Note: Provo finished with a 2-8 overall record and a 1-6 record in Region 8 in 2011. It did not qualify for the 4A state playoffs.
PROVO — It sometimes takes an uncommon coach to achieve uncommon results, and Provo believes it has that kind of leader in Cody Mallory.
Provo's new head football coach hails from Michigan and doesn't have any ties to the local community, but he does have ambitious goals for the fledgling Bulldog program.
It all started when Mallory took a trip out to Moab to go snowboarding a few years back and fell in love with what the state had to offer. When the head coaching job opened up at Provo he went after it.
"I knew that I could live out here in this community and love it when I was out here vacationing," said Mallory. "More importantly I think Provo has a ton of potential as a program. I'm here for the long haul and I'm committed to turning this program around into one of best programs in the state. I wouldn't have taken this job if I didn't feel Provo had that type of potential."
You don't just turn around a program like Provo overnight, and Mallory understands that. For this reason he's taken care to visit every player's family — from grades nine to 12 — presenting a five-year plan to turn Provo into the winning program he firmly believes it can be.
In his inaugural year at Provo, Mallory knows that a state championship or even a region championship probably isn't a realistic expectation. But he does expect improvement.
"I don't like talking about wins and losses, winning certain games or championships," said Mallory. "If you focus on that stuff then you lose sight of the bigger goal. Our goal is to play technically sound and with intensity. At the end of the year I want our team to know that they made progress and that they are moving the program in the right direction."
Mallory has completely overhauled Provo's existing offensive and defensive systems to implement his own. He'll run the triple-option on offense, which is uncommon in spread-happy Region 8, and he'll run a brand-new defense that doesn't rely on any particular alignment.
"It's a thin playbook that just focuses on execution and getting it done up front," said Mallory. "Defensively we're smaller upfront, so we're going to have to take advantage of our speed and quickness there. What we do will be similar to what Navy and Georgia Tech does and what I guess Highland does here and what Skyline at least used to do."
To run his unique system, Mallory recognized he'd need a quarterback with unique abilities. Enter senior Jeff Van Buren, who hasn't taken a snap at quarterback since he started playing for Provo.
"I moved Jeff Van Buren from wide receiver to quarterback and he's done well with it," said Mallory. "His level of comprehension of the offense at this point is amazing. He sees the game well and knows how we want to attack certain fronts."
On defense Mallory believes he'll have the most work cut out for him. Provo enters 2011 undersized and inexperienced — not a good combination for any coach.
"We're looking for guys to step up and be playmakers," said Mallory. "I'm teaching them an entire new system and an entire new way of doing things and that might take awhile, but I've been pleased with the progress so far."
Mallory's ultimate goal is simply to turn Provo into a consistent winner, and he believes the attitude of his players will play a big role.
"In order to be a good program you need to go into games knowing that you're going to win — but with the question of by how much," said Mallory. "You obviously don't get to that point overnight, and it's going to be a long process. But the kids have bought into that process so far."
Provo Bulldogs at a glance
Coach: Cody Mallory was the defensive coordinator at Frankfurt High School in northern Michigan before taking the Provo job. He helped Frankfurt to an 8-3 record last season.
Offense
(Triple-option offense)
Mallory believes in ball-control and smash-mouth offense and will rely on a stable of five running backs who will lead the offensive production.
"We have two quick and athletic seniors who will be playing tailback, so we should have a lot of production from that position," said Mallory. "We have other guys fighting for playing time, so I really like our potential in the backfield."
The offensive line will return three starters last season and will be led by senior center Grant Allen and tackle George Ngatuvai.
Defense
(Multiple-formation defense)
Mallory is a defensive coach and brings an interesting defensive concept with him to Provo. Rather than rely on any particular base system, he'll focus on concepts.
"I believe in the concept that you don't play defenses, but you play defense," he explained. "What that means is that we'll rely on technique rather than saying we're a 3-4 team or a 4-3 team. You base it around concepts and varying your front according to the opponent. We'll change our formations from week to week, but the concepts will remain the same."
Coach's preseason Region 8 straw poll: Seventh
Deseret News preseason prediction: Seventh
Bottom line: It would be smart to buy low on Mallory and his ability to turn Provo around, but consider it a long-term investment. With scant returning experience and completely new systems implemented on both sides of the ball, Provo will likely see its struggles in Region 8. Don't be surprised if this team peaks late and pulls some upsets, however.
2012 Schedule
Fri. Aug. 17 — at Westlake, 7 p.m.
Fri. Aug. 24 — at Pleasant Grove, 7 p.m.
Fri. Aug. 31 — DIXIE, 7 p.m.
Fri. Sept. 7 — OREM, 7 p.m.
Fri. Sept. 14 — at Mountain View 7 p.m.
Fri. Sept. 21 — SALEM HILLS, 7 p.m.
Fri. Sept. 28 — at Maple Mountain 7 p.m.
Thu. Oct. 4 — at Springville 7 p.m.
Wed. Oct. 10 — TIMPANOGOS, 7 p.m.
Wed. Oct. 17 — TIMPVIEW, 7 p.m. ..... Felt's Facts for Provo High School
All-time record: 416-408-26 (97 years)
Region championships: 23 (1923, 1924, 1927, 1930, 1931, 1934, 1940, 1941, 1944, 1945, 1955, 1958, 1965, 1972, 1973 co, 1976 co, 1979, 1981, 1982 co, 1986 co, 1987, 1988 co, 2005 co)
Playoff appearances: 39
All-time playoff record: 30-38
State championships: 1 (1982)
State championship record: 1-5
Most played rivalry: 71 meetings with Springville dating back to 1908. Provo leads 42-25-4. Meet on Oct. 4.
Felt's Factoid(s): Provo took part in the longest game in state history, a seven-overtime game in 1982. Provo ended up beating Pleasant Grove 51-44. ... Bulldog Roger Gourley is one of only two players to return a punt for 100 yards (1972). (Since 1974, kick and punt returns from the endzone haven't been allowed.)
Provo coaching history
2012-present — Cody Mallory
2008-2011 — Saia Pope (18-24)
2004-2007 — Clint Christiansen (21-22)
1999-2003 — Frank Henderson (17-37)
1995-1998 — David Mills (9-28)
1993-1994 — Ed Larson (6-12)
1992 — Jess Christensen (4-5)
1991 — Duane Johnson (5-4)
1981-1990 — Frank Henderson (77-34)
1979-1980 — Unknown (11-8)
1977-1978 — Dick Henderson (6-12)
1976 — Paul Gillespie (10-2)
1973-1975 — Jack Branin (12-15)
1972 — Bry Lake (10-3)
1954-1971 — Dick Hill (81-71-6)
1943-1953 — Max Warner (39-51-6)
1942 — Glen Simmons (3-2-1)
1939-1941 — Griffith Kimball (16-9-2)
1936-1938 — Unknown (8-13-3)
1923-1935 — Glen Simmons (49-39-7)
1908-1922 – Unknown (14-17)
.....
Deseret News First Team all-staters the past 10 years
2009 — Likio Pope, OL
2009 — Maka Unufe, Specialist
2006 — Austin Alder, Specialist
To view second team and honorable mention all-staters through the years, check out the Deseret News All-State Archives.