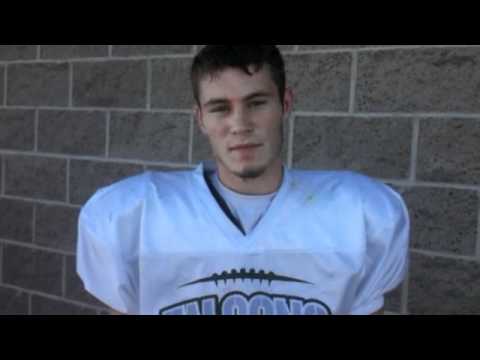 View 15 Items
James Edward, Deseret News

Scroll down to see Canyon View Felt's Facts
Note: Canyon View finished with a 2-7 overall record and was last in Region 9 with an 0-6 record in 2011. It did not qualify for the playoffs
CEDAR CITY — In his four years at the helm of Canyon View's football program, Alex Huxford's teams haven't won a single game in Region 9.
They're 0-23.
The struggles in Region 9 aren't a recent trend either. In the past decade Canyon View has won just two league games, a 14-6 win over Cedar in 2005 and a 13-7 triumph over Hurricane in 2003.
"It's kind of the same thing around here. I feel the reason we haven't been successful in our region is we have a hard time matching up with people up front. We haven't been able to win the battle in the trenches," said Huxford. "We're not as good up front as we need to be to compete."
Canyon View's linemen aren't any bigger this season either, but there's a renewed energy under first-year line coach Keith Rigtrup. A former player at the University of Iowa under Hayden Fry, Rigtrup is focused on trying to improve the technique, execution and toughness of this year's group.
If the players make the necessary strides the coaching staff is hoping for, Canyon View might actually be a threat to win a game or two in Region 9 this year.
At the Ute Shoot 7-on-7 football camp earlier this summer the Falcons posted a 6-1 record. At Southern Utah's camp, they won the majority of their games as well.
"When we go live to real football we struggle," said Huxford. "Football's a game of leverage. It's hard to establish leverage when you don't have enough lead in your shorts."
A couple of juniors might help in that department.
Rigtrup's son, Brooks, has decent size and gained a bit of varsity experience at the end of his sophomore year. Fellow junior Brycen Bybee also has a bit of size, and Huxford said the two underclassmen might be the best offensive linemen on the team.
Seniors Karson Connelly and Tyson Garfield bring experience to the line, with Connelly a full-time starter in 2011 and Garfield a part-time starter.
If Canyon View's line gives junior quarterback Koy Huxford some protection this year, he's poised to have a strong year.
Realistically, the offensive line will be outmatched again this season, but the coaching staff might have found an alternative to size.
"We ran a lot of no huddle at the end of last year and in camp this summer," said coach Huxford. "It seems like when we run no-huddle offense we have better tempo and rhythm because we can use our lack of size to our advantage 'cause the defense doesn't have a chance to huddle."
One thing coach Huxford hopes for is that Koy will be smarter with the football this year after throwing nine interceptions last year vs. just three touchdowns. His father has been stressing throughout the summer the importance of living to play another down.
Collectively, all 11 starters on offense will need to play better if the Falcons are to improve upon their 10 ppg last year.
Defensively, Canyon View allowed the second-most points in 3A a year ago at 37 ppg, which is again a huge concern as an undersized team playing in the best region in 3A.
Canyon View is counting on experience at linebacker with returning starters Connelly, Jesse Johnson and Bailey Pederson.
Huxford has high hopes for Connelly.
"He's probably our best defensive player. He's little, but he just makes plays. He's a good linebacker. He's a tough kid. And he plays with a lot of effort," said Huxford.
The addition of Dallon Echohawk, a transfer from Highland High in Idaho, should help shore up the secondary.
"First time we put him on the field we knew he could play. He'll start for us at corner," said Huxford. "In 15 years of coaching high school football, he's the one move-in kid who's actually going to help us. The move-ins we get here are different then the move-ins at other teams."
Canyon View Falcons at a glance
Coach: Alex Huxford is entering his fifth season as Canyon View's head coach and he's 6-31 in those previous four years. He's a graduate of McKay High School in Oregon.
Offense
(6 returning starters; Multiple-formation offense)
Stetson Dearden rushed for 501 yards last season after taking over the starting role in Week 3 for injured Dakota Marshall. This year, he's expected to take an even bigger role. With an undersized line though, Canyon View will likely throw more than run this year, and there are quality targets for quarterback Koy Huxford to throw to. Dallin Dastrup was a running back last year who should see a lot of playing time at slot receiver when Canyon View shifts to a spread offense. Juan Lares and McCoy Johnson could be quality weapons on the outside as well. Jesse Johnson is a versatile player who can play tight end or fullback depending on the situation.
Defense
(5 returning starters)
Canyon View's defense gave up 44, 49, 54 and 44 points respectively in its final four games. It doesn't matter how good the offense is this year if the Falcons can't stop anybody. Anchoring the defense are returning starting linebackers Karson Connelly, Jesse Johnson and Bailey Pederson. Johnson was among the team's leading tacklers with 55 last season. Tyson Garfield is the lone returning starter on the defensive line. Scott Callister is a returning starter in the secondary.
Coaches preseason Region 9 straw poll: Seventh
Deseret News Region 9 prediction: Seventh
Bottom line: Canyon View has lost 36 straight region games. Trends like that don't miraculously change overnight. As much as making the playoffs is the goal for Canyon View this season, just winning a game or two in region play would be a step in the right direction. A favorable schedule that includes home games on its slower natural grass field against Desert Hills, Dixie and Pine View could help.
2012 Schedule
Aug. 17 — at Juab, 7 p.m.
Aug. 24 — RICHFIELD., 7 p.m.
Aug. 31 — NORTH SANPETE, 7 p.m.
Sept. 7 — DESERT HILLS, 7 p.m.
Sept. 14 — at Snow Canyon, 7 p.m.
Sept. 21 — OGDEN, 7 p.m.
Sept. 28 — DIXIE, 7 p.m.
Oct. 5 — PINE VIEW, 7 p.m.
Oct. 11 — at Cedar, 7 p.m.
Oct. 17 — at Hurricane, 7 p.m.
.....
Felt's Facts for Canyon View High School
All-time record: 30-108 (15 years)
Region championships: 0
Playoff appearances: 3
All-time playoff record: 1-3
State championships: 0
State championship record: 0
Most played rivalry: 15 meetings with four schools, Cedar, Dixie, Hurricane and Pine View, all dating back to 1997. Cedar leads 13-2; Dixie leads 14-1; Hurricane leads 11-4; Pine View leads 13-2. Meets Cedar on Oct. 11, Dixie on Sept. 28, Hurricane on Oct. 17 and Pine View on Oct. 5.
Comment on this story
Felt's Factoid(s): Canyon View and Cedar vie for the Pick — the traveling trophy that goes to the winner of the game between these Cedar City schools. ... Even though CV has won just one playoff game, it's still in elite company: It's one of just 11 schools to have a perfect playoff record on its home field.
Canyon View coaching history
2008-Current — Alex Huxford (6-31)
2004-2007 — Randy Hunter (10-28)
1997-2003 — Danny Lewis (23-49)
Deseret News First Team all-staters the past 10 years
2006 — Austin Minefee, RB
To view second team and honorable mention all-staters through the years, check out the Deseret News All-State Archives.
Email: jedward@desnews.com
Twitter: @DNewsPreps
Contributing: Jessica Wilde, Conner Johnson, Steve Mundee and prep football historian George Felt.